Our 3D design program has proven to be one of the world's leading CAD (Computer Aided Design) pieces of software, allowing us to take manufacturing to completely new levels in preciseness, quality, and style. Designing and creating our vast array of products to the accuracy we do is extremely difficult. It takes time, skill and hard work to produce by hand, especially when there is no room for error.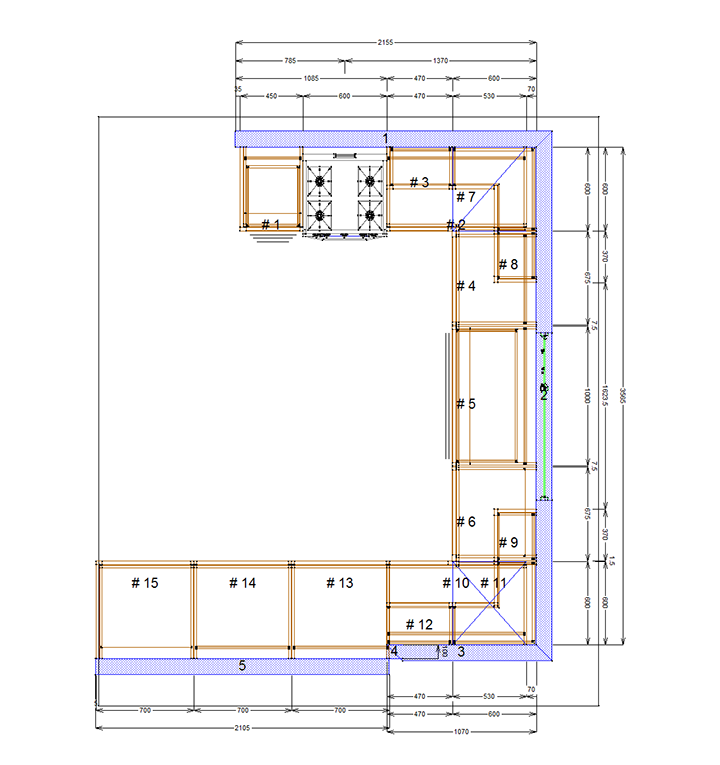 Computers have been revolutionising our lives, our culture, and the way we work across the globe for the past two decades. It is now extremely rare to see an individual without some form of a computer, whether it be a mobile phone, tablet or sat nav. These developments have also changed manufacturing. With the software and sheer processing power available to us, we are able to do more in a smaller amount of time, and produce items in ever intricate designs that are millimetre perfect.
This is where we come in. For centuries everything in our industry has been handmade; many human errors have meant a great deal of supplies have been wasted, increasing costs. More importantly, it has meant the quality of the kitchen will have been affected. We minimise wastage and optimise the quality of our products with controlled machining and our 3D software.
This software enables us to design, programme and machine a medium-sized kitchen in just one day, an impressive feat considering you would have to employ roughly ten or more men to finish it by hand. Once we have built the kitchen components, all we require is two craftsman to assemble the cabinets and to undertake a thorough pre-delivery quality check.
We specialise in using CAD/ CAM manufacturing to create our wonderfully bespoke kitchens, solid timber worktops and hardwood furniture because it allows us to be ever more creative with our products, but never to the detriment of quality.  Our software is specifically designed to create kitchens, it therefore makes it easier for us to draw a clean design for our clients.
Hand-drawing individual designs can take several hours, with customers having to endure a slow moving plan that has to be made for each individual order. With our designers however, we have our own special catalogue for each type of cabinet, so it is only a matter of providing your kitchen measurements for us to design your kitchen.  The floor plan that we offer is extremely thorough, and a strict guide is set out for all cabinets to ensure every component is precise, right from the start.
The software offers a wide range of creative possibilities; for instance, when designing a kitchen for a boat with slanted walls, we can alter the shape of the cabinets to prevent plates from sliding out. It is this kind of forethought and innovation that makes us stand out from other cabinet joiners.
To make things clearer, we produce an elevation view of the room, which provides you with a virtual idea of the finished project.
We can include windows and doors in the renders to give both us and you a better understanding of where your cabinets will sit and how much room is available.
Within our system, we have incorporated our own beautiful colour collection for our elevation and 3D renders to assist you envisioning your fully bespoke kitchen.
Once the order has been confirmed it is then passed onto our workshop who convert the design into files that the CNC (computer numerical control) cutting machine will be able to use.
A few final checks is all that is needed to ensure precise machining. One check includes looking at a 'wired version' of the cabinets using our design software. The wired version allows them to look at the cabinet on a component level without all the detailing. It is far clearer to see how the cabinet will be assembled, ensuring there are no mistakes during the construction process.
We have a strict layout which we have personally set for our cabinets that ensure a robust, reliable frame that fits together perfectly. This layout has specified joints and pilot holes which will be cut out to allow you to put the cabinet together. If a cabinet was not up to satisfaction for whatever reason then we would then be able to see any imperfection in the wired view before machining and make alterations.
With our comprehensive in-house design service, we can ensure that designing, ordering and fitting your bespoke kitchen is as stress-free for you as possible.