With our cutting edge design and manufacturing processes, the days where kitchens had to be rigid in design have gone. Using the finest materials to provide a sturdy foundation, our cabinets can be crafted to any shape or size, offering a versatile amount of options for your kitchen.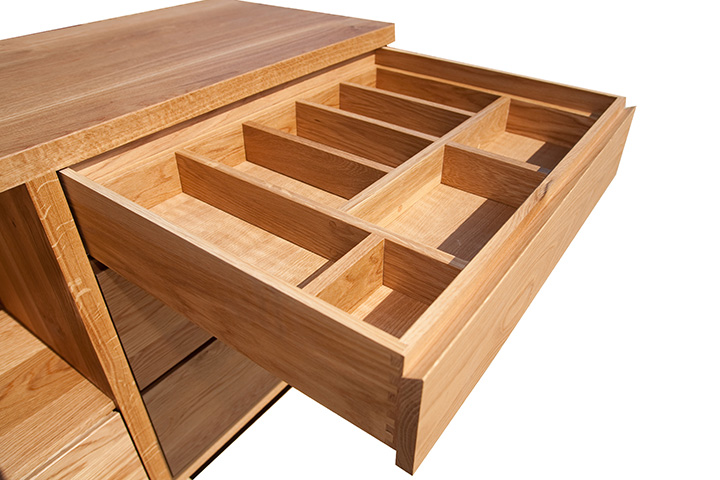 The cabinet is a staple storage solution for any kitchen. From a single stand-alone cupboard to filling an entire wall of your kitchen, we manufacture your cabinets to feature innovative and useful ways to store specific items in your kitchen or they can just be a simple, square space for you to make use of in your own way.
All NAKED cabinets are built from 18.7mm Birch ply with solid hardwood veneers; all of which is sustainably-sourced. As our cabinets are made-to-measure, you can build around the kitchen dimensions without any compromises or limitations.
Need a cabinet to fit into a specific area of your kitchen? Being completely bespoke by nature, a NAKED cabinet utilises your kitchen space much more efficiently, maximising functionality as well as style. From creating specialised base cabinets to surround your appliances with bespoke void cut-outs, corner cabinets with pull-out bins or swivel shelves, wall cabinets with internal fittings that seamlessly blend in, and high cabinets with toughened glass; you can create a kitchen that suits your needs perfectly.
The main appeal of our cabinets is how distinct they make your kitchen look. With NAKED Kitchens made-to-measure service and three individual cabinet styles, there is no better place to design a completely customised kitchen.
Whether it be a dynamic contemporary look or a warming traditional style, cabinet doors and drawers are the main anchor points of a kitchen design.
Crafted from solid hardwood, our doors and drawers fuse automated precision engineering with stood-in-time joinery techniques. Our doors and drawers exude a charm that other materials just cannot match.
Instead of combining your drawers with a few of your base cabinets, drawer stacks consolidate your drawers into one single cabinet. From small square drawers in a line to full length single drawers, there's a drawer stack for all kitchen needs.
Perfectly placed at the ends of an island or a worktop, our shelf cabinets are an excellent solution to maximising space that isn't suitable for a cabinet or drawer. We craft our shelves from double sided Oak veneered ply, providing a beautiful and strong platform for you to place your kitchenware.