Kitchen Planning
Although it is said that spring is the time for a new kitchen, we know that anytime during the year is perfect for planning one. With the handy hints in this guide, you'll discover how to transform your kitchen into a beautiful and functional hub of your home.
Always keep one thing in mind when designing your very own bespoke kitchen; why restrict myself?
Budget
The budget is a key consideration for near enough everyone, as it can define your whole kitchen. It is therefore always important to have a realistic ball-park mark on what you're willing to spend. The designer will be thankful that they can create a kitchen that is not only right for you, but for the budget as well.
Our easy way to figuring out a budget is by breaking it down into what your kitchen will need. For instance, potential building work, worktops, or new windows and doors.
Be mindful of what appliances you require making sure you get maximum use out of it for the money. Something high-tech with all the bells and whistles on it will swallow the majority of the budget, whereas something too low-cost may not provide you with the performance you desire as well as potentially cheapening the rest of the kitchen.
Where and what to spend
First and foremost is the cabinets. Since they characterise your entire kitchen, skimping on the cabinets may result in problems further down the line. We design our kitchens precisely and build them from Scandinavian Birch ply rather than cheaper materials such as MFC. The main reason is durability; other material tend to run into trouble if it gets wet, which is a high probability in a kitchen! As we create cabinets for the environment of kitchens, we will not compromise on quality.
We recommend installing a high-quality, bespoke worktop as they are such a dominant feature in a kitchen, it really is worth splashing out. Being such a significant area of your kitchen, the material of the worktop counts for a lot, so it is important to choose your worktop on the lifestyle you live as well as the overall style of the kitchen.
With over 10 years of experience with wooden worktops, we find that solid hardwood worktops offer style, quality, and durability in equal amounts. When properly sealed and maintained, a wooden worktop will last a lifetime. Just don't use it as a chopping board!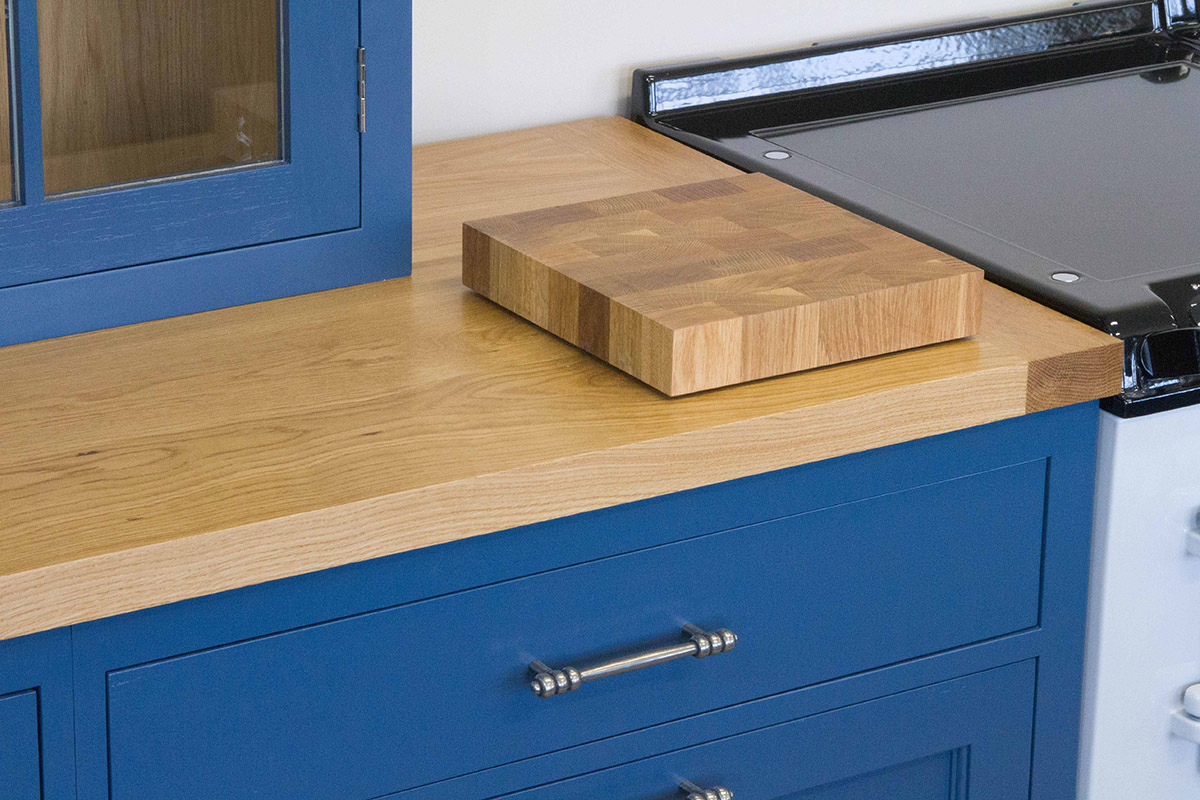 Installation is an important aspect to consider as well. Having spent a significant amount of money on your dream kitchen, it would be a bad idea to try to save some of the budget by going with a cheap fitter. With our network of trusted fitters, we ensure that your kitchen is installed correctly.
Style
Ideally, you will already have an image in your head of the kind of kitchen style you are looking for. Things to consider would be how often you use your kitchen, and if you prefer the contemporary look or the traditional approach.
Having a kitchen style in mind means you can focus all your creativity on making the kitchen perfect for your lifestyle.
We have three types of cabinet to get you started, but of course, we can make our cabinets to any shape, style or size. Every single kitchen is built bespoke to the customer's design, there really are no limits.
Inspiration
Nothing is better at getting those creative juices flowing than picking up a magazine and having a quick flick through. Websites are also a fantastic medium to get inspired too, why not take a look at our Houzz page for an enticing array of kitchen design and storage ideas.
Our Pinterest page is another a great way to see an eclectic mix of concepts that will no doubt surprise you with how dynamic they could make your kitchen. Magazines will help you build a complete idea of what your preferred kitchen could include.
Our designers always enjoy receiving scrap books of torn out pictures, colour schemes, and styles from various magazines as it helps them understand our customer's vision.
Measurements, ideas, pictures
Measurements of your kitchen will help our designers understand the layout of your kitchen and will also give you a much clearer picture of where to place your new cabinets and appliances. Another benefit of a measurement plan is that it will flag any areas which may be problematic, such as piping and plumbing.
We offer our cabinets with bespoke void cut-outs which can help you work around areas of the kitchen which might be an issue.
If you can, providing images of your kitchen enables us to visualise your measurements as well as sketch out a suitable design.
Questions
Our designers will make sure all of your queries are answered, and that you are happy to commit to each step. Before you sit down with one of our designers, we recommend that you make a note of any preferences you may have on certain criteria such as materials, styles or colours.