At NAKED, delivering the ultimate kitchen is what we do. By steadily evolving our manufacturing processes, we have advanced our design, construction and material expertise to offer the most precisely engineered kitchen available.
Since moving to our 45,000 sq/ft hangar, we now have more than enough space to place state-of-the-art equipment within our workshop, the latest additions are two fantastic CNC machines containing the very latest CAD / CAM software.
For those of you not familiar with the term, CNC stands for Computer Numerical Control and it is basically a computer controlled milling machine.
The CNC machine allows our joiners to accurately convert the 3D CAD diagrams of your bespoke kitchen into an optimised numerical file before the machine cuts the cabinet components at high speed, all to millimetre preciseness. Quite the intelligent piece of kit.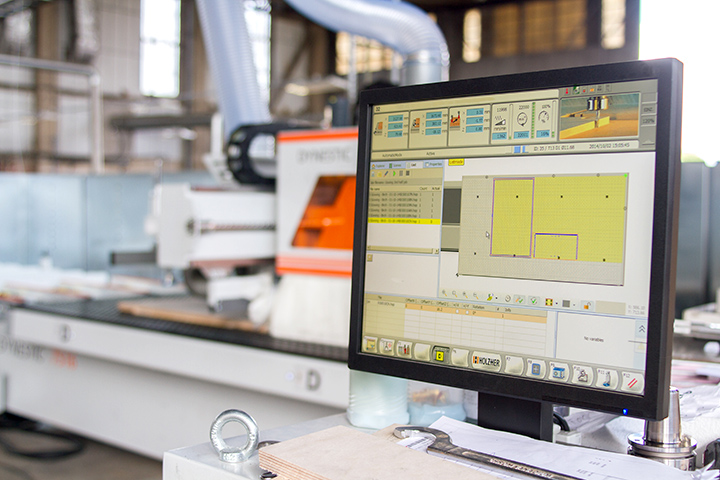 Designed and built in Germany, and running the newest tailor-made software, our CNC machines provide a consistently high component production quality and increases our efficiency as well.
One of the innovative CNC machines has a 3-axis vertical spindle, allowing us a vast amount of creative design flexibility when manufacturing your made-to-measure cabinet components. The CNC machine features an automatic tool changer ensuring the perfect tool is used for the job instantly, while the machining head is fully equipped, containing a powerful drilling head that can drill on the vertical X and Y axis as well as horizontally drill and groove.
The other CNC machine offers us intricate precision milling capabilities such as engraving, and can machine a component on all four sides during one operation, shortening lead times whilst maintaining optimum precision and machining quality. With fifteen drilling spindles. Six horizontal drills and an integrated sawing unit, this CNC machine provides the flexibility and accuracy we need to ensure your kitchen is made to exact measurements.
What this all means for us is further optimisation of our production, resulting in less wastage and higher accuracy on every single component, eliminating issues that can be later found during fitting.
For you this means you receive a kitchen that is more creative in its design, more unique in its style, and more special in how it feels.