We have recently undertaken one of our larger projects for a beautiful London townhouse, in which the owners had the majority of the furniture and kitchen created by us. These images were taken by our dedicated team of joiners who went down to fit all of the beautiful bespoke cabinets and solid wood furniture.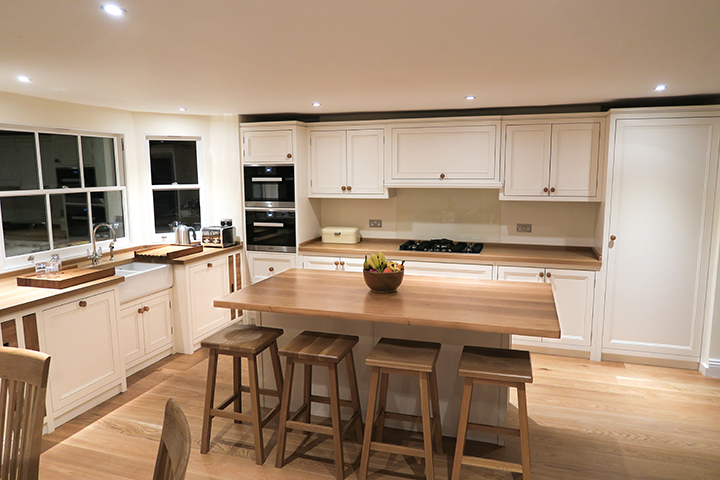 We loved working on this kitchen installation. The homeowners brief was to keep the colour palette simple, wanting the kitchen to ooze natural warmth with an understated, elegant style. The soft white painted cabinetry beautifully matches the golden tones of the Appalachian Oak. The worktop and hand-turned doorknobs sit perfectly within the run of kitchen cabinets.
What I enjoy most about the this kitchen is how there are no props or items that we've added in the images, the kitchen looks exactly how it is intended by the homeowners. Apart from the fruit bowl and appliances, this London townhouse kitchen was entirely created in our workshop. From the cornicing at the top of the wall cupboards to the solid Oak flooring, it's all NAKED.
The room contains everything the family needed, and features storage solutions that make using the kitchen a breeze.
One of the drawers contains a bespoke insert that neatly keeps your cutlery separate.
Next to the under-mounted sink there are perfectly crafted slots in which to place our very own chopping blocks, ensuring they don't take up unnecessary space on the worktop.
Thinking about how the room would be used, the other end of the kitchen features a social area containing a bespoke solid Oak table with chairs and a tailor-made wrap-around bench built into the wall.
The curved tall cupboard is another example of a NAKED Kitchens designed room; having a unique flair alongside function without compromise. The cupboard unit has seamlessly integrated wine cooler, which is luckily only a few steps from the table!
The homeowners also wanted their living room cabinetry updated, keeping the simple theme from the kitchen, the living room contains solid Oak open shelving, flooring and cabinetry that work wonderfully with the classic design of the room.
This home is one of my favourites so far, and I can't wait for the photo-shoot which will be coming soon.
With plenty of space, storage and style, I am sure the homeowners are going to love spending time in their new kitchen over Christmas!
If you would like to discuss our precision engineered kitchens and chat about your own home, please contact us.
< You can also take a look at our other customer kitchens for more inspiration.