NAKED Kitchens are proud to be selected as an official Miele Partner for the Norfolk area. We will soon be displaying a wide range of Miele built-in and freestanding kitchen appliances which are available for demonstration at our showroom, helping you choose the right appliance for your bespoke kitchen aswell as getting to know all of the innovative features.
With a long and rich history of precision engineering, high quality materials and distinctive design, Miele established "Immer Besser" or "Forever Better" as their motto. Since 1899 it has been committed to continuously innovating domestic appliances and manufacturing them to the highest standards. Family-owned and family-run, Miele has become a household name, leading the premium domestic appliance industry from their global headquarters in Gutersloh, Germany.
Miele was therefore the perfect match for NAKED Kitchens; our state-of-the-art manufacturing and precision engineered ethos creates hand-finished bespoke kitchens built to aerospace tolerances. Beautiful design on the outside, innovation and engineered structural integrity on the inside. Talking to one of our designers about your appliances ensures a fundamental part of your kitchen is elegantly worked into the design as well as taking the strain of finding suitable appliances off of you.
To introduce you to our Miele range, here's a selection of innovative Miele appliances with features that have caught my eye:
Steam Ovens
The Miele built-in steam ovens contain large crystal displays and sensor controls for greater ease of use. The automatic programmes even let you cook completely stress-free as they intelligently manage the oven's time and temperature of your favourite dishes.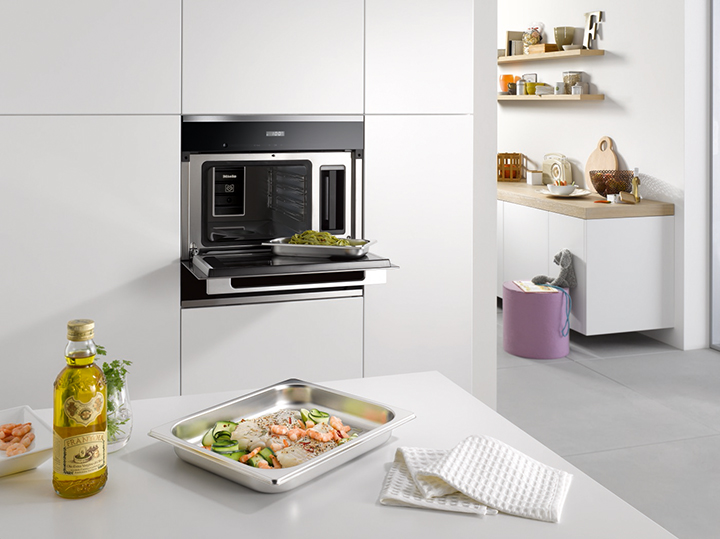 The quick MultiSteam system generates its own steam and injects it into the oven at multiple inlets for even temperature distribution, ensuring you create delicious gourmet meals in no time at all.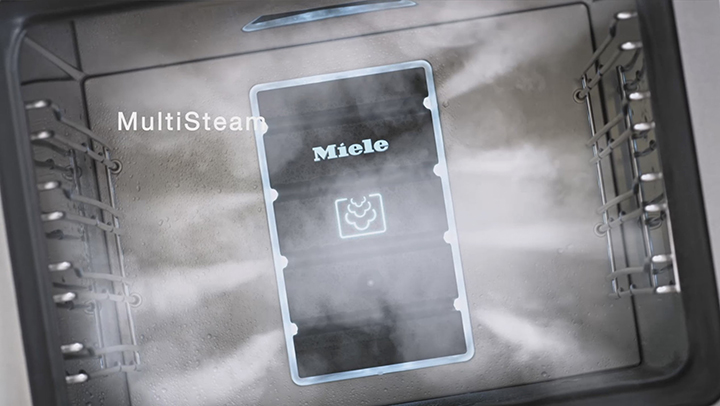 Conventional Ovens
Our ultra-stylish range of Miele ovens is a natural choice for the design conscious.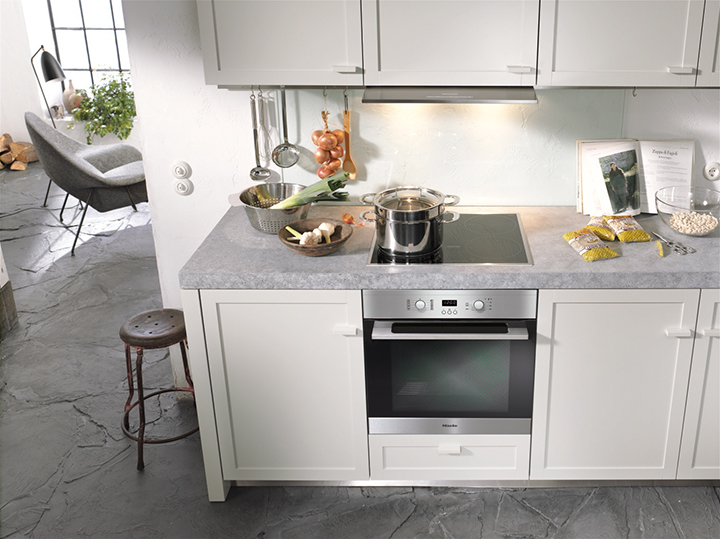 The ovens feature clever Pyrolytic technology that cleans the oven for you via an computer controlled intense heat cycle, saving you the hassle. It means you can get on with other things or perhaps gives you the opportunity to brush up on your baking!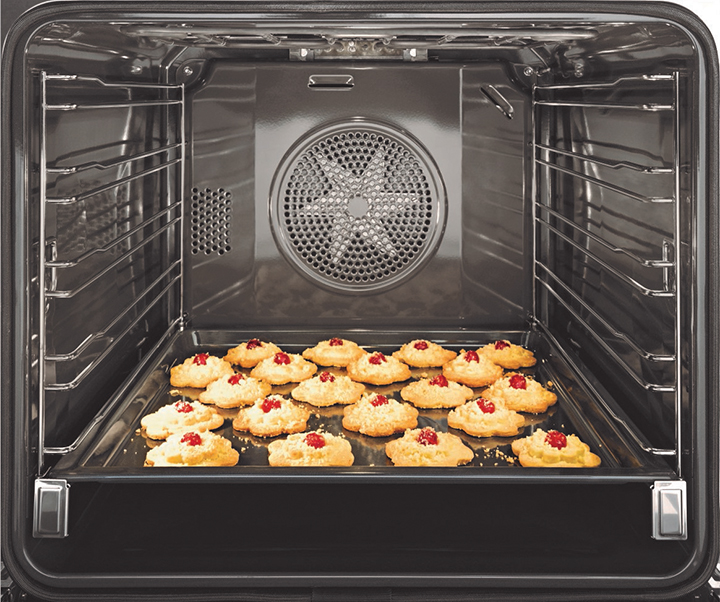 Microwave Combination Ovens
For those of you whose lives are all about the hustle and bustle, our selection of microwave combination ovens has advanced and versatile cooking programmes offering you the maximum amount of convenience wrapped in one sleek styled appliance. With over 100 dishes programmed into the intuitive touch control panel, cooking delicious food couldn't be easier.
Fridge Freezers
The intelligently designed fridge / freezer combinations feature clever touches for complete ease of use. We have found that many of our customers have pets, some of which even joined us on our photo-shoots.
We know that pet food can produce quite the smell so the Active AirClean filters within a Miele refrigerator are ideal, helping absorb any unpleasant odours, keeping your food completely fresh.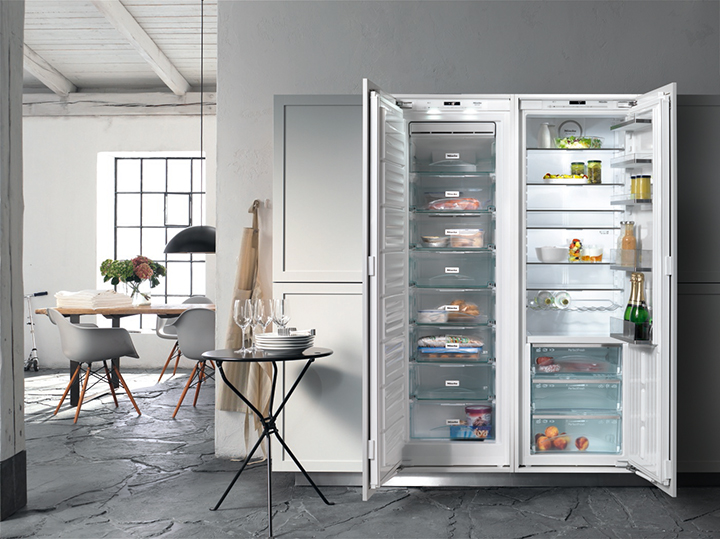 Hobs
Pioneering the connected kitchen, our range of Miele hobs feature Con@ctivity 2.0, an ingenious feature that, when using your hob, automatically turns on and adjusts your Miele cooker hood, letting you get on with the most important task of cooking!
Wine Coolers
Finally, the drink that makes every meal an occasion and every table more elegant has also been catered for. The Miele selection of contemporary wine coolers offers precisely controlled temperature zones allowing you to store your red, white and rose in one unit. State-of-the-art compressors run efficiently without vibrating, ensuring the sediment in the bottle isn't disturbed. Bottoms up!
Our range of Miele appliances are perfect as distinctive focal points in a classic kitchen setting or seamlessly worked into a modern aesthetic. No matter what your requirements may be, as a Miele Partner we can provide you with all the advice you need to make an informed decision.
Having all of the dimensions and specifications to hand means we can accurately integrate all Miele appliances into your kitchen design with millimetre precision, in any of our cabinet types, whether they are unassembled or assembled.
Finding out more is simple; call or visit our showroom and chat with one of our kitchen designers or why not take a tour of our Miele section?