Choosing the right kitchen layout is essential to make best use of the space, turning your kitchen into a functional and fun room to be in. Learn more here…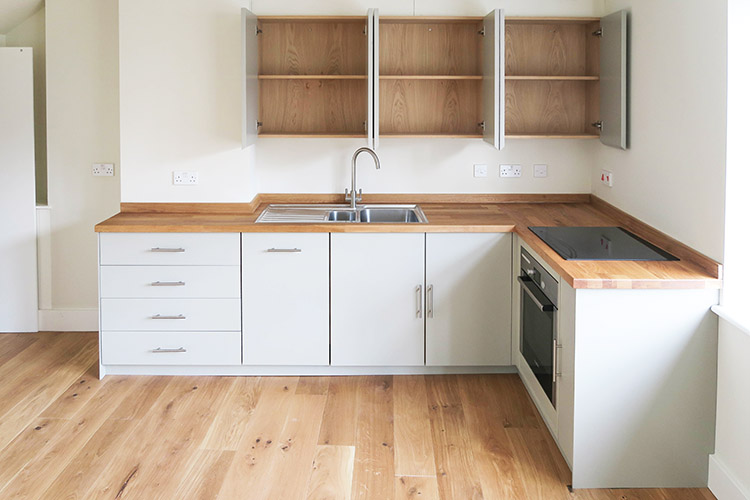 Planning, designing and installing a new kitchen in your home doesn't come cheap so it's important to get the layout right by thinking ahead. No amount of whizzy appliances and expensive cabinetry can rescue a poorly thought-out design that's difficult to cook, eat and entertain in.
Most importantly, think about how the space is going to be used. There are tried and tested layouts that have their pros and cons and the shape and size of your kitchen will determine which is best for you. Where your plumbing is will determine where your sink, washing machine and dishwasher will be, for example.
You've probably heard kitchen specialists refer to the 'golden triangle'. They're talking about the three components in a kitchen that tend to get the most use: the cooking area, the sink and the fridge. It's generally recommended that they are near to each other to maximise efficiency.
The classic layouts are – single galley and double galley, which tend to have continuous runs of cabinets, L-shaped, which make use of a corner (like in the image below) and are ideal for smaller kitchens and U-shaped, which have units and appliances on three sides, keeping everything in easy reach. Everything else tends to be a variation on one of these themes.
If you're a cook who likes to see your guests while you're cooking, a central island with a food preparation area and integrated hob and oven is ideal, and is also a great way to break up a large open-plan space (see image below). It makes your kitchen into a social area which is how so many of us are using them these days. They're no longer just for eating in – they really are the heart of the home. Wi-fi means we can work anywhere and increasingly, that place is our kitchens. This means they need to work harder, so make sure you plan in plenty of plug sockets so laptops and phone chargers can be plugged in. Install adequate lighting, too – there's nothing worse than gloomy lighting to make a space unwelcoming.
Make sure you have plenty of counter space for food preparation and plating up. Where possible, have your microwave built in to free up worktop space. The aforementioned kitchen island can offer extra counter space if you have room for one. Don't be tempted to put an island in if your kitchen is small, though. You'll end up causing more problems than you solve. Ensure there's plenty of room to move around it. The same goes for your dining table. Remember to factor in the chairs. What initially appears to be a large space can soon shrink when you start adding in furniture.
Don't skimp on storage. Make sure you have plenty of room for all your pots, pans, tableware and small appliances. If you like an uncluttered look, this becomes even more important otherwise you'll end up with food mixers, pasta machines and juicers out on display.
If you're not sure what will work best for you then talk to an expert. Visit our showroom or go online to get inspiration, or talk your ideas through with one of our designers.