If you're looking for a versatile, functional and timeless kitchen style, look no further than a Shaker kitchen! Find out more about this style here.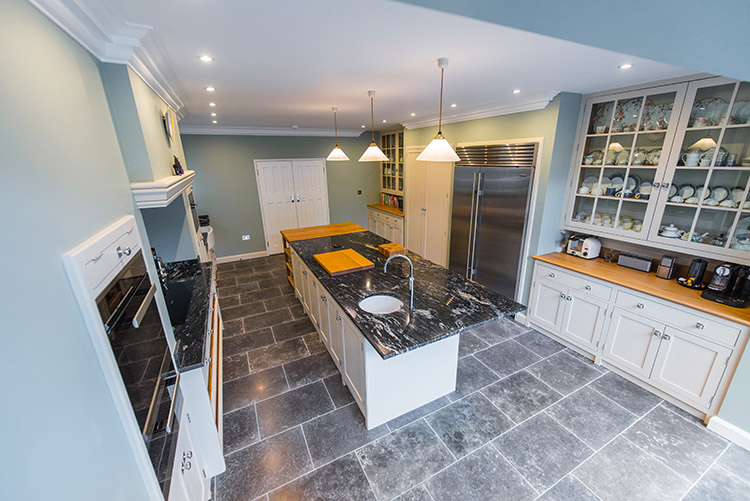 Shaker furniture has always been renowned for its pared-down simplicity. You'll find no unfussy detail and nothing that is there merely for show. Everything must have a function. It's all about practicality without pretension. Function without fuss. And it's this very simplicity, almost plainness, that gives it the timeless look that makes Shaker style a perennially popular choice for kitchen cabinetry in both traditional and contemporary spaces.
The Shakers were self-sufficient religious communities and Shaker craftsmen, revered for the quality of their workmanship, always worked with the best materials that were available locally to build durable furniture that would stand the test of time. Quality was paramount and traditional joinery techniques were used to ensure the furniture endured. And it had to look as good at the back as it did at the front. 'God can see everywhere', the devout Shakers believed. Adornment such as veneering and other decorative embellishments were frowned upon as being dishonest.
It's also its simplicity and orderly appearance that gives 21st century Shaker kitchen furniture its versatility and makes it ideal for creating bespoke kitchens to fit any space. A basic Shaker kitchen design can be dressed up to suit your vision with handles, worktops and different paint finishes; end cabinets or worktop ends can be curved to soften the geometric squareness that often characterises Shaker furniture; appliances can be integrated to maintain a streamlined look. Islands can be installed to echo the original freestanding units that Shaker kitchens commonly had. The possibilities are many.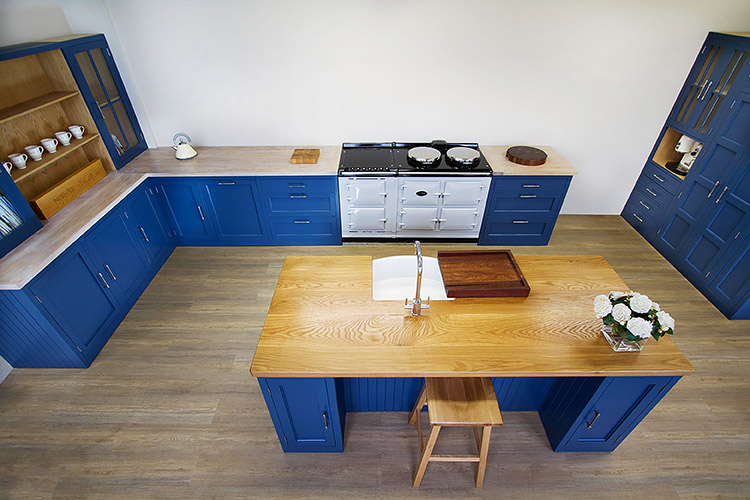 The timeless 'in-frame' design of a Shaker cabinet blends precise engineering with expert craftsmanship to create kitchens that are suitable for both traditional and contemporary kitchens and spaces that combine both, as you can see in the image below. The simply but elegantly designed cabinets have been fitted with classic polished metal cup handles and blend beautifully with the dramatic granite worktops and the ultra-modern expanse of stainless steel to create a space that is both harmonious and practical.
The Shaker style lends itself to being painted in muted shades of grey, green, cream or deep blue, indeed, original Shaker furniture was often painted in a limited palette of colours: shades of blue, green, yellow or red. It's a great way to offset its simplicity if you want to make a statement in your kitchen. In the kitchen below the blue of the cabinetry contrasts superbly with the crisp white Aga and the natural warmth and beauty of the chunky wooden worktops and cabinet backs.
You can't go wrong with Shaker style. Ideal for kitchens large or small, classic or modern, the Shaker-style kitchen is endlessly versatile. Clean, simple lines, quality materials and excellent craftsmanship are the original foundations the Shakers built upon and we keep those same principles in mind when designing all of our kitchens.