A plane in a kitchen? It must be CGI… right… right? Wrong.
Here's a look behind the scenes as our inspiration for aviation led to us putting an actual plane in a kitchen, and creating a kitchen built for the high life.
The Idea - RAF Heritage
"What would a kitchen look like if it had a plane in it?" isn't a conversation many people will have. But for us, it made perfect sense.
Naked Kitchens are intertwined with aviation. Not only is co-founder & CEO Jamie an avid flyer, after a spell in the RAF, but all of our kitchens are handmade in two WWII aircraft hangars on the site of RAF West Raynham.
We used that as the inspiration for this incredible kitchen, which Jamie explains below:
The Preparation - Design, Build & Lift Away..
There's a long way from wanting to create a kitchen built for the high life, and actually pulling it together, with an actual plane safely supported in a kitchen.
So, where did we begin? A good old mood board. It was to be a period room, with ornate windows and panelling - a Georgian room set.
Everything would have to be scaled to keep the plane looking in proportion, so the back wall was built at 10ft, before promptly being doubled in size to 20ft. Once built, the entire expanse of 12m wall was plastered, painted, and then painted again before we began adding the details.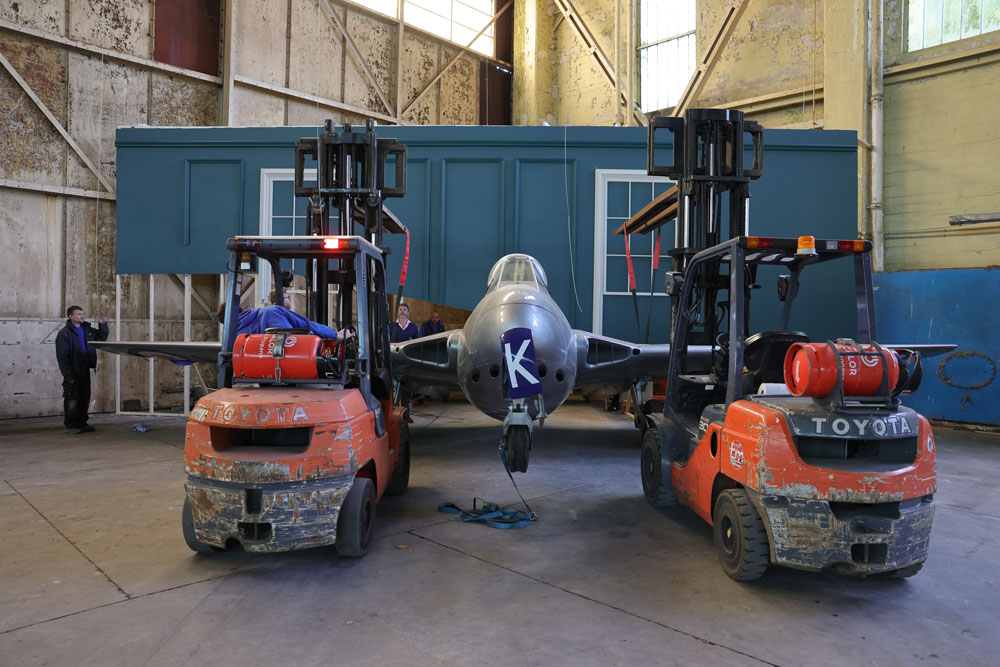 Now, for the actual kitchen…
The kitchen was built around the plane, which was hung in place by now. Inspiration for the colour was taken from the roundels on the underside of the wing, so we chose two of our Naked Colours, Point Blue & Morston Sails. The centre of our Ladbroke handle, if you look very closely, is also the inverse colour (so blue is inset into the red doors)
Watch everything from start to finish (30 days in 30 seconds!) in our time-lapse below:
The Shot - Ice, Plastic Tubes & A Smoke Machine…
Lofts were raided for rugs, empty champagne boxes were commandeered and we even had a spare propeller which features in the back of the shot. Then, we set to work propping the entire shot before, as evening fell and the light was controllable, we began shooting.
We wanted the smoke to seep into the shot, filling the floor with mist, so the smoke machine was run through a plastic pipe full of ice. This cooled the smoke down, so it didn't rise and dissipate - magic!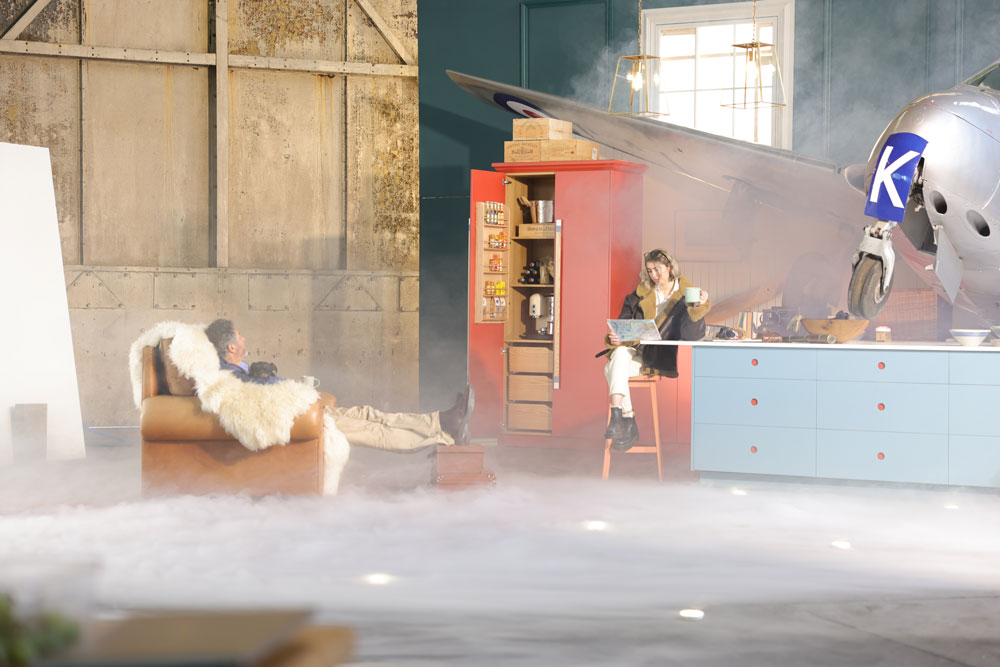 And the point of it all? That Naked Kitchens are built for life. But they're not built for our lives, they're built for yours - how you use your kitchen (or don't). That's the beauty of a bespoke Naked Kitchen.
To explore our gorgeous bespoke kitchens, browse our portfolio. Ready to get designing? Book a free design consultation with us today.
See also:
Built For An Artist's Life - Behind The Scenes
From our place to yours – an interview with the Everett family
Kitchens Unpacked: The story of Maldon Salt