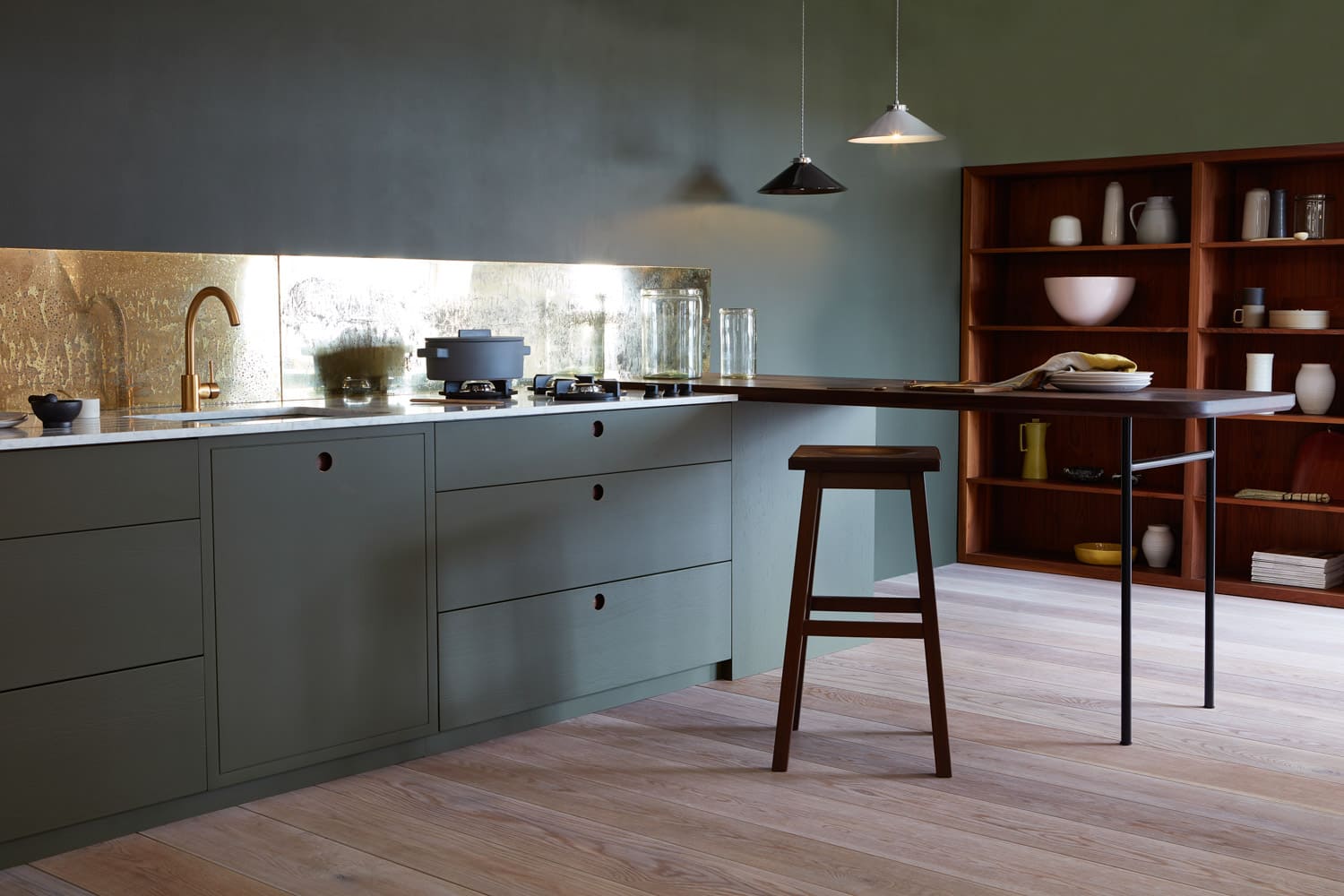 Dazzling or subtle? Neutral or bold? Monochrome or multi-coloured? Choosing colours for your kitchen is a mixture of science and art – and there's a surprising amount to think about. This expert guide will take you through the steps to find your perfect kitchen colour scheme…

The kitchen is where life happens: cooking and eating, working and playing. It's the room that has to do everything, from quiet me-time breakfasts to elegant dinner parties to impromptu family discos. So how the kitchen looks and feels plays a huge role in your life…And absolutely critical to the look and feel of your kitchen is the colour scheme you choose for it.

Picking and combining colours is a great opportunity to express your personality and sense of style, to make a design statement and to set the tone for your entire home. This guide walks you through the key colour decisions you'll need to make and the mistakes to avoid, as well as giving you plenty of tips and ideas for creating the beautiful, stylish kitchen you've always dreamt about.
Planning a kitchen colour scheme – the basics


Before you launch into colour wheels and pantone references, there are some key questions to ask yourself…
What kind of style and mood do you want in your kitchen? Are you looking for a traditional style or a smart contemporary vibe? Cosy and warm, or cool and sleek? The choice of colour to a very large extent determines the mood and atmosphere of your kitchen, so think about the way you use your kitchen, who uses it, and how you want them to feel.
What is the size and layout of the kitchen space? The right colour scheme can really help make the most of your existing space, including making smaller kitchens feel larger (see below)
How is the light in the kitchen? Do you have plenty of natural light, in which case colours will be truer and you can afford more dark hues, or are you reliant on artificial light, in which case you may want to emphasise brighter tones?
How likely are you to change your mind? If you're the kind of person who likes to keep changing things up in your decor, you may want to go for neutrals on the big, expensive elements of the kitchen (cabinets, worktops flooring etc) and save bolder colour splashes for easily-changeable areas like painted walls or smaller accessories.
Naked Kitchens' Ladbroke cabinets mixing the red of Morston Sails with dark blue in
this contrasting kitchen
Colours and mood
Different colours are associated with different moods, and you can use your colour scheme to create the right atmosphere in your kitchen.

As a general guide, neutral tones and soft pastels create a calming atmosphere, making the space feel relaxed and welcoming.

Colours that are close to the blue spectrum, such as greens, blues and purples, are known to be cooler and have a soothing effect – and that applies even to dark hues such as navy. Green can be a lovely natural, restful colour for a kitchen, perfect for creating a relaxing space, while light blues and soft greys also have a calming effect.Colours that are close to the red spectrum, including reds, pinks, oranges and yellows are considered to be warmer and more stimulating. Bold vibrant reds can make a real statement in a kitchen, offering a sense of fun and energy, while a yellow theme creates a bright, cheerful feel.
White and monochrome kitchens
One option for a kitchen is to go monochrome. 'Monochrome' doesn't actually mean black-and-white (a popular misconception) but rather a single colour. So a monochrome kitchen can be pink or yellow or anything else.

However, by far the most popular monochrome colour for a kitchen is white. White is clean, minimalist, timeless and perfect for calming, Scandi-style kitchens.
Ladbroke kitchen by Naked Kitchens for Emily Mayne of
@somedaydesigns.co.uk
. Photographer Anna Stathaki
@annastathakiphoto
Of course, there are actually many different shades of 'white', from pure bright whites to cool ivories, warm creams, light greys and greige. And you can add warmth and visual variety to a white kitchen by using exposed wooden worktops and some hardwood flooring in a darker shade, or alternatively introduce a pop of colour via splashbacks, appliances, furnishings or plants.

But a monochrome kitchen isn't for everybody. For most people, designing a kitchen means combining colours….
How to combine colours in a kitchen
Choosing colours may seem frighteningly open-ended, with an infinity of choices to wrestle with. However, there are some well-established colour principles that can guide you and help you to create a beautiful, balanced look for your kitchen.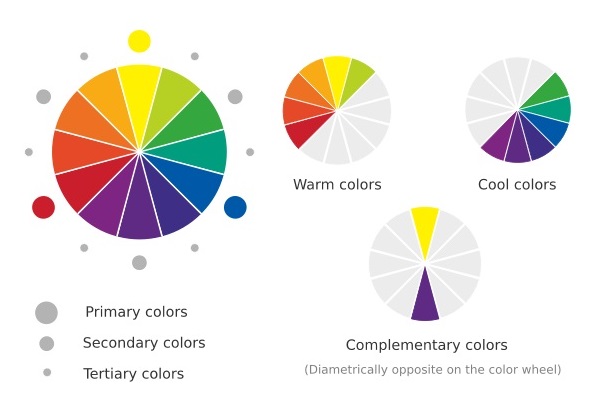 There are broadly three approaches to combining colours, each of which produces a different feel:
Tonal colours – use different tones of a single colour for a harmonious feel
Analogous colours – use colours that are close together on the colour wheel for a calm, relaxing feel. Examples would be using greens, blue-green and blues.
Complementary colours – using colours that sit at opposite ends of the colour wheel, which complement each other but provide contrast for a bolder statement. Classic complementary colour combinations include blue-orange,blue-yellow, red-green and yellow-purple.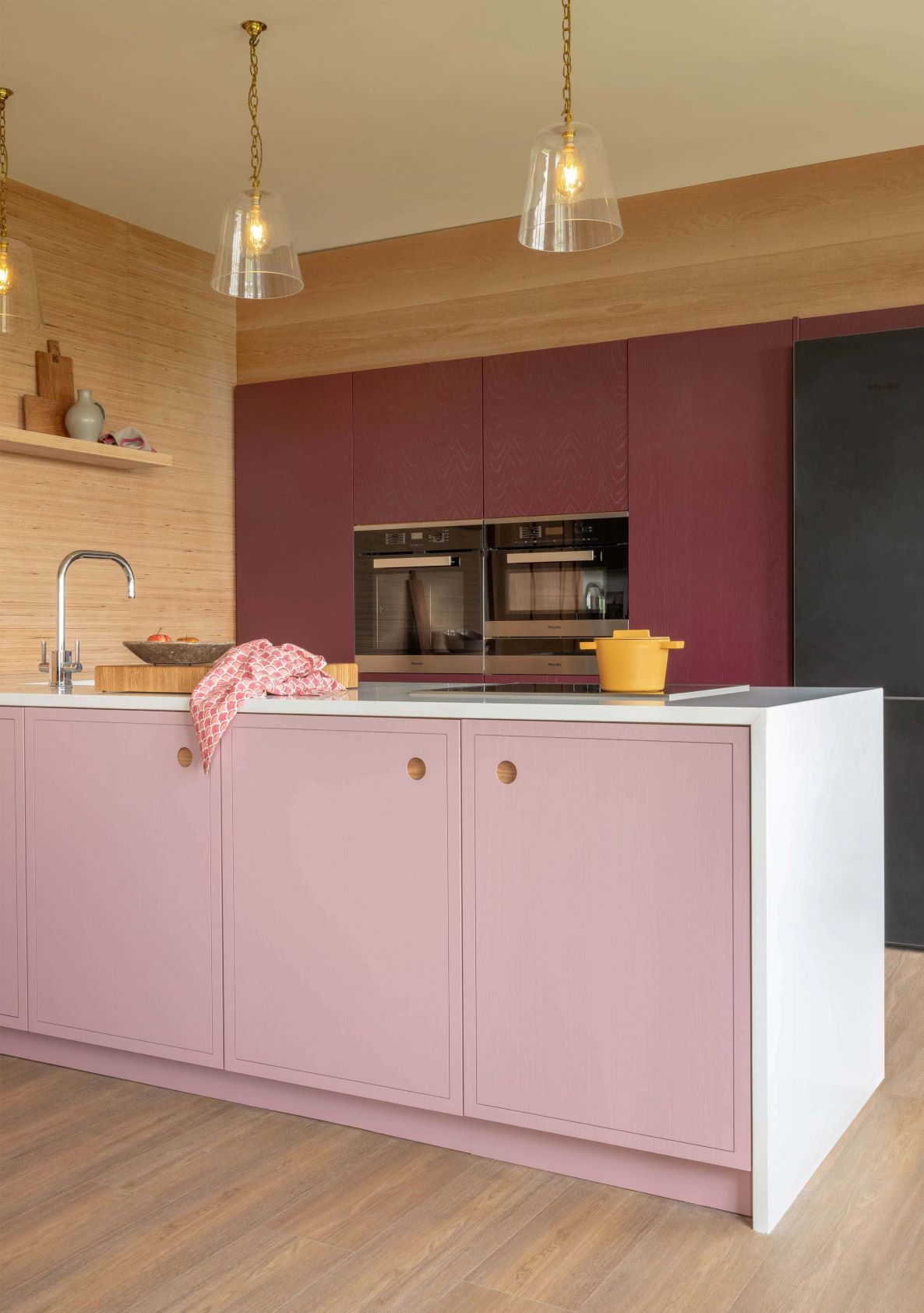 Analogous colours: Naked Kitchens' Meadow Thistle (island cabinets) and Bramble colours (wall cabinets) in beautiful harmony in this
Albert Bridge kitchen
Using three colours: the 60:30:10 rule
In general, it's best to avoid using too many colours. Instead, focus on carefully choosing a few colours that work together to create the look and mood that you want to achieve.
There is a long-established rule of thumb in interior design for creating a balanced look in a room. The idea is that you choose three colours and use them in an approximate ratio of 60:30:10. So 60% of the room is one colour, 30% is a complementary second colour and the remaining 10% is a bolder accent colour, which gives the scheme depth and interest.
If you look at beautiful interior design accounts on Instagram you'll see this happening over and again. In sitting rooms, for example, the 60% colour might be a neutral for walls, ceiling and perhaps a sofa; the secondary 30% colour might be the rugs and curtains; while the final 10% might be colour 'pops' from lampshades, artworks or cushions.
So when designing your kitchen, think about how the visual space in the room is made up, and mix and match colours in proportion accordingly. Start with the big areas first and then coordinate the other elements. This will be different for every space, but a typical breakdown might be:
The biggest area (the 60%) might be the flooring, the ceiling and the worktops
The secondary areas (30%) might be the cabinets, painted walls or large appliances
The smaller tertiary things (10%) might be splashbacks, tiled sections or smaller accessories.
In this classic, balanced kitchen design, approximately 60% of the colour is white/neutral (ceiling, floor, walls, worktops), while the blue cabinets make up is the secondary 30% colour; and the final 10% tertiary colour is the bronze of the cabinet handles and pendant lights.
Ultimately, however, colour and design are matters of personal taste, and for every interior design 'rule' you can mention you can also find a talented person on Instagram brilliantly breaking it!
Breaking the rules: the
Georgian Hall
kitchen uses walnut (worktops and island cabinets), Marsh Green (cabinets) and white (marble worktops and splashbacks) in approximately equal proportions. These are each echoed with softer browns, greens and whites in the walls, floors and ceilings respectively, so the whole thing has a beautiful balance.
Colour and space: choosing colours for a smaller kitchen
The smart use of colour can really help to make the most of a small kitchen space. Lighter colour schemes reflect the most light, and in a kitchen that's small, narrow or has a low ceiling or limited natural light, a neutral colour scheme will help to open up the space and make it feel more expansive.

Of course, this is just a general rule of thumb and it certainly doesn't mean that you can't use colours in a small kitchen. A single colourful feature wall can really add impact in a smaller space, or alternatively a two-tone colour scheme, featuring darker base units and flooring, and moving to lighter wall units and worktops as you work upwards, will add depth and style without making the space feel claustrophobic.
This U-shaped kitchen uses Naked Kitchens' Ladbroke door fronts in our bold Brancaster Blue colour – proving that bold colours can work brilliantly in small kitchens. As the eye moves upwards from the cabinets to the worktops to the walls the colours become lighter, creating a sense of airy space. Photo: @hlsjacobs
For more tips, see: Small but beautiful: A complete guide to designing and maximising the space in a small kitchen
Getting inspired: the Naked Kitchens paint colour palette
Cabinet doors and fronts are perhaps the single most important colour element of the kitchen: whether blending with the flooring and ceiling, or providing a contrast with a bold colour.

One option is to leave your cabinet doors naked and enjoy the natural colours of exposed wood: beautiful oak, light Scandi birch or rich walnut.

But if you want colour, at Naked Kitchens we take paint very seriously…So much so that we actually built an industrial sprayline in our workshop. We spray paint our doors once then pass under UV lighting for an exceptionally accurate and durable finish. We then leave them to dry for 24 hours, before applying a second coat. The result is a flawless colour finish.

Finding your ideal colours is no problem: we offer a colour-matching service, or you can select from our range of Naked colours, all inspired by the North Norfolk coast and countryside on our doorstep. Here are a few examples of how our bespoke paint colours can bring a kitchen to life:


Beach Hut - soothing coastal blues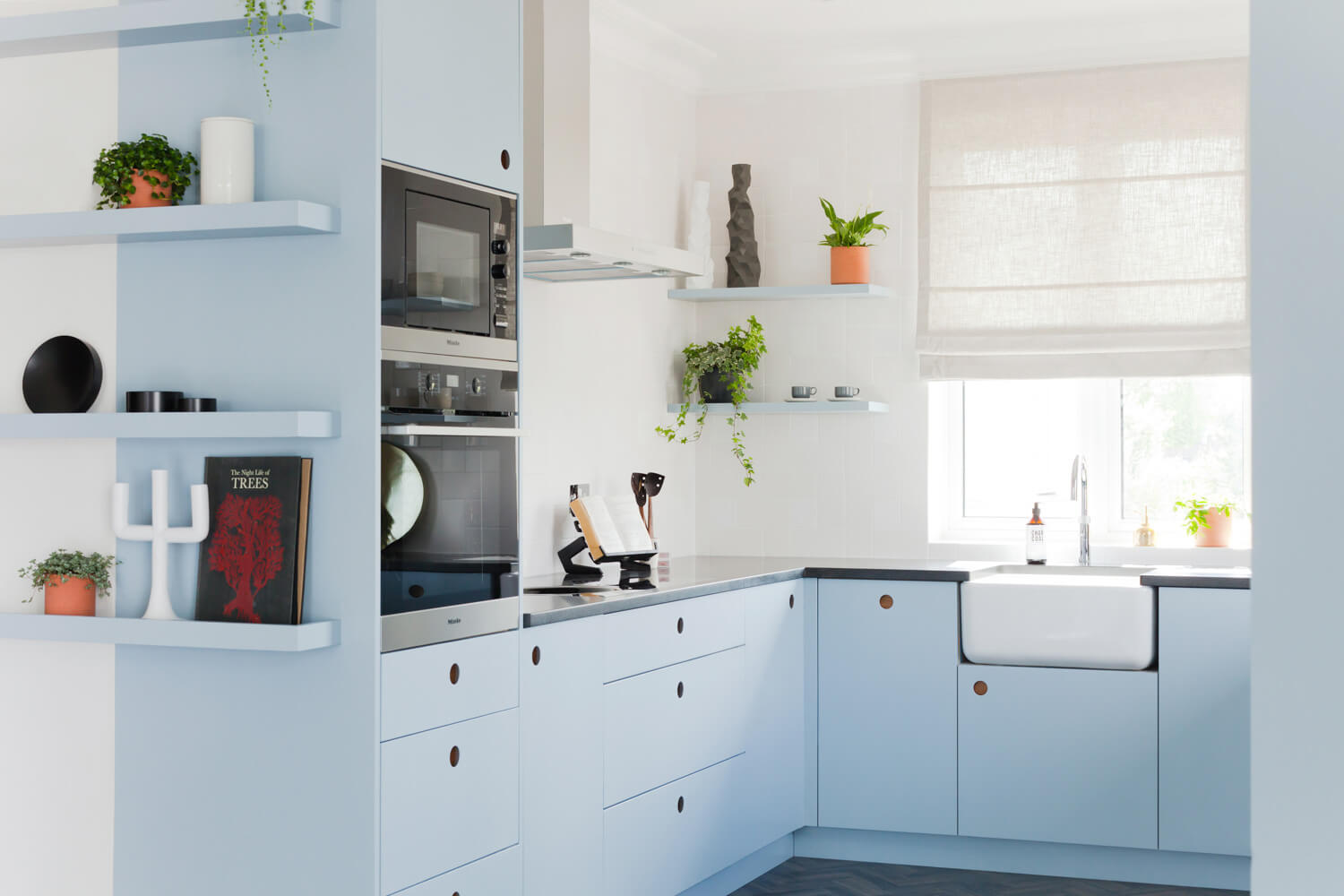 Inspired by the colourful huts lining the promenade at Old Hunstanton Beach, this lovely pale blue shade evokes coastal holidays and seaside retreats, creating a soothing and peaceful kitchen space.


Seal Pup White - soft warm tones
The local seals that inhabit the Blakeney coastline were the inspiration for our Seal Pup White shade, which reflects the warm off-white tones of the pups' gorgeous coats, and works beautifully with a host of other colours.


Oyster Catcher - dark and elegant
The oystercatchers at Cley and Blakeney are a much-loved part of our Norfolk heritage, and have even made their nesting place at our workshop…Our Oyster Catcher paint colour is inspired by the striking dark plumage of these fine birds. So dark it's almost black, this deepest of blue colour schemes is all about elegance and sophistication.


Swallowtail - statement yellow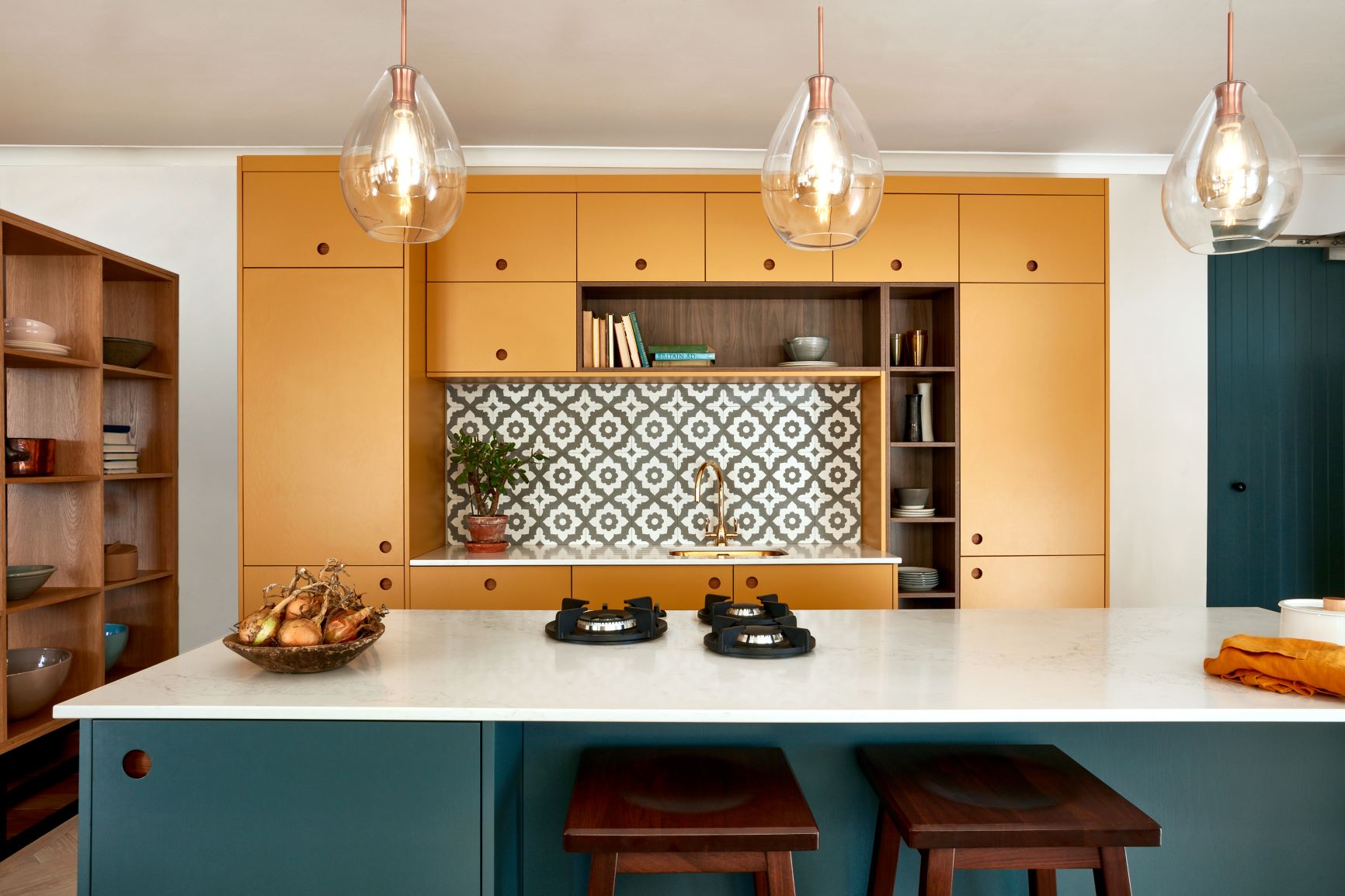 The swallowtail is Britain's largest butterfly and a native to the Norfolk Broad. It's known for its stunning yellow wings – a shade that's perfect for a statement kitchen colour.
See the full range of Naked paint colours here.
For more expert advice on creating your beautiful, bespoke kitchen, contact our friendly team or book a free design consultation with us.