How do you create a modern, minimalist yet playful kitchen space in a Victorian townhouse with odd angles and limited light? Architect Jake Lai reveals the secrets of his own home renovation and his brilliant, bespoke Naked Kitchen…
"For me, a great kitchen design successfully blends the homeowner's functional needs with a reflection of their character…The key is to create a space where the client feels at ease and takes joy in spending time."
A great kitchen design doesn't just look good in a showroom, it's built for real life. That's why we've invited some of the UK's best architects and interior design professionals to share their kitchen secrets and show how they create spaces that are as practical as they are beautiful.
Originally from New Zealand, Jake Lai worked in various leading practices in Australia and London before starting his own architectural design studio in 2021, specialising in bespoke projects for West London's high-end residential sector.
Having worked with Naked Kitchens on a client project, he decided to do so again for his own home. Here Jake explains how he approached the unique challenges of creating a contemporary kitchen in a 'quirky' Victorian townhouse…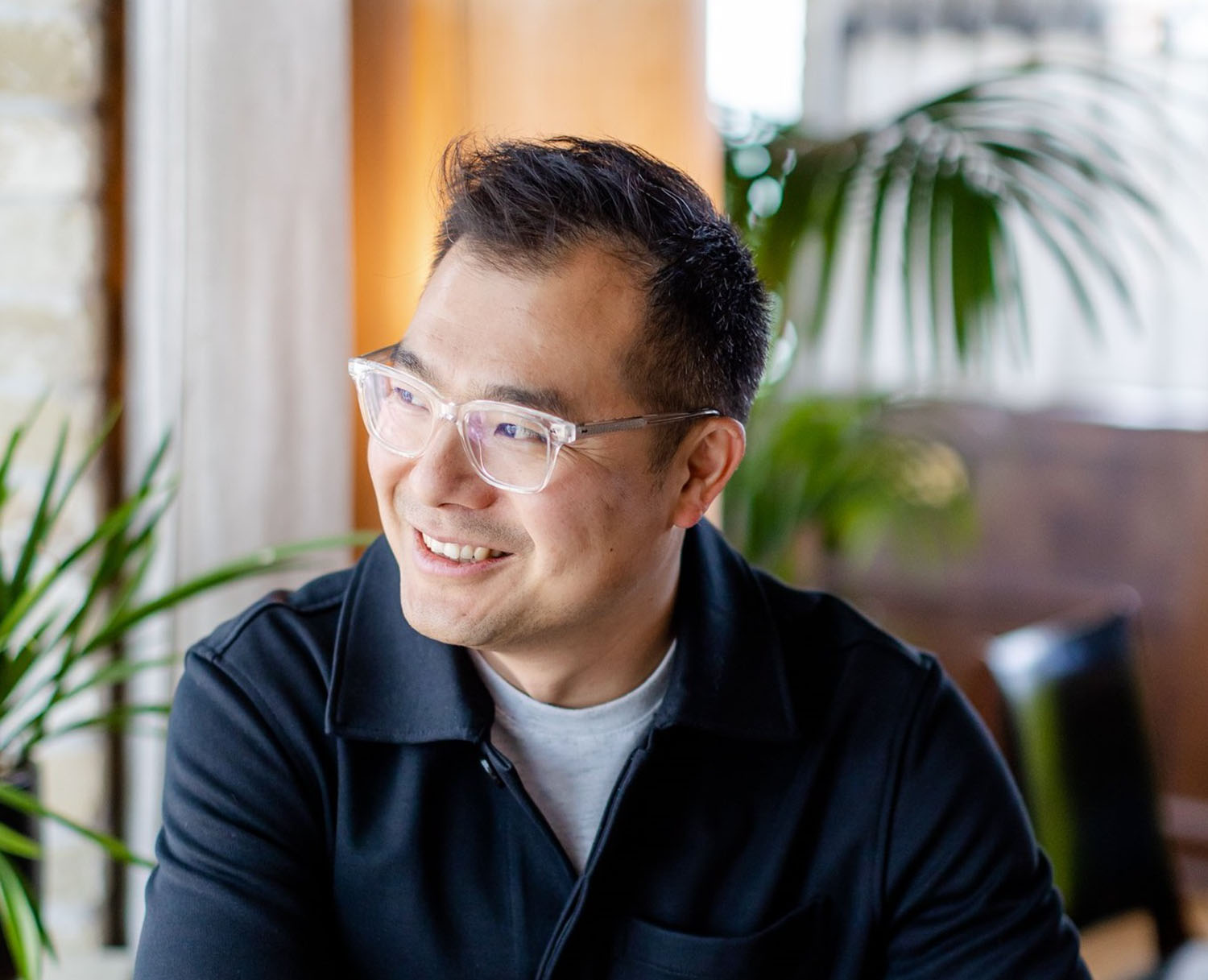 "It's been said many times before that the kitchen is the heart of the home. For me, a great kitchen design successfully blends the homeowner's functional needs, with a reflection of their character – whether they prefer cooking in a large traditional kitchen, an entertainment kitchen with a dining space for parties, or a modern minimal and functional kitchen. The key for every design is to create a space where the client feels at ease and takes joy in spending time.
"For our own kitchen we wanted a modern minimalist feel, with a dash of cottage charm and playfulness through colour and pattern. Our goal was to create a vibrant space, but one that also brings some calm through its clean minimal surfaces.
"Having used Naked Kitchens for a recent client project, I opted to use them again in my own home, an early Victorian town cottage. The space is a challenge; the party wall lines are on an angle, with nooks and crannies scattered across the property and limited light in the middle of the home. It's a smaller property than most of my clients – but while some may assume that would make it a simpler project, it actually required a clever, innovative approach to make the best use of the unusual space.
"Our starting point for the kitchen was finding the right natural wood material fronts. We initially wanted to use a Nordic dark wood for the fronts, but found that this was too heavy. When we visited Naked Kitchen's showroom in Norfolk we were immediately drawn to the brushed Limed Oak finish. This material highlights the beautiful natural grain pattern, lifts the space, and provides a neutral background for colour. Even in the other aspects of the kitchen, such as the banquet, radiator and splashback, we closely referred back to the Naked Kitchens design by choosing colours which matched the cabinetry.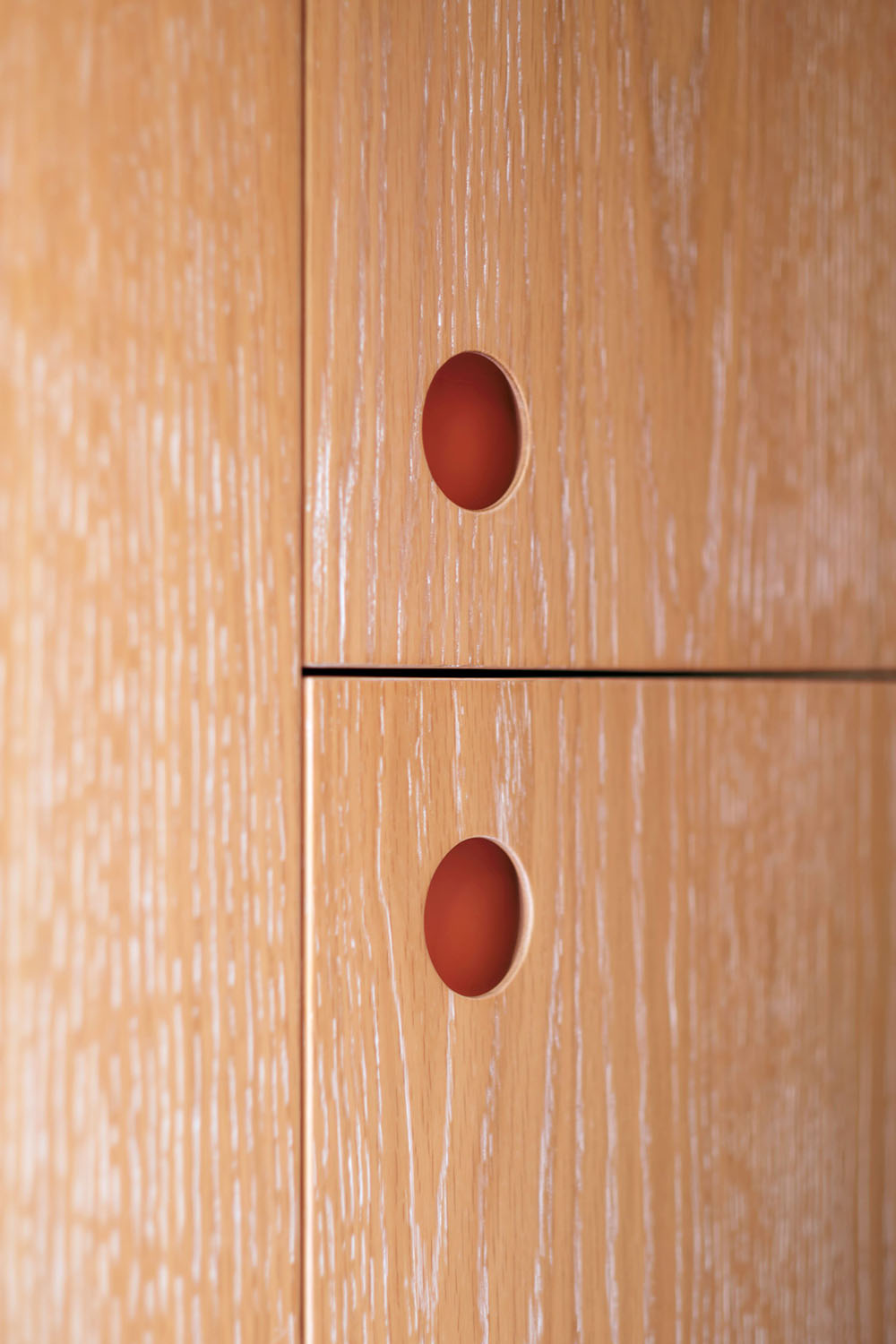 "The main physical challenge we had was the space was too wide for a galley kitchen, yet too narrow for a full kitchen island. We overcame this by custom designing a narrow kitchen island on wheels, and we utilised the flush finger-pulls detail instead of adding on-surface mounted handles.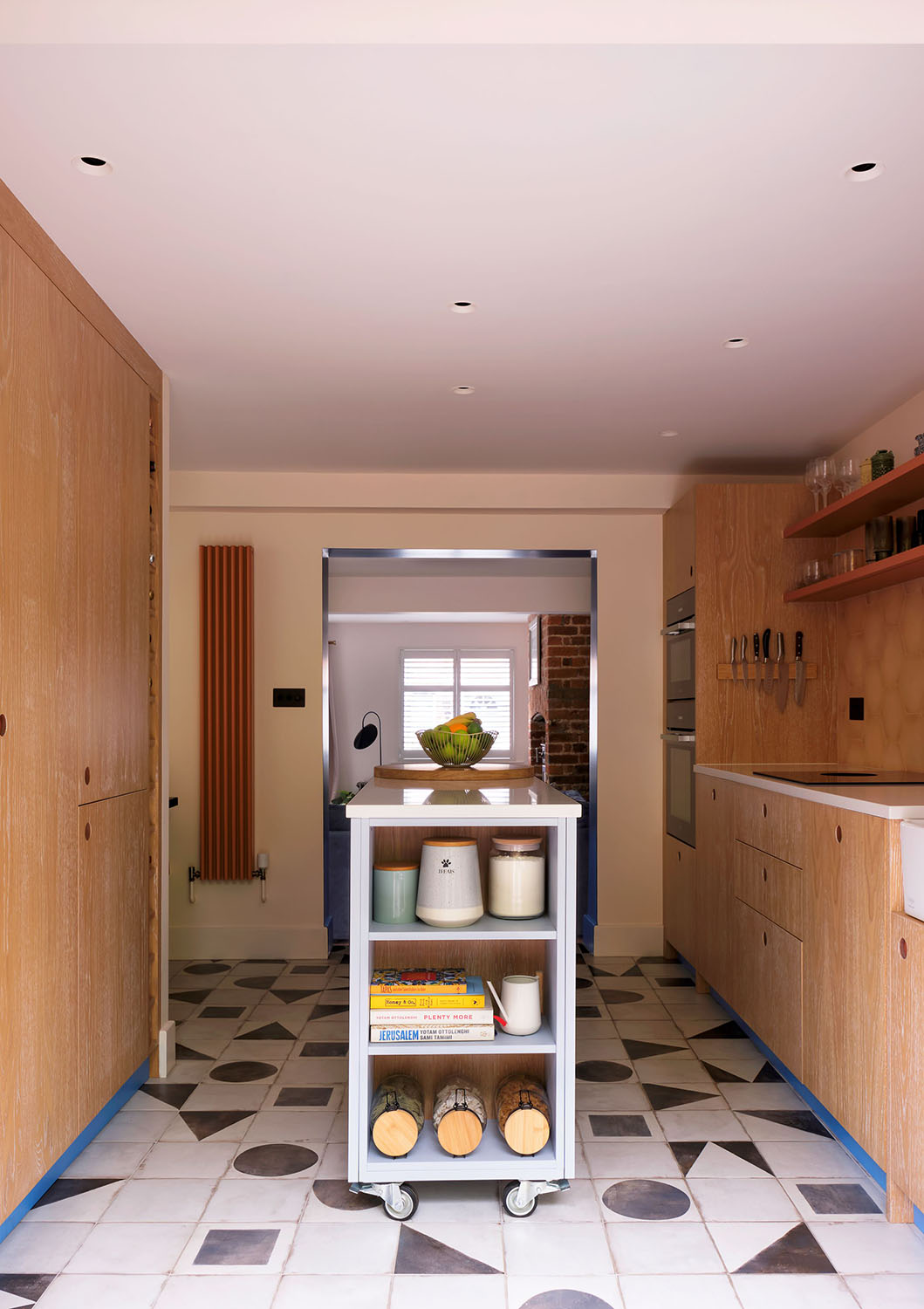 "Naked Kitchens offered bespoke detailing on all aspects of the kitchen, which allowed for great flexibility in our design. We brought in playfulness through the tiles, and wanted to carry this through by choosing vibrant touches throughout the kitchen. Having explored several combinations of colours we eventually settled on the pamment for the finger-pull recesses and open storage shelves which were mounted on top of handmade clay tiles in a peach colour. We then chose two tones of blue – one of them a custom colour – to provide a pop to the skirting and to add a fun touch to the island.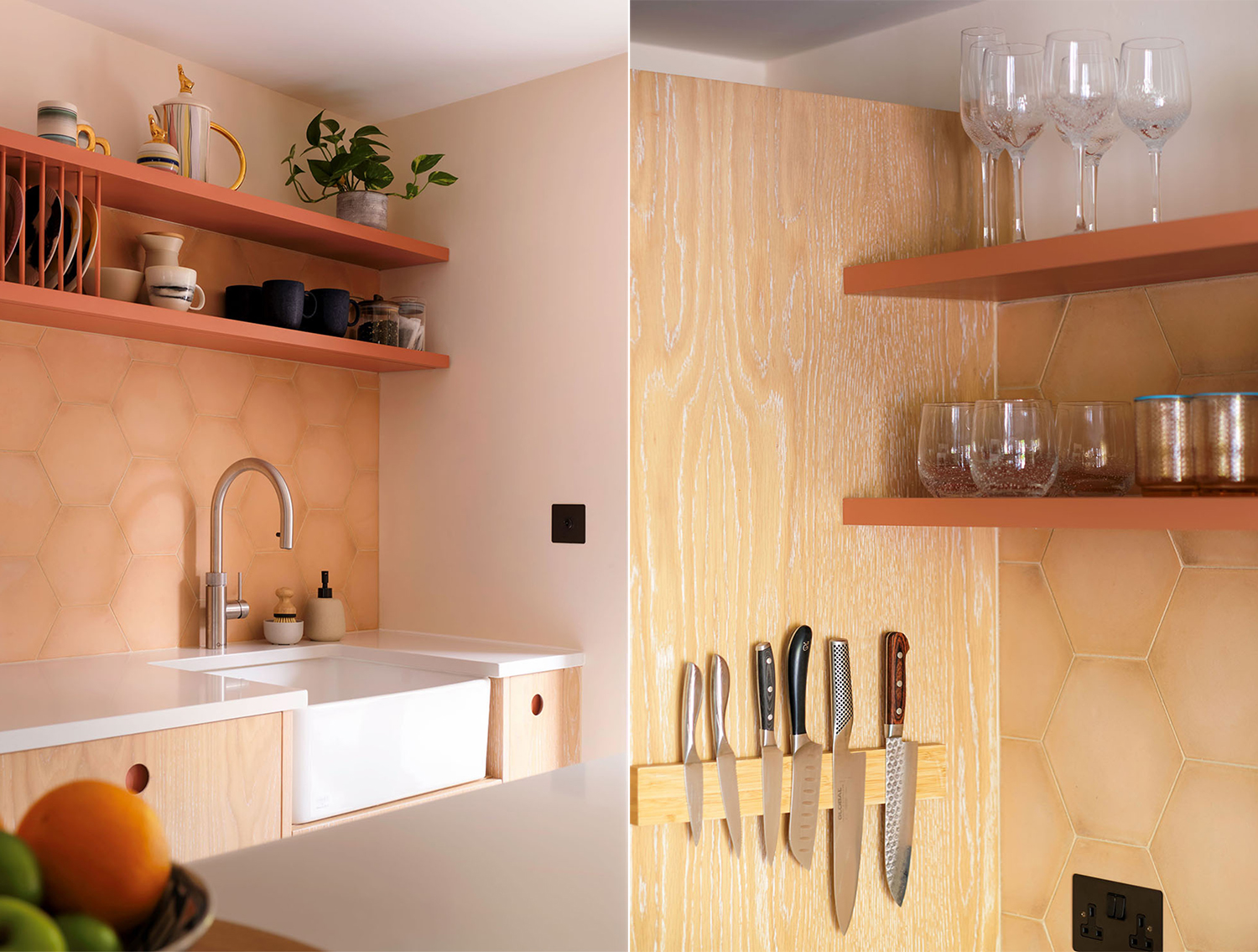 "We did keep the Nordic dark wood element in the dining table as we felt this tone gave the space – a position under a skylight – a bit of balance and grounding.
"In architecture and interior design, every project is unique: subtle differences of site conditions, client aspirations and budget constraints make each project different from the last. But for kitchens, I find the secret ingredient is to realise that, while nothing lasts forever, the kitchen is meant to be heavily used and enjoyed so a well-designed kitchen with carefully-chosen high quality materials will stand the test of time.
"When this is understood, clients often become braver and embrace what they really want; they become open to different materials and ways of using their kitchen.
"One final thought; it's important to trust in working through the design process. Where we ended up with our kitchen was not precisely where we initially envisaged it. Often it's all about letting the exploration of ideas inform you along the way, and allowing yourself to be pleasantly surprised by the final outcome."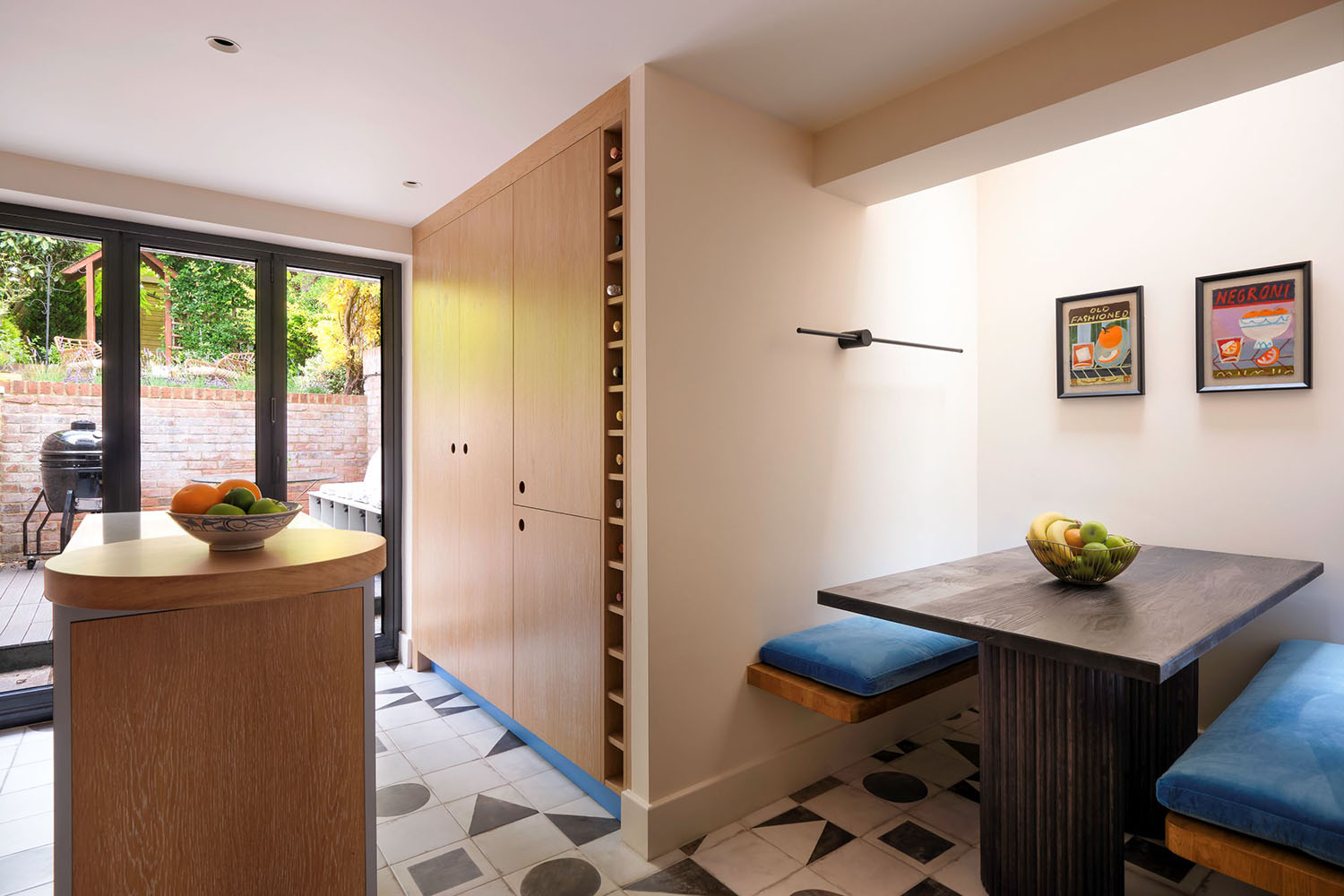 See more of Jake's work at Studio Jake Lai and follow him on Instagram @studiojakelai.
Jake's kitchen features Naked Kitchens' frameless Ladbroke doors in limed oak. See more Ladbroke style kitchens here.
Interior photographs credit: Chun Yue Chiu Photography