When choosing your kitchen cabinetry there's a key style decision to make: frameless or in-frame. But what's the difference between them, and how do you know which is right for you? Here's everything you need to know about frameless versus in-frame kitchens, including the pros and cons and lots of examples…


What's the difference between a frameless and an in-frame kitchen?
There are two main types of kitchen cabinet construction: frameless and in-frame. The difference is whether or not there is a 'face frame' – that is, a visible frame running around the outside of the doors and the drawer fronts.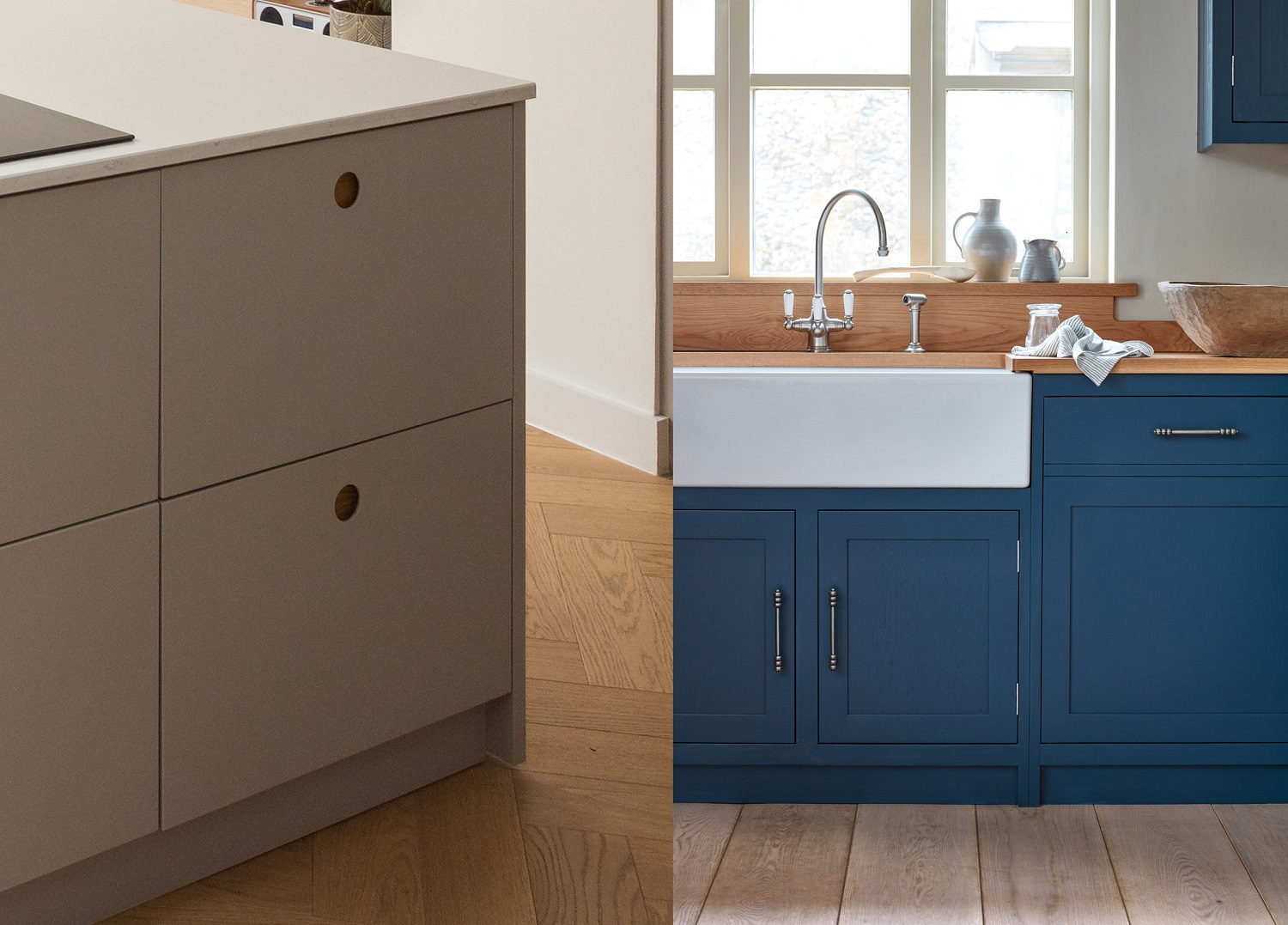 That apparently simple variation makes a big difference to the look and feel for your kitchen. In-frame styles with a visible frame are generally considered to have a more traditional, hand-crafted look, whereas frameless kitchens tend to feel more sleek and contemporary. But those are general rules and – as shown below – there are exceptions!


In-frame kitchen styles
With an in-frame cabinet design, the doors and drawers are set into a face frame, creating a design feature. The doors are traditionally attached to the face frame using decorative exposed hinges.
In-frame Shaker kitchens
The Shaker kitchen is the absolute classic, timeless in-frame style: a celebration of craftsmanship and tradition. So if you're aiming for that country kitchen or farmhouse look – perhaps incorporating an Aga or beautiful range cooker – then Shaker cabinets with their panelled doors are perfect, especially in natural exposed timber finishes.
Alternatively, in other finishes and materials Shaker kitchens can have a very different feel to that simple, homely, farmhouse look. In Naked Kitchens' Oyster Catcher kitchen for example, the classic Shaker style is brought up to date with a rich black colour scheme and brass detailing for really smart, bold look; while the Chester Row kitchen, with an island in walnut Shaker cabinets and a marble worktop, oozes luxury…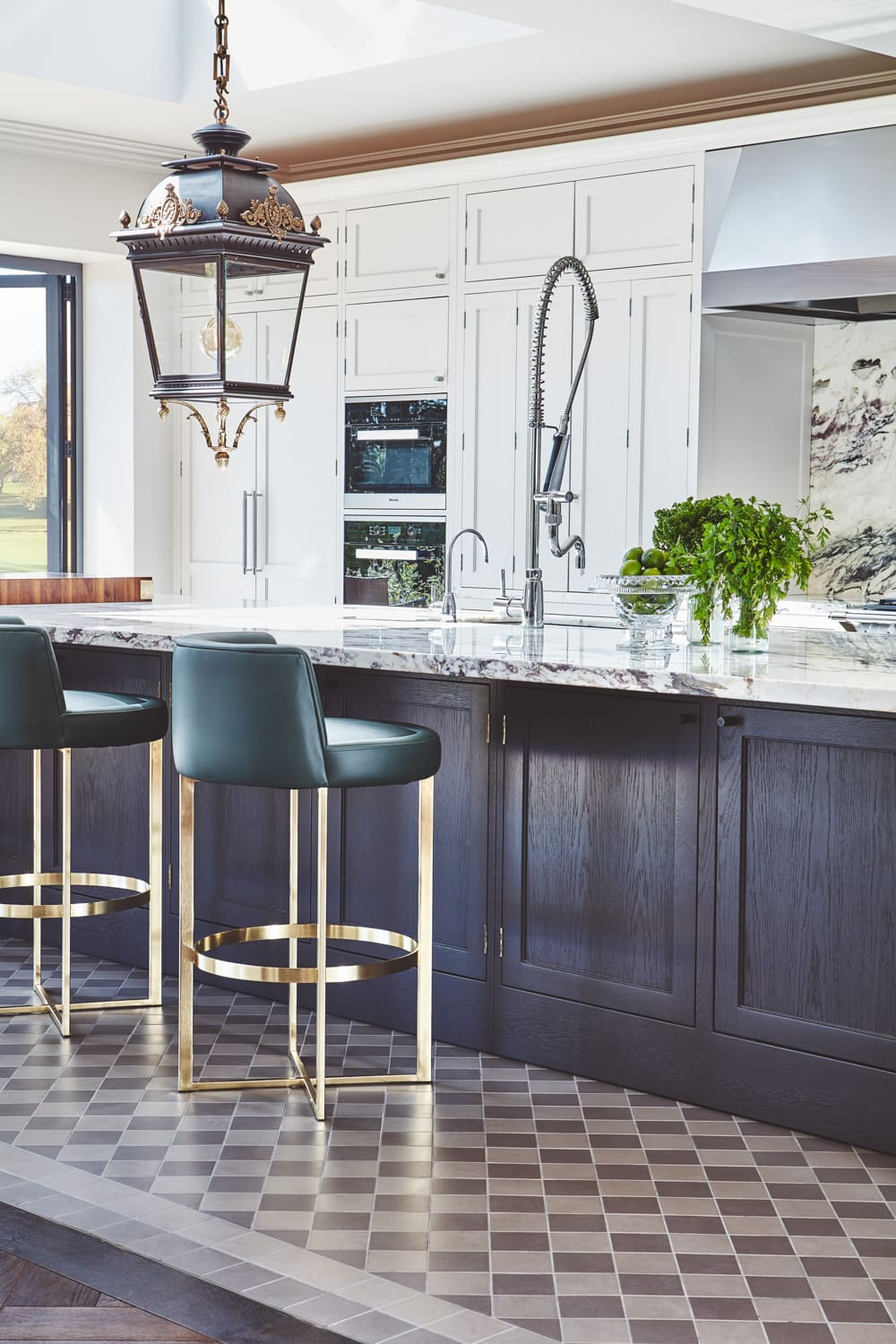 Other in-frame cabinet styles
However, Shaker – with its distinctive panelled doors – is not the only in-frame kitchen cabinet style. Other in-frame styles are perfect for showing off beautiful natural timber materials but with a more contemporary feel.
A great example is the Houghton kitchen, which unusually combines two very different in-frame styles: a panelled Shaker cabinet in Bramble and Lavender Fields paint finishes; and an in-frame, handle-less J-Groove in exposed walnut. Two contrasting cabinets – the Shaker a traditional style in very modern purple tones; the other a more contemporary style in a natural walnut finish – but because they're both in-frame, the whole kitchen has a wonderfully harmonious feel.
Meanwhile, in the Hampton Court kitchen, the in-frame Slab doors are painted in a Pierhouse blue that still allows the natural grain of the oak to show though.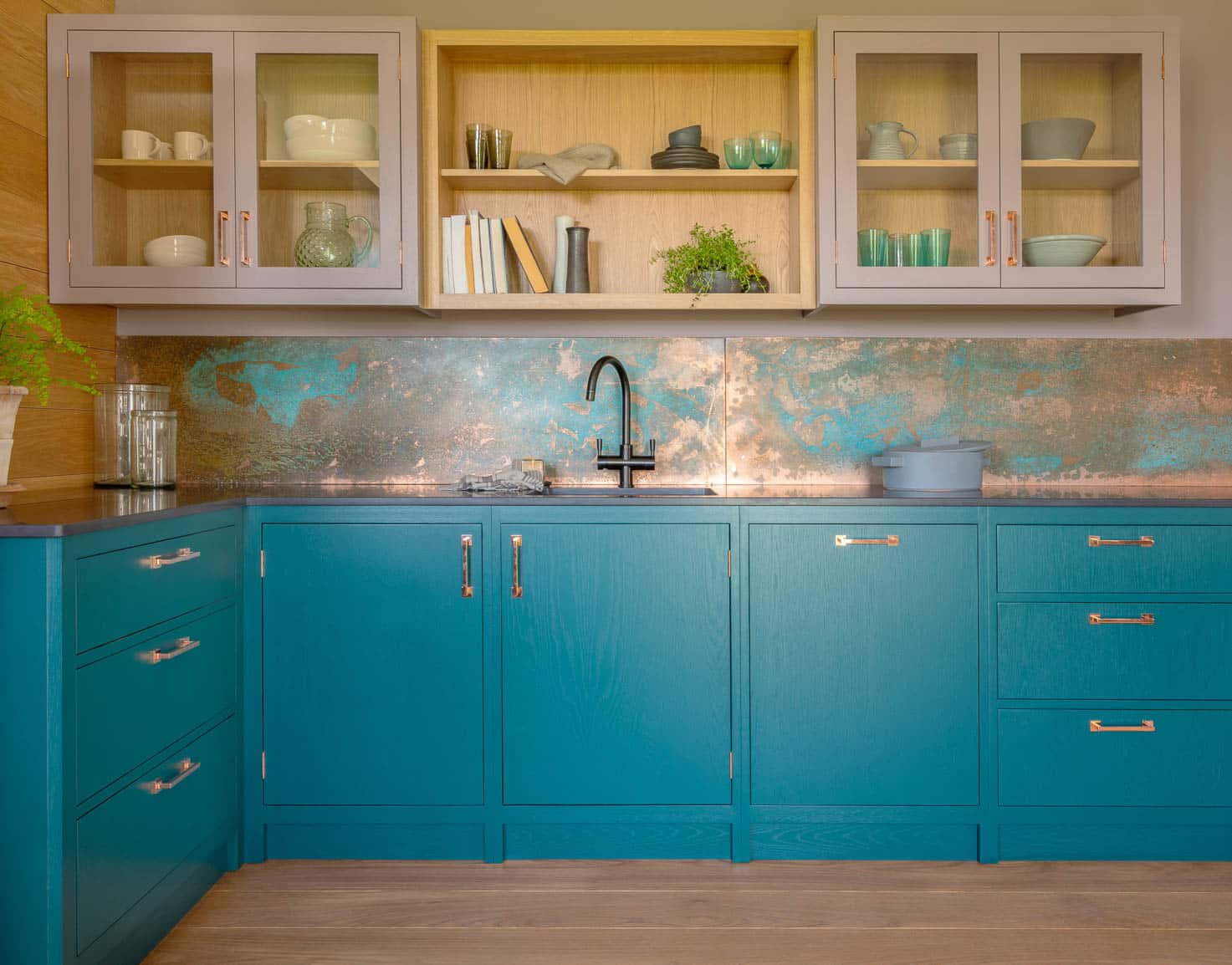 See more classic in-frame kitchens here.


Frameless kitchen cabinet styles
Frameless cabinets do not have a face frame – instead the doors attach directly to the cabinet frame, normally using concealed soft-close hinges. This type of design provides a sleek, streamlined look across the full length of the cabinets.
Frameless kitchens are great for minimalist looks, especially when the doors are simple and flat, and painted in a contemporary colour or a neutral. For example, compare the in-frame Slab doors of the Hampton Court kitchen above, with the frameless Slab doors of the Westbourne Gardens kitchen below:
But again, frameless cabinets can be versatile too. For example, a frameless kitchen can be given a more traditional, earthy edge with accessories like rounded wooden handles, or just a natural exposed wood finish.
The frameless Shaker kitchen
Love the Shaker style but prefer a frameless construction? Even though Shaker is probably the most famous in-frame kitchen style, it is possible to get the distinctive look with a frameless cabinet. Our frameless Shaker is a Shaker door, complete with styles and styles and rails, but the door is overlaid onto the cabinetry, bringing a more contemporary look to the kitchen.
Frameless vs in-frame kitchens: the pros and cons
Aside from the subjective matter of style, frameless and in-frame kitchens each have their pros and cons in terms of design and functionality. Here are some of the key advantages and disadvantages of frameless vs in-frame designs:


Storage space
When it comes to storage room, frameless kitchens have a slight advantage over in-frame kitchens. With in-frame designs, the presence of the face frame means that the interior space of the cabinets and drawers is slightly reduced; whereas frameless kitchens have full-width drawers and cabinets, maximising the amount of available storage. So frameless cabinets can be a good choice in a smaller kitchen where space is at a premium.


Strength and durability
Both in-frame and frameless kitchens are strong and durable. An in-frame kitchen has the advantage of an additional hardwood frame which provides a solid area for attaching and securing the cabinet doors. Frameless cabinets may need more adjustment in order to ensure that the cabinet fronts remain symmetrical and to stop doors and drawers from sticking. On the plus side, it's easier to adjust the shelves and doors in a frameless cabinet.


Accessibility and cleaning
With in-frame kitchens, the face frame can create a slight 'lip', and the central stile can also make navigating and using the space a little more challenging. Frameless cupboards, meanwhile, offer full access to the interior of the cupboard, making it easier to store and access larger items, and making cleaning and maintenance simpler.


For more kitchen ideas and inspiration, see our kitchen cabinet styles and browse our portfolio. At Naked Kitchens, we can help you create a kitchen built for your life - find out how it works here.
Frequently Asked Questions
Is frameless or in-frame the best choice for my kitchen?
For a traditional, high-end look, in-frame is the natural choice; while a frameless design will lend your kitchen a more seamless, contemporary edge. For smaller kitchen spaces, a frameless design will help to maximise the available storage space. Ultimately, the choice of frameless or in-frame kitchen will depend on your individual space and your own personal taste.


Are in-frame kitchens more expensive than frameless kitchens?
In-frame kitchens generally cost a little more than frameless kitchens and can take slightly longer to make, as they are more complex and require more materials. If you like the in-frame look but you're on a limited budget, consider opting for a frameless kitchen, which shaves about 20% off the cost of your cabinetry, on average.


If I'm buying kitchen doors only – for example to add to IKEA or Howdens cabinet carcasses – can I use in-frame doors?
The short answer is no. In a frameless design the door is overlaid onto the cabinetry, so that only the door is visible and none of the carcass behind it can be seen. But in an in-frame design (like the traditional Shaker kitchen) the door or drawer sits within the frame, which is visible around it. However, you can achieve a more traditional look by using Naked Kitchens' frameless equivalents.


Can you combine frameless and in-frame styles in the same kitchen?
When designing your kitchen, there's no hard and fast rule that says you have to have all your cabinets in a single style. Combining and contrasting different colours and finishes is all part of the interior designer's art, and that even applies to basic door styles.


See also:
Small but beautiful: A complete guide to designing and maximising the space in a small kitchen
Choosing colours for your kitchen – an expert guide