Wood veneers are perfect for naturally beautiful kitchen cabinets, doors and drawers. But what exactly is a veneer – and how does the process work? Find out all you need to know in our expert guide…
People have been using wood veneers to make beautiful, durable furniture and cabinetry for thousands of years; veneering is a skilled craft, and selecting and applying veneers to get the right aesthetic look and feel is a blend of art and science. At Naked Kitchens we use an innovative veneer selection technique to craft natural-looking 'exposed' timber doors and cabinets in finishes including oak, walnut, limed oak and birch ply: stunning, high-quality, bomb-proof kitchens that look a million dollars but don't cost the earth.
What exactly is a wood veneer?
A veneer is essentially a thin decorative covering, and a wood veneer is a covering that's made from ultra thin layers of natural wood, which are sliced or 'peeled' from the log and then bonded to both sides of a strong core material. Typically in modern kitchen manufacture a hardwood veneer will be added to a high-quality MDF base.
The process of veneering allows the natural grain patterns of the original wood to be retained, resulting in a beautiful product that has its own individual character, but is also durable and will stand the test of time.
What are the benefits of using a wood veneer?
The most obvious advantage of veneered cabinetry is affordability. A wood veneer is more cost-effective than solid wood, while still looking stunning and allowing you to showcase the beautiful natural patterns of the wood grain. But veneering isn't just a 'cheap alternative' to solid wood: there are many ways in which it's a better, wiser, more ethical choice. The benefits include:
Sustainability – a wood veneer is created from a piece of solid wood that's been sliced into multiple layers, meaning you can make much more from a single piece of wood.
Durability – a wood veneer is more stable than solid wood and less susceptible to environmental factors such as changes in temperature and humidity, so it's less prone to splitting, cracking or warping over time
Aesthetics – wood veneers can come in a wide variety of different colours, styles and finishes, making them perfect for creating beautiful, bespoke kitchen cabinets tailored to your favourite look, whether that's traditional, minimalist or very contemporary.
Versatility– A wood veneer is lighter and easier to manipulate than solid wood, meaning it can be more easily manipulated into a range of different shapes and designs, allowing for a truly bespoke kitchen layout built for your home and life.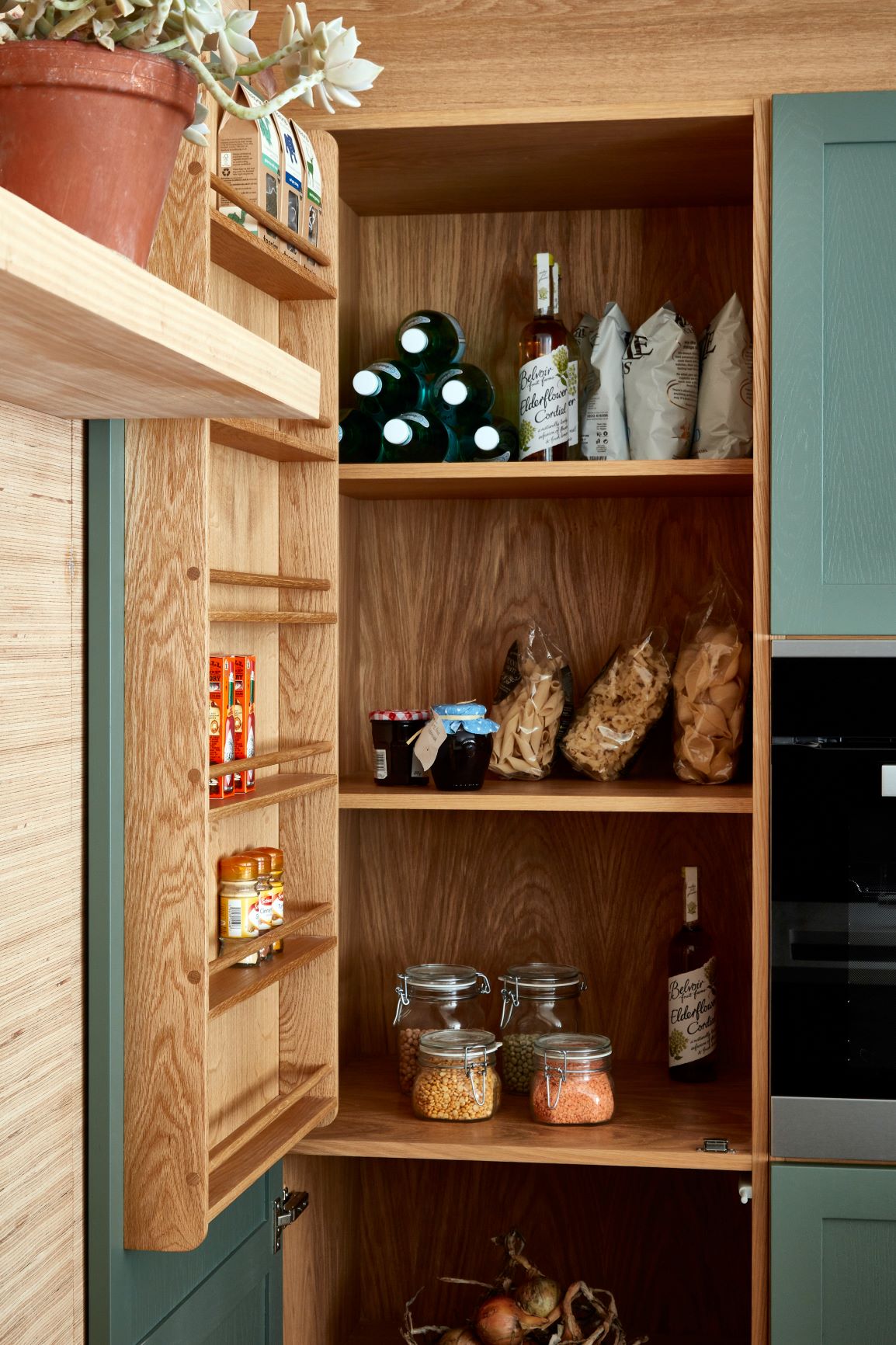 A brief history of veneers
The use of veneers dates back a surprisingly long time: thousands of years, in fact. Expensive ebony and ivory veneers were used on cheaper woods by the ancient Egyptians, even featuring in King Tutankhamun's tomb, and over the centuries wood veneers have been employed for a range of different purposes. The Romans used wood veneers in furniture-making, and during the Renaissance fine quality wood veneers were used in marquetry, creating intricate patterns for decorating items of furniture for wealthy members of society, including royalty.
The 1800s saw a surge in the use of veneers by artisans (including the great Thomas Chippendale), as a way of extending the use of more exotic hardwoods such as mahogany and walnut. During the Industrial Revolution, developments in manufacturing further refined the process of veneering, and wood veneer furniture became a popular choice among the Victorians.
Today, wood veneers are used across a range of different industries around the world, from commercial to domestic applications, and their use in furniture-making remains as popular as ever.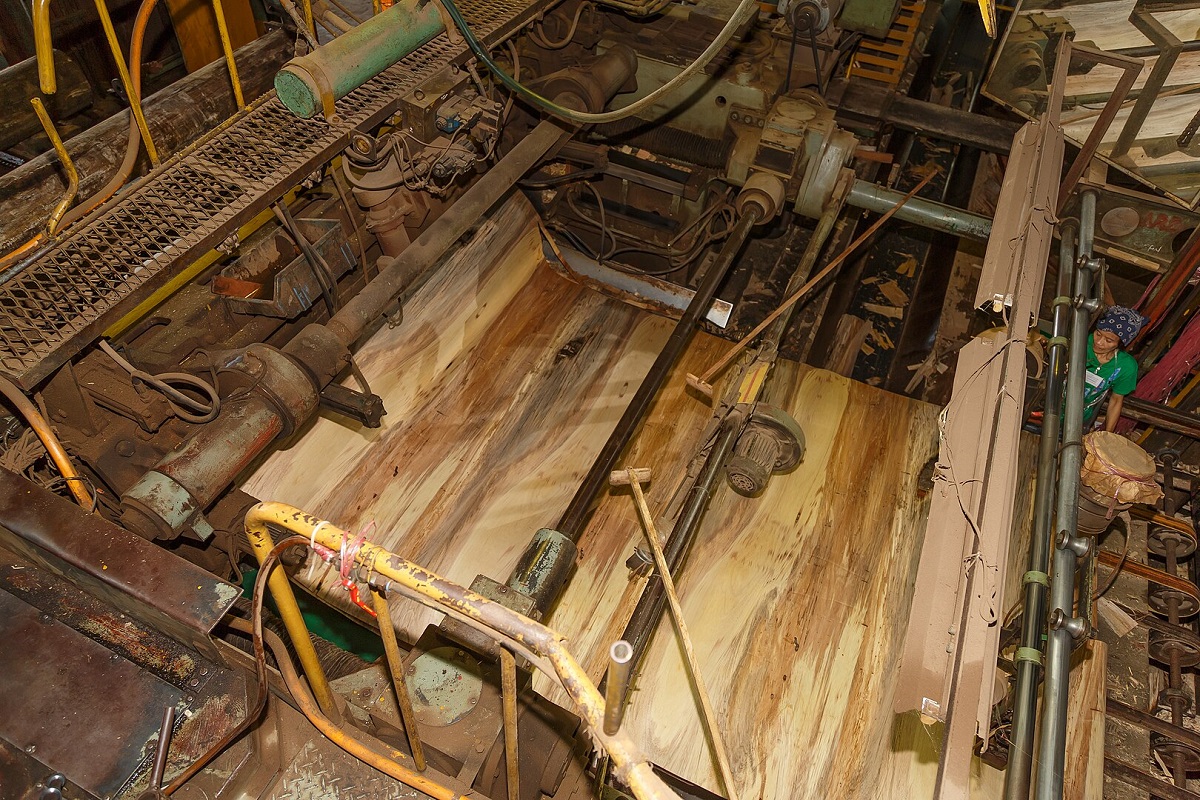 How is a wood veneer made?
There are three main cuts of wood veneer, each of which produces its own distinctive look and effect:
Rotary, or peeled – this is where the log is peeled on a giant lathe, with a very sharp knife. This is mostly for highly consistent logs, such as birch or fir, and it's how the core for all birch plywood is made.
Quarter cut and rift veneers – these are more complex, expensive and wasteful and they produce a much straighter, linear grain. Of course it's all down to personal taste, but the straightness of the grain can look repetitive.
Crown cut – this involves slicing the wood in horizontal layers all the way through the log. This produces the stunning grain effect that most clients associate with veneers, and these are the veneers we use for our panels at Naked Kitchens. Crown cut is often referred to as showing the 'mother structure' of the log
Once the wood has been cut, the bundle of slices, or leaves, from one log are kept together in the order in which they were cut – this is known as a flitch. Generally, a good oak flitch will consist of around 25 to 40 leaves. Next comes the hard part: grading the veneers and getting the right look. (Too little variation and it looks man-made, too much and it can look like pallet wood.)
Due to their natural origins, every single element is unique, and the chances are there will be leaves from at least three different flitches in any one kitchen. This means three different trees, each with their own distinctive characteristics as defined by a range of environmental factors – including the grain patterns, growth rings, capillaries, small knots and colour: in fact, all the things we love most about natural wood! Getting the balance right is hugely challenging, and takes experience and specialist expertise.
How is a wood veneer selected and graded?
Veneering sounds like a simple process – apply glue and press – but across large panels it is anything but straightforward. Not only does it require the right skills, equipment and processes, it also requires a rare level of attention to detail – indeed, selecting veneers is one of the most demanding operations here at Naked Kitchens.
The system for grading veneers is actually quite variable. Unlike with hardwoods, which have a highly defined set of grading rules, grades for veneers are generally subjective:
AA or A plus grade – an AA or A plus grade has variable requirements: for example, it may or may not stipulate very small pin knots, or include a certain allowance for mineralisation, and it may or may not have width or grain style parameters, depending on the producer
A grade – the differences can be small on paper, but big when it comes to aesthetics. Small knots might be allowable, but there may not be an exact definition of how many are allowed in a given area. Colour starts to take a back seat at the lower end of the A spectrum: some mineral streaking may play a part now, and variation in grain becomes more noticeable. However, most A grade veneers still look fabulous
B grade – these are for lower end decors where imperfections are balanced against cost. At this grade, some knots may well be filled, and a fair degree of colour and grain variation is to be expected. However, done well, it can still look great
C grade – finally, a C grade veneer is where cost outweighs most other aesthetic considerations. Often classified as 'rustic', it is essentially all bits that are left over!
The Naked Kitchens 'exposed' veneer grading system
In order to achieve aesthetic continuity, at Naked Kitchens we use a very rare and special grade of veneer which doesn't fall under a generic grading rule. In our view, even the top grades of AA or A plus still show too much variation in grain and colour between flitches (the bundles of thin wood slices). But by working with our veneer supplier, we found a way to minimise this with a whole new selection process.
Starting with the AA flitches, we then select further bundles which we know will work well together. We also use extra wide flitches, which looks fabulous and has a harmonising effect. This leaves us with our own in-house grade – an AA Super grade – which we simply call 'exposed', since the veneer is clear lacquered and the grain exposed. It's the perfect balance of natural variation, colour and grain.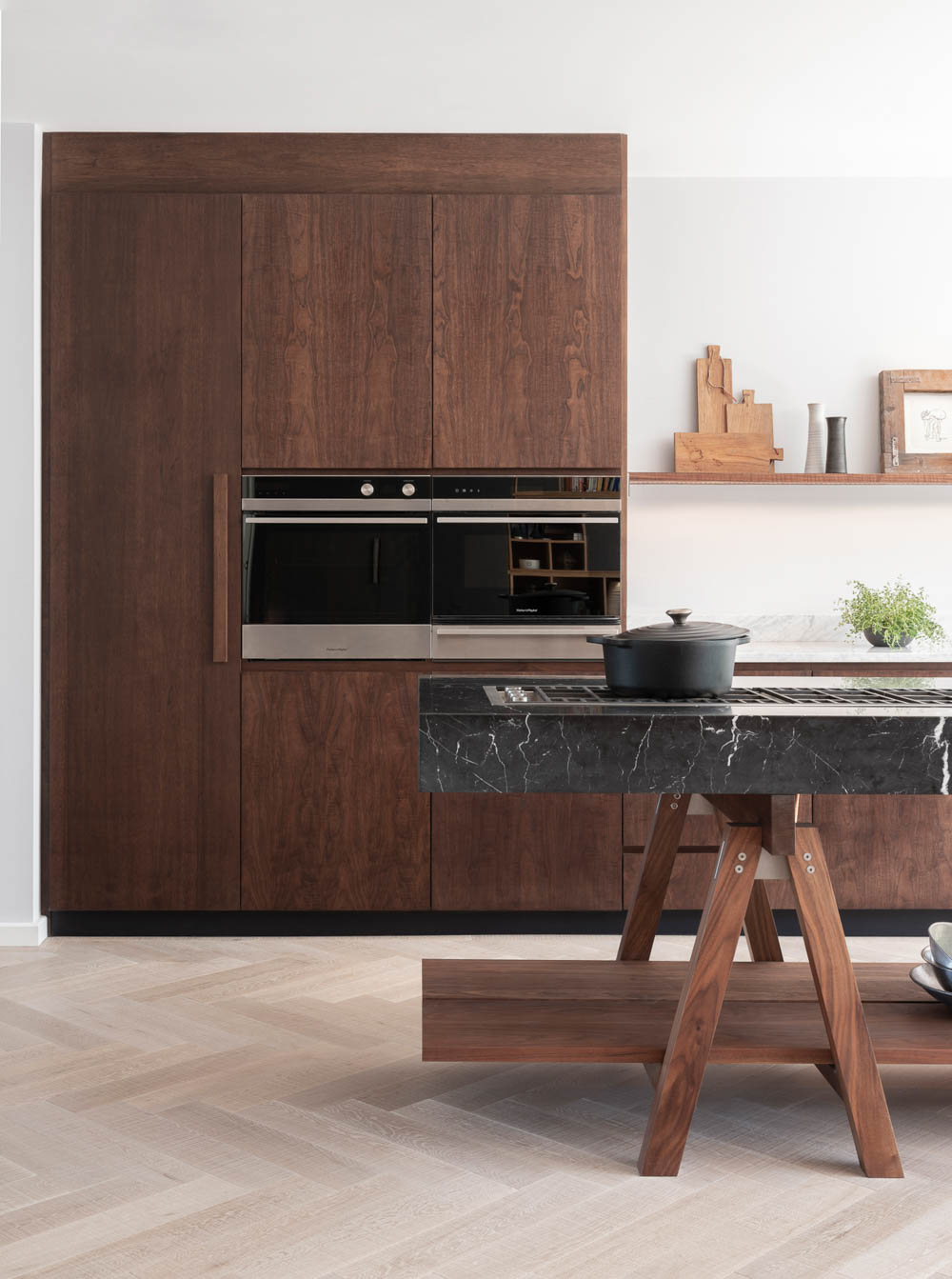 Naked Kitchens are built for life, and we can create the perfect kitchen for the way you live. Browse our portfolio here.


---

Frequently Asked Questions about wood veneers
Is a wood veneer actually made from real wood?
Yes – a wood veneer is made using real natural wood, and should not be confused with cheaper manufactured laminates. At Naked Kitchens, each flitch is carefully selected in order to retain the beautiful natural characteristics of the wood grain, and to allow us to create unique, high quality kitchen cupboards with real depth and character.


Is a wood veneer kitchen environmentally friendly?
Yes, a wood veneer is an environmentally friendly choice for a kitchen. When creating a veneer, the log is cut into ultra thin pieces (as thin as 0.6mm), leaving very little waste and meaning that one tree goes a long way – creating a product that's both eco-friendly and cost-effective, while still enjoying a high-end look that can often make it difficult to distinguish from solid wood.


Is a wood veneer easy to maintain?
Yes – you can give a wood veneer a light clean using a soft, lint-free cloth and wiping in the direction of the grain, and there's no need to treat the wood with wax or silicone. You should avoid using any abrasive cleaners: for more stubborn dirt, use some mild dishwashing detergent.


Are wood veneers only on the outside of kitchen cabinets?
Whenever you apply a veneer to one side of a panel, there has to be another (a balancer) on the reverse. At Naked Kitchens we often use a lower grade veneer of the same wood for this, or else a less expensive but still high-quality and durable material. So for our veneered wood cabinets we use our AA Super 'exposed' grade on the external visible side and AA grade on the interior, while our ply cabinets have a high grade A veneer on the visible side and a high grade B external veneer as a balancer.

Sustainable kitchens: What makes an environmentally-friendly kitchen?
Why our ply? 5 reasons our scandi-style birch plywood is the perfect kitchen cabinet material
Choosing colours for your kitchen – an expert guide
From our place to yours – an interview with the Everett family