Kitchens should be beautiful – but they're also working rooms. Here's how to apply some science to your kitchen layout and make it a more convenient, efficient and enjoyable place to cook, eat and live…
A great kitchen isn't just an Instagram-ready showroom: it's the place where all real life happens. And as well as all the fun family stuff, there's a lot of work going on: prepping, cooking, serving up and cleaning up. Kitchen tasks typically involve lifting, bending, reaching and stooping. Wherever you have physical activity going on, you want it to be as easy and stress-free as possible.
That's where ergonomic kitchen design comes in.
What exactly is ergonomics, and why is kitchen ergonomics important?
Ergonomics is an applied science that focuses on designing and arranging products and processes in a way that prioritises the health, comfort and efficiency of the user. The term is usually applied to workplaces, but it's important in the home, too – and especially the kitchen.
An awkwardly designed kitchen not only makes tasks more annoying and time-consuming, it can also place a physical strain on the body (which in turn leads to postural symptoms and all those aches and pains). Kitchen ergonomics aims to reduce the strain and make working in your kitchen as efficient and enjoyable as possible, by minimising the number of movements required to complete daily tasks, and making sure everything you need is easily accessible.
From the height of your worktops, to the position of the cooker and sink, down to having the right kind of lighting, here are some practical tips for good, ergonomic kitchen design..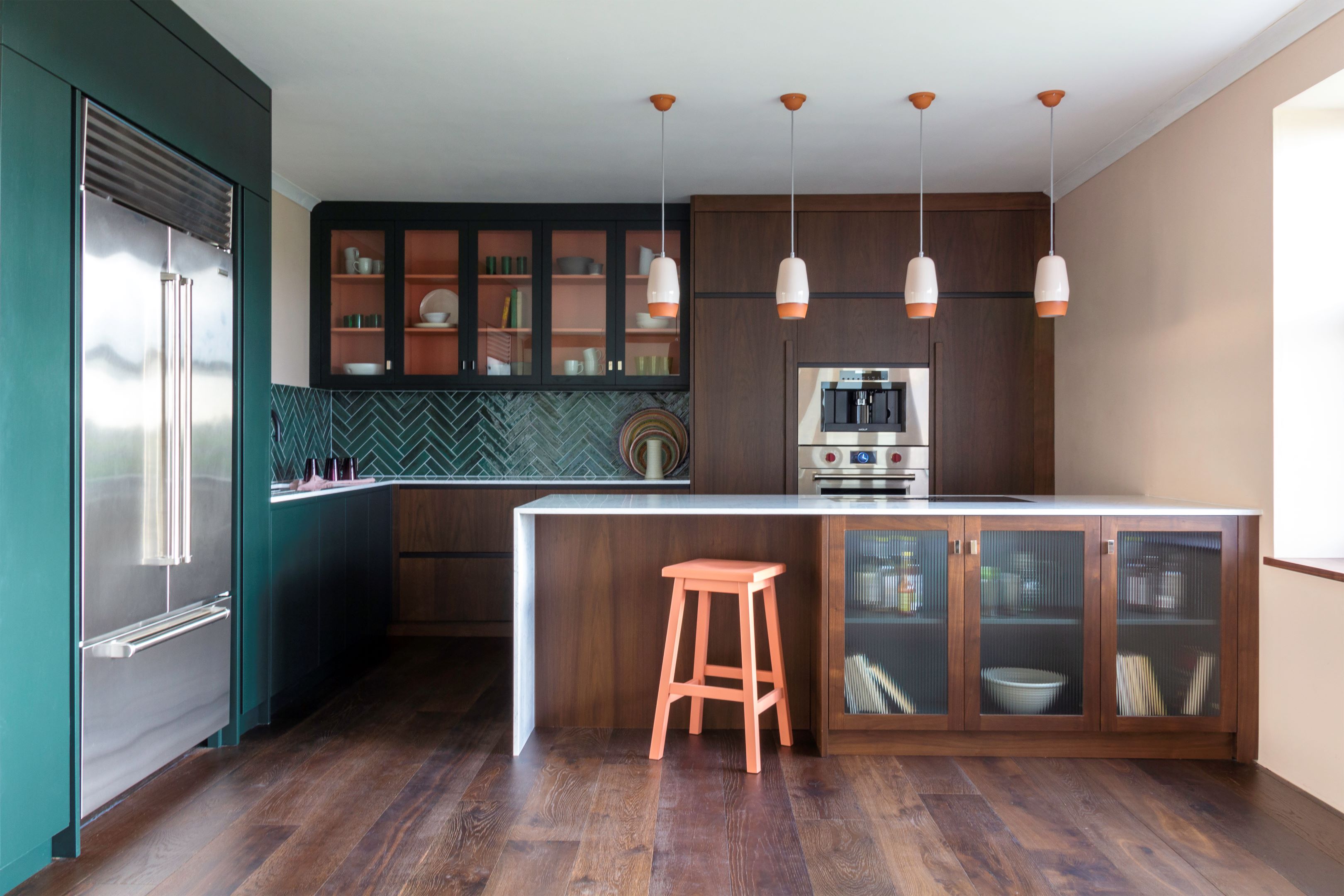 1. Follow the 'kitchen work triangle' rule
Under the kitchen work triangle rule, the three main working areas of the kitchen – the cooker, the sink and the refrigerator – are seen as three points on an imaginary triangle, with invisible lines between them. These points form the foundation of the design of a kitchen.
The kitchen triangle rule states that:
the three working areas should be situated between 4 and 8 feet apart
the total perimeter of the three working areas should be between 13 and 26 feet
there should be no obstructions between the three points
the amount of traffic passing between the three main areas should be kept to a minimum, with no criss-crossing of routes
The idea of the kitchen work triangle was developed by mechanical engineer Frederick Winslow Taylor in the 1940s. In those days, kitchens were generally smaller and simpler affairs and things have moved on somewhat since then, with all sorts of additional labour-saving appliances and kitchen layout options now available to us. However, the key principles of the kitchen work triangle can still be applied to kitchen design today, in order to help create the best, most efficient flow between the areas and appliances you use the most.
(Read more in The kitchen work triangle - an expert guide.)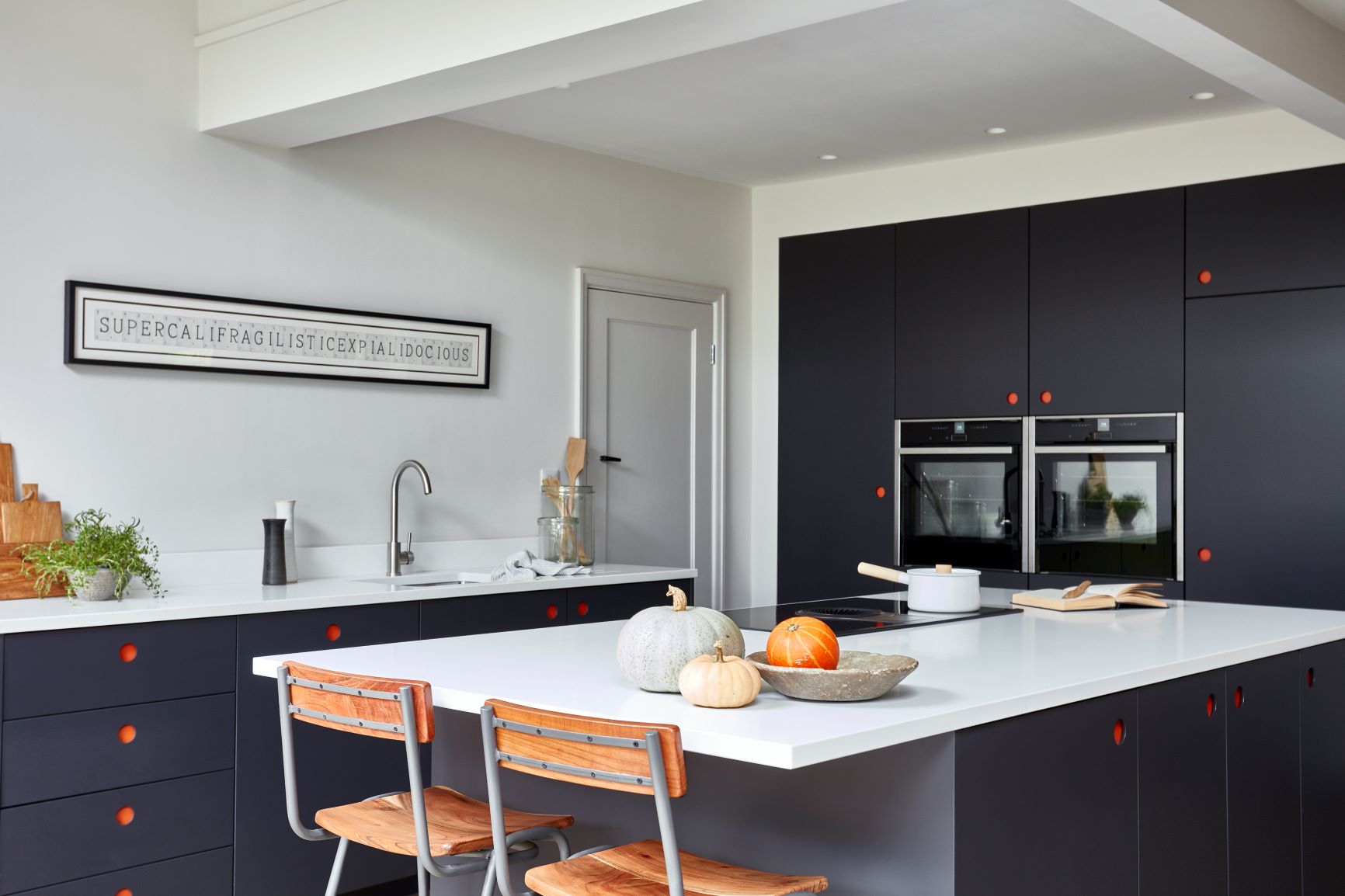 2. Set the right working height for prepping and cooking
If you've ever suffered from backache while standing at the sink, or stirring pots and pans on the hob, you're definitely not alone… The position of your worktops, sink and hob can have a significant impact on your posture, so, if you're designing a bespoke kitchen, it's important to make sure they're set at the correct working height.As a general rule of thumb, the average working height in a kitchen is normally set between 850-950 mm, although the optimum height can vary depending on the height of the user.
To work out the right working height for your kitchen, you can use the 'elbow test': when your palms are flat on the worktop, your elbows should be resting with your forearms at a 45-degree angle. You can apply a similar test to work out the right height for your sink; be sure to measure the distance from the bottom of the sink, rather than the top or middle.
Meanwhile, when it comes to the height of the hob, some people prefer to have this set at a slightly lower height than the worktop – by around 10-15 cm – as this can help to avoid straining your shoulders, arms and upper back. And don't forget to factor in the height of your cooker hood (especially if you're on the tall side).
3. Food and utensil storage: don't overstretch yourself
As well as the working height, think about reaching height. Many kitchen tasks involve reaching upwards or bending downwards, both of which can cause neck and back strain in the long term.
Avoid hanging wall cabinets or shelving too high. The ideal reaching height in a kitchen is just above eye level (or elbow height when reaching above your head). Anything stored above this height should not be too large or heavy, and frequently used items should not be put anywhere that requires a lot of regular reaching or bending.
Some more tips:
Where possible, main kitchen appliances should be raised rather than at ground level.
Shoulder height is ideal for a cooker, and you should store large pots and pans close by.
Dishes, ovenware and glassware should be stored close to (but ideally not above) the dishwasher, to avoid repetitive cycles of bending, lifting and stretching as you load and unload items.
Changing the orientation of cupboard doors, or installing sliding doors can be another simple way of improving the flow and minimising obstructions in your kitchen.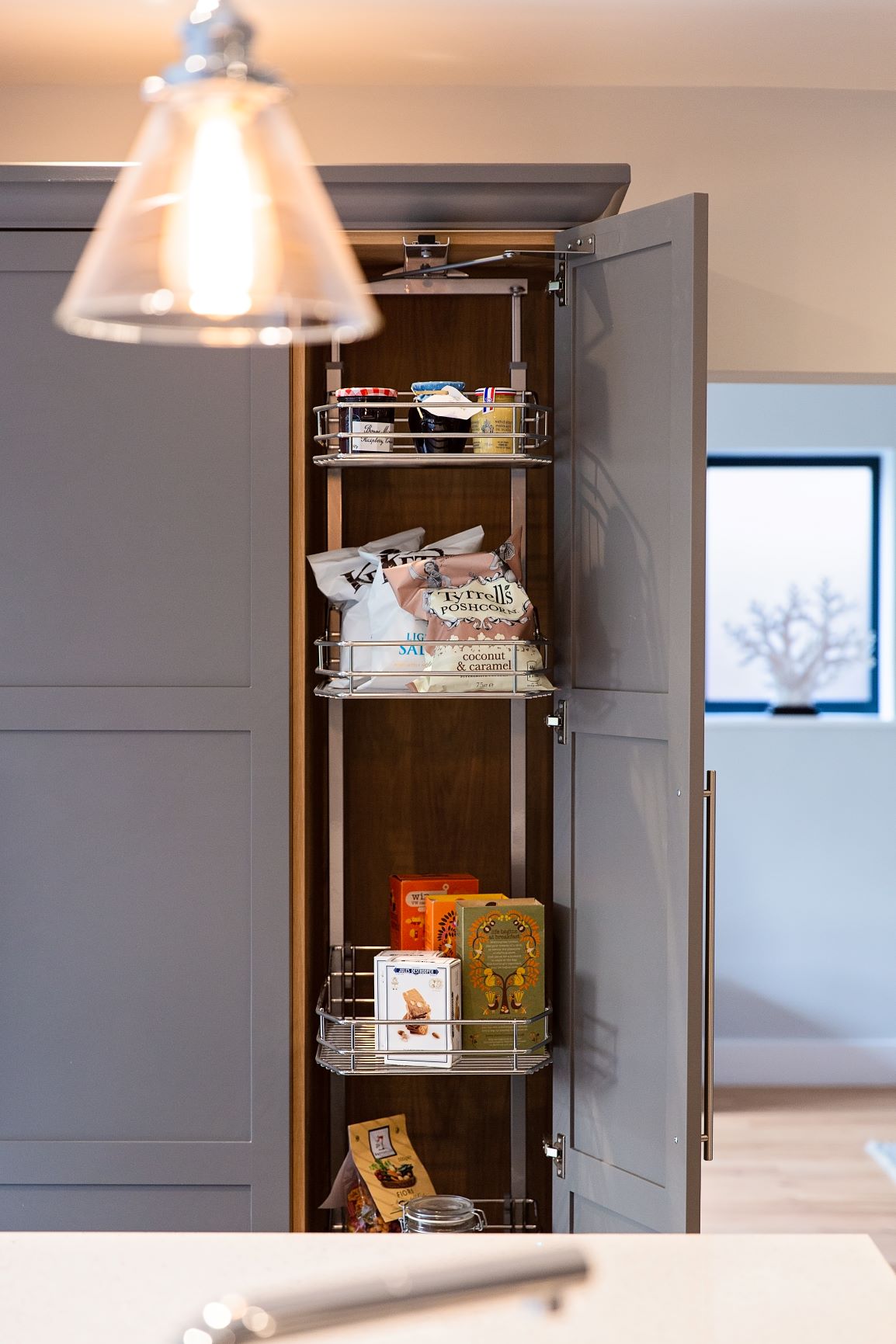 4. Make use of smart storage solutions
Smart storage solutions play a big role in an ergonomic kitchen. With a bespoke design you can incorporate a whole range of clever storage options specifically designed to make full use of your space – including those tricky and awkward spaces – and help make things more easily accessible.Built-in storage such as carousels, magic corner units, drawer dividers, peg boards, risers and pull-out larders are a great way of arranging key kitchen items and making those hard to get to spaces more accessible – so there's no more need to root around uncomfortably in the depths of the corner unit.
Drawers and open shelves are good for accessing frequently used items, and specialised storage solutions such as spice rack drawers and integral chopping boards can make everyday items easily accessible without requiring any unnecessary bending or stretching.
Finally, consider adding in some hooks for hanging pans, mugs and cooking utensils to keep them within easy reach.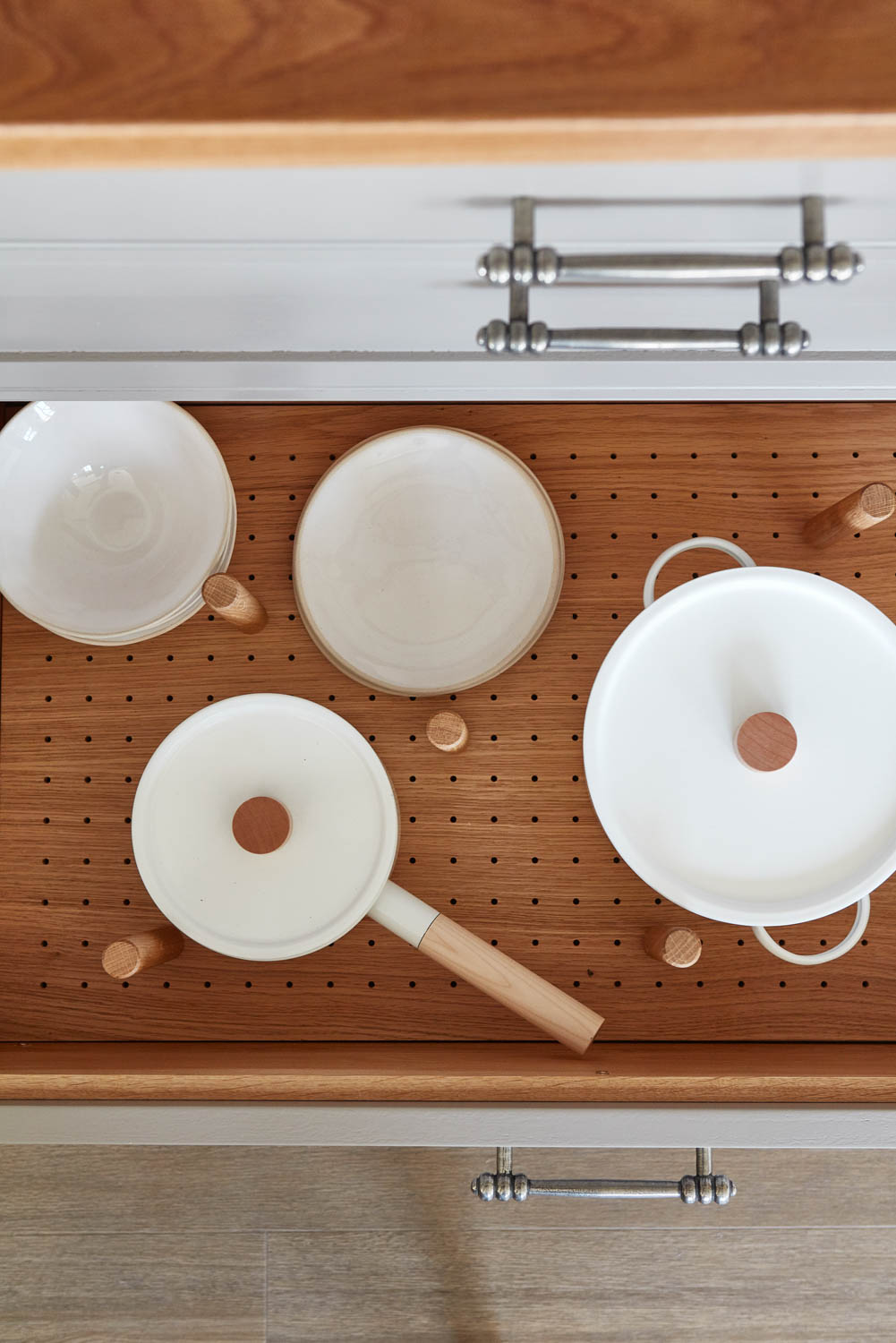 5. Get the lighting right
When lighting a kitchen, you need to think about all the different tasks and activities that take place in it – from preparing and cooking food, to feeding the kids, home working, playing family games and entertaining guests. By using a range of different types of lighting, you can make sure you have plenty of practical light in your kitchen, as well as an alternative layer of softer, atmospheric lighting for relaxing or entertaining.
The main working areas of the kitchen need plenty of bright, targeted lighting for important practical tasks, such as chopping food, so downlights and recessed lights are popular choices. But too much overhead lighting can create glare and contrast, and cast shadows over the working areas, making it hard to see properly and creating additional strain.
Bringing in some other forms of lighting, such as wall lights, spotlights and under-cabinet lights will help to cast the light evenly around the space, creating a more balanced look and ensuring your space is well-lit, functional and works for you.
Lighting is also a great way of creating different 'zones' within a kitchen, as well as making a visual statement. If you have a dining table in the kitchen, you can define the dining area by hanging a striking pendant light (or even a beautiful chandelier) over the table. This will provide plenty of ambient light, while also making a lovely focal point. For a long table or a kitchen island, try a row of pendants – odd numbers such as 3 or 5 work best – and aim low: the bottom of the pendant should hang around 30-36 inches from the top of the table or island for the best effect.
Summary
To sum it all up, a great bespoke, ergonomic kitchen layout will have the following characteristics:
Convenient, unobstructed lines between the cooker, sink and fridge, as per the kitchen triangle rule.
Worktops set at a comfortable height for you – so that when your palms are laid flat on the surface, your elbows should be resting with your forearms at a 45-degree angle.
Good reaching height – with frequently-used and heavy items stored no higher than slightly above eye level.
Smart storage solutions to optimise space and eliminate awkward spots
Good, comfortable lighting with plenty of options for different tasks and moods.
Naked Kitchens can build the perfect bespoke kitchen for you – tailored to the way you cook, eat and live. Get started here.
See also:
The kitchen work triangle - an expert guide
Seven secrets of sensational kitchen lighting - from the experts at Pooky
Small but beautiful: A complete guide to designing and maximising the space in a small kitchen
Kitchen ergonomics: Frequently Asked Questions
Why is ergonomics important in kitchen design?An ergonomic kitchen design will help to minimise the strain caused by repetitive actions such as reaching, stretching and bending, making your kitchen a more efficient, comfortable and enjoyable place to spend time in.


What's the best layout for a kitchen?From an ergonomic point of view, the best kitchen layout will be the one that minimises the amount of physical movement that's required to complete everyday tasks, such as preparing food, cooking, washing the dishes, and clearing up. We can help you find the layout that works best for you.


What's the most ergonomic way to light a kitchen?When lighting a kitchen, the key is to use a range of different types of lighting, rather than relying on just one source of light. By using a combination of overhead lighting, spotlights, wall lights and under-cupboard lighting, you can ensure you have plenty of targeted practical light for performing tasks, while also being able to enjoy some more atmospheric lighting for relaxing or entertaining.