At Naked Kitchens we love a well-designed kitchen crafted from a durable, natural material – so how about a 200-year old one made of molluscs? Here's why Florida's historic Ximenez-Fatio House is still inspiring to kitchen experts…
Florida might be better known for its theme parks and beaches than its cultural history, but away from the tourist hotspots there are some hidden gems… St Augustine on the north east coast is the USA's oldest continuously inhabited city, and tucked amongst its historic streets is a very interesting relic of Spanish colonial America: the Ximenez-Fatio House, built in 1798 and used for most of its life as an upmarket boarding-house. And the most interesting thing about the house is (of course) the kitchen.
It is a standalone structure, close to but not attached to the main house (kitchen fires were a constant hazard in those days, so builders liked to keep them at a distance from the sleeping areas). The first and most striking thing about it is how light, bright and airy it is for a room more than two centuries old. That's partly because of the double aspect windows and lovely timber ceiling, and partly because of the 223 annual days of Florida sunshine. But another key factor is the material used to build the Ximinez-Fatio kitchen.
Rustic charm and early ergonomics
The interior of the coquina kitchen – a careful 19th century reconstruction – is modest but pleasing to the eye, with heaps of what we'd now call 'rustic charm'. Churning out meals for boarding-house guests, it would have been a hardworking room but it's well-designed and ergonomic – making smart use of the technology of the period. At the far end is a brick-lined hearth, where a wood fire would heat kettles and hanging cauldrons containing soups and stews. Alongside is a wood-fired beehive oven, a type used in Europe since the Middle Ages for baking.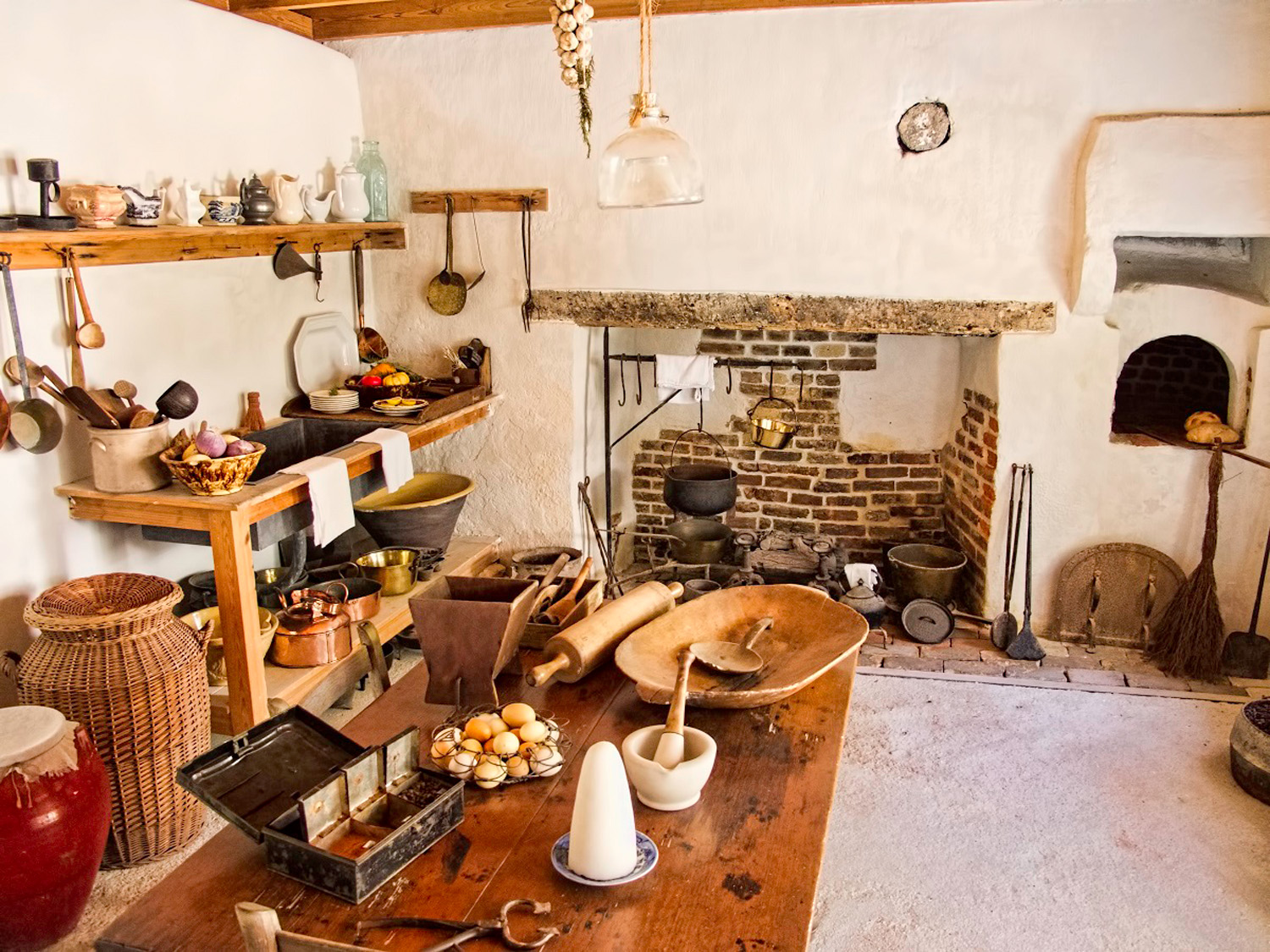 At right-angles to and within easy reach of the hearth is a shelved wooden unit, which also houses a metal sink for vegetable prepping and washing dishes. The water supply would have been via a hand pump in the kitchen or the adjoining yard. Large pottery and copper vessels sit on the lower shelf, with crockery, utensil holders and baskets of fruit and vegetables alongside the sink. Above the unit is wooden shelving that provides vertical and horizontal storage, for more utensils, bottles and smaller pots and containers. There are large storage vessels made of terracotta, copper and wicker and the timber ceiling provides hanging storage for garlic and dried foodstuffs.
Rustic charm and early ergonomics
A rectangular wooden table forms the third part of an early version of the kitchen work triangle and was used for food preparation and for serving meals to the household staff. And that's a sugar loaf cone on the table.
Women and enterprise
As the last surviving St Augustine coquina kitchen, the Ximenez-Fatio House provides a snapshot of a bygone way of life – and it also has a significant place in American social history. Originally built as a house and general store by Spanish merchant Andrés Ximenez, for most of the 19th century it was run as an upmarket boarding-house by a series of enterprising women. Under Margaret Cook, Sarah Petty Anderson and finally Louisa Fatio, the kitchen was a cornerstone of St Augustine life, famed for its high standards and good food.
Now on the USA's National Register of Historic Places, the coquina kitchen has been described as the country's first historic house to feature the story of women in the role of classic American entrepreneur; women who, by turning domestic skills into business skills, were able to survive and thrive economically in what was very much a man's world.
You can find out more about the Ximenez-Fatio House Museum here.
The Ximenez-Fatio House kitchen inspiration
It may be old and lacking in modern conveniences, but to the kitchen designer's expert eye there's plenty in the Ximinez-Fatio to inspire…
Smart use of limited space
Given the demands on it and the numbers of hungry guests over many decades this is clearly a kitchen that delivered, despite its small size. The key is the layout, which makes it easy and safe to move from one workspace to another. For modern ideas on smart kitchen design check out Kitchen ergonomics: 5 clever ways to make your kitchen design more efficient; and if your space is also limited, see Small but beautiful: A complete guide to designing and maximising the space in a small kitchen.
Beauty in simplicity
Exposed timber and brick, simple whitewashed walls, natural materials everywhere… That sort of thing still inspires kitchen design today, from rustic country house to elegant Scandi styles. Take a look at the Naked Kitchens Glaven kitchen for contemporary inspiration.
Handcrafted wooden accessories
As makers of handcrafted wooden accessories ourselves (everything from chopping blocks to peg rails), we love the way wood has been used in this kitchen, not only for the table and shelving but for containers and utensils too.
See also:
Small but beautiful: A complete guide to designing and maximising the space in a small kitchen
Kitchens Unbound: Vermeer's Milkmaid and her kitchen
Kitchens Unbound: The Ancient Roman Kitchen
Image top via creative commons.