Many kitchen suppliers talk about sustainability – but how many of them really walk the walk? Are they doing all they can to source responsibly and cut waste and carbon emissions?
If sustainability is important to you, here are seven key questions to ask before you choose a new kitchen…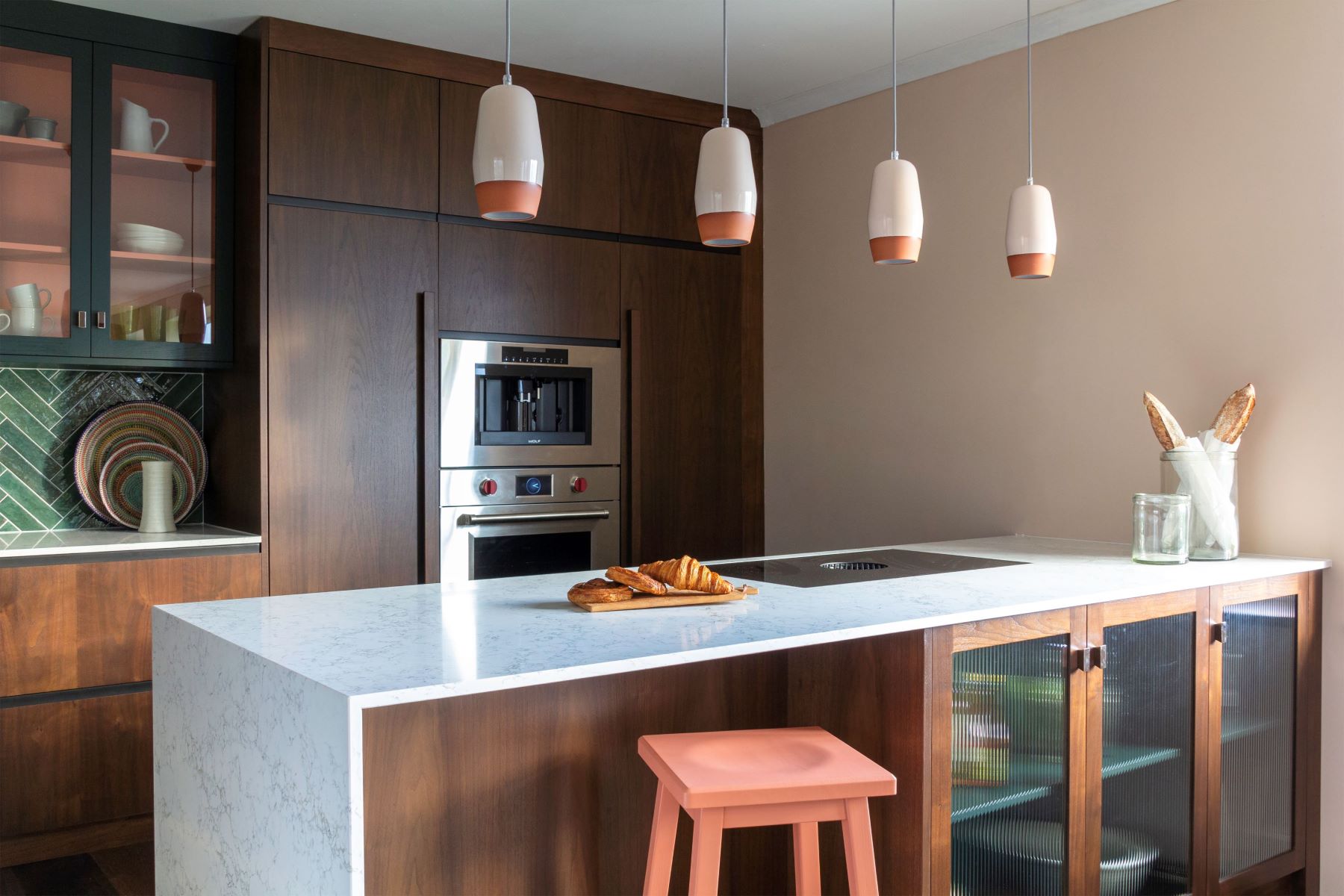 1) Is the timber responsibly-sourced and certified?
Look out for timber that's FSC Certified. That means it has been harvested from forests that are responsibly managed, environmentally conscious, socially beneficial and economically viable. 'FSC' stands for the Forest Stewardship Council , a global non-for-profit organisation: their certification is effectively the gold standard for sustainable timber products.
Other acronyms to look out for that guarantee responsibly-sourced wood are PEFC (an umbrella organisation that endorses forest certification and AHMI (short for Appalachian Hardwood Manufacturers, Inc).
At Naked Kitchens all of our timber panels are from FSC certified suppliers in Europe, and all of our American hardwoods and are FSC, PEFC or AHMI certified. We don't buy anything from China or indeed from any source that doesn't meet verified sustainability standards.
2) Is the kitchen genuinely 'Made in Britain'?
It may claim to be a 'British' kitchen – but is it really? Many UK kitchen suppliers source cabinetry from factories around the world, have it shipped thousands of miles to their warehouse and then sell it on as their own.
At Naked Kitchens we build all of our cabinets and worktops ourselves in our Norfolk workshop (a repurposed RAF aircraft hangar), meaning fewer miles and a lower carbon footprint.


3) How much wood is wasted in the manufacturing process?
There is enormous scope for wastage in manufacturing a kitchen – especially if the cabinets are sourced cheaply. Cutting cabinets from sheets of wood results in offcuts, which can either be thrown away or reused.
In our Naked Kitchens workshop we've made serious investments in systems and machines to reduce our manufacturing waste to an absolute minimum – in fact, we're in a league of our own in this area.
Before starting to manufacture each of our bespoke kitchens, we map all the carcass panels onto large sheets of material, then precision-cut them using state-of-the-art CNC machines to get the maximum number of pieces possible from each piece of timber. We optimise across many orders, making it even more efficient.
We then reuse every single leftover piece of wood in some way. Larger pieces are used for re-cutting in future orders; smaller bits are repurposed into samples, and tiny bits – right down to the sawdust – are removed by our extraction system and used in our biomass boiler to heat our offices, workshops and showroom.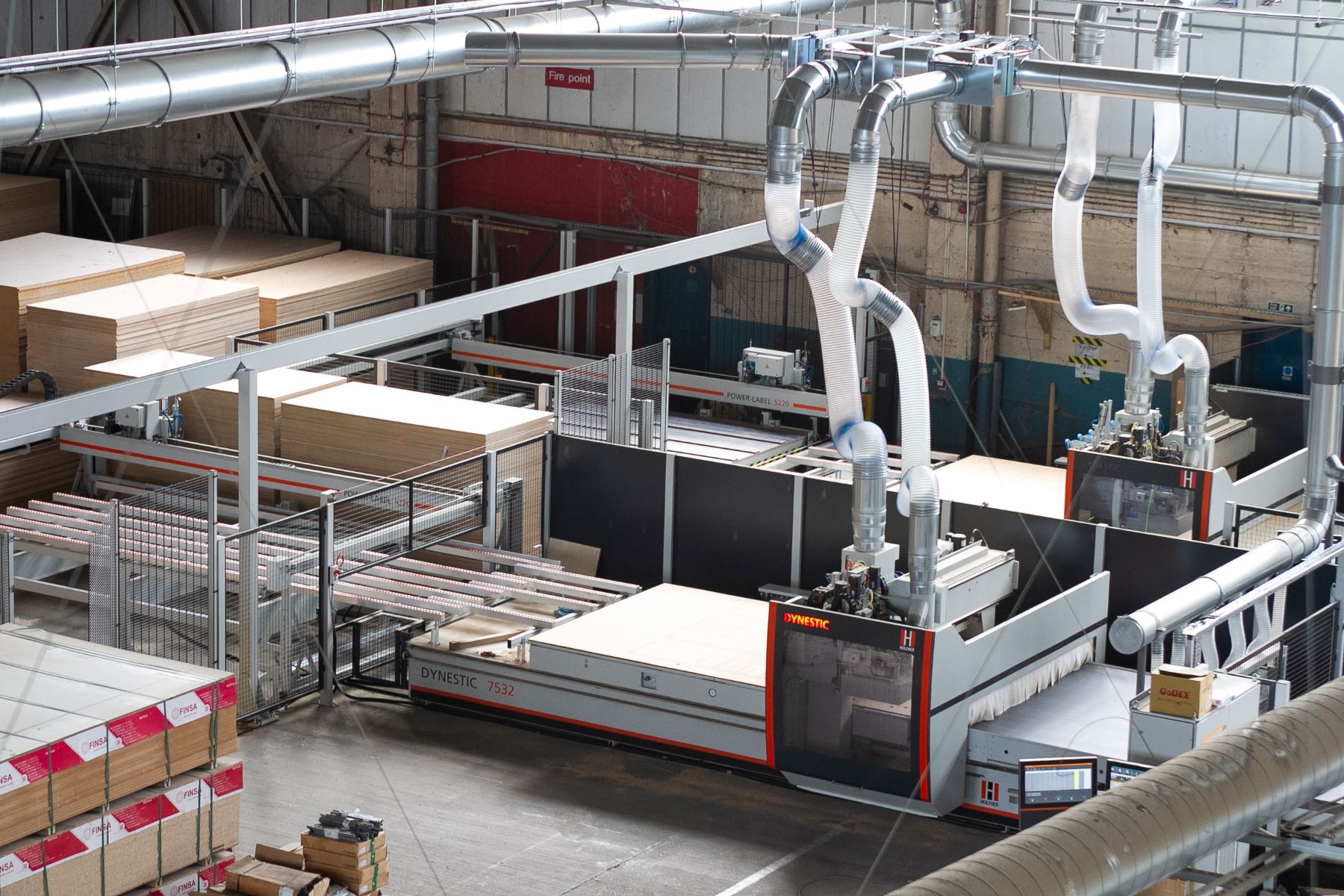 4) What is the carbon footprint of the factory?
How environmentally friendly is the workshop where your kitchen has been made? What is the 'embodied carbon' of your kitchen - that is, the amount of carbon emitted in its manufacture?
At Naked Kitchens we take this very seriously. We've completely eliminated fossil fuels from the heating of our premises by introducing a fully-automated, super-efficient biomass boiler fuelled by wood offcuts and sawdust, and fitted with a ceramic flue filter to eliminate any harmful emissions.
The other thing we did was install brand new dust-extraction (which feeds our biomass boiler) cut our electricity usage by 30%, which equates to about 150,000 kWh a year - that's enough to power over 40 homes for a whole year and is equivalent to 106,302 Kg of CO2.


5) How eco-friendly is the paint on the cabinets and doors?
Water-based polyurethane (PU) paints are non-toxic, biodegradable and have a much lower environmental impact than solvent-chemical based paints.
Our cabinets and doors are painted using an eco-friendly water-based PU paint – and we use tech to make sure we don't waste it. Rather than hand-painting, which is inevitably wasteful, we use an exceptionally efficient sprayline. And we've installed a leading-edge computerised paint changeover and mixing system which means every time we change colour we lose just 200 ml of paint: approximately a tenth of the industry standard.
6) Is sustainability built into the kitchen designs?
It's easy to overlook the importance of design in the sustainability of a kitchen, but small decisions about materials and layout can have a big impact.
When we help customers design a kitchen, we take care to build sustainability into the process. That might be maximising efficiency in the layout; or it might be embracing a 'biophilic' design which showcases the beauty of natural materials like exposed wood and stone.


7) Is the kitchen built to last?
If a kitchen is well-made from high-quality materials it should last for decades. Durability is a critical element of sustainability. And kitchens have to survive real life and real families using them – not just look nice in showrooms.
In our workshop we go overboard when it comes to stress-testing our kitchens for quality and durability. We make sure they're bomb-proof, mess-proof and can handle everything that real life throws at them. Naked Kitchens are designed to last and built for life.
At Naked Kitchens we take sustainability very seriously. We go to radical lengths to cut carbon and to source materials responsibly, and we're streets ahead when it comes to eliminating waste from the manufacturing process. That's not corporate box-ticking or greenwashing: it's a fundamental part of how we operate.
But we know there's always more we can do and we are always open to new ideas. Please do get in touch if you think you can help us do even better.