Secret spice racks, built-in wine fridges, drawers that magically arrange your pots and pans for you… with clever bespoke storage ideas you can have a dream kitchen: one that's beautiful, ordered and a joy to cook in. Here are some of our favourite ingenious solutions to banish clutter and make kitchen life better…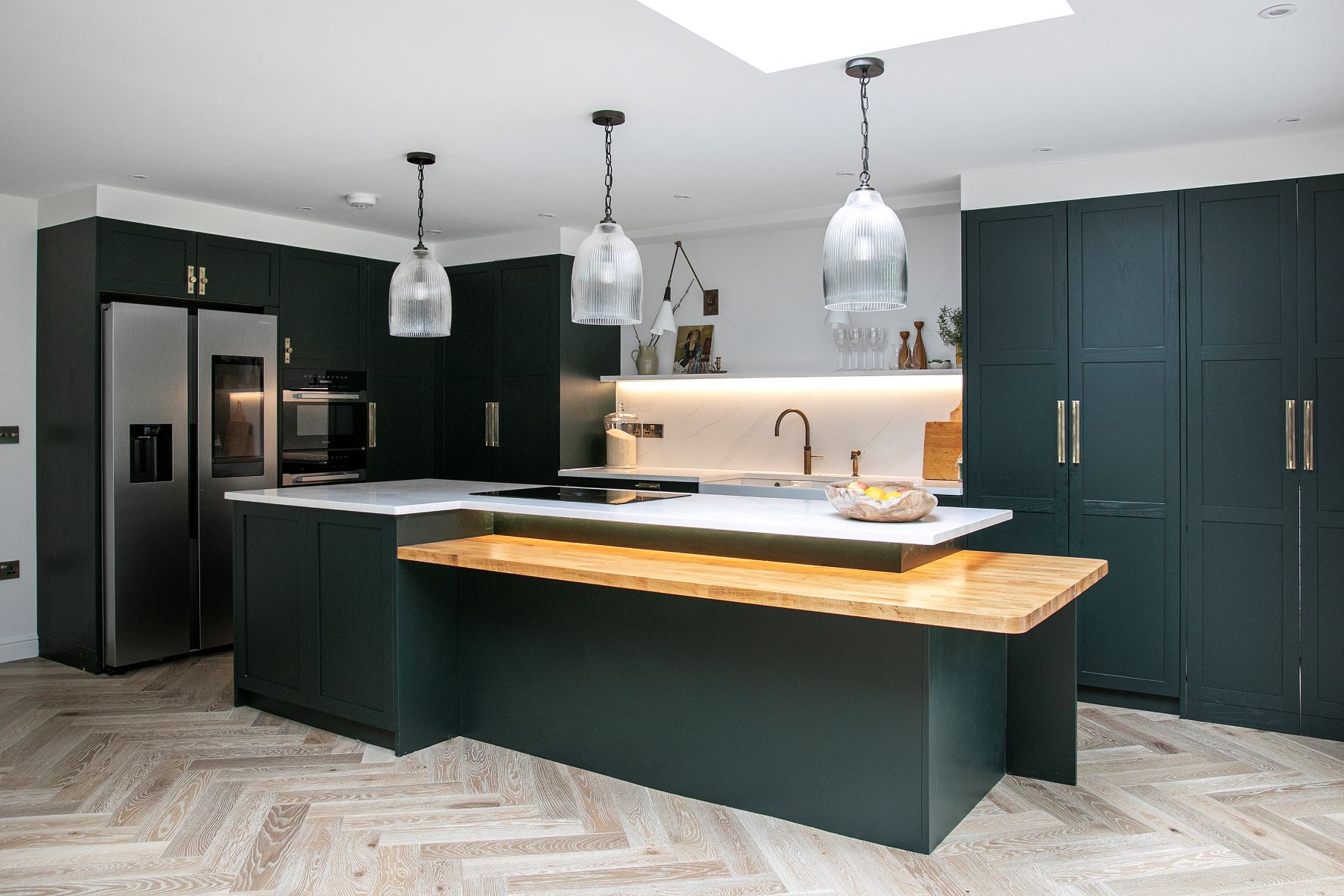 Why go for bespoke kitchen storage?
There's an important difference between a 'made-to-measure' kitchen design and a truly bespoke one. A made-to-measure kitchen is based on a set of 'off the shelf' designs in a set number of sizes and styles, which are then adjusted to fit your space.
But a truly bespoke kitchen involves designing and creating cabinets from scratch to order – and that means you can have a unique kitchen perfectly tailored to you: both to the physical space in your home, and to the way you live.
With a bespoke kitchen design you can have beautiful storage and cooking solutions that work with your home's character: small kitchen spaces, awkward corners, low sloping ceilings and wonky walls can become distinctive features to embrace, rather than problems to work around. And equally importantly, storage can be calibrated to you and your lifestyle: the things you cook and the way you cook them, so that the items you use every day are effortlessly at hand.
We spend a huge amount of time in our kitchens – it's the working, beating heart of family life – so a kitchen that makes that life easier and more enjoyable is always a savvy investment. Here are eleven very pleasing bespoke kitchen storage ideas to inspire you…


1. Hidden pantries and larders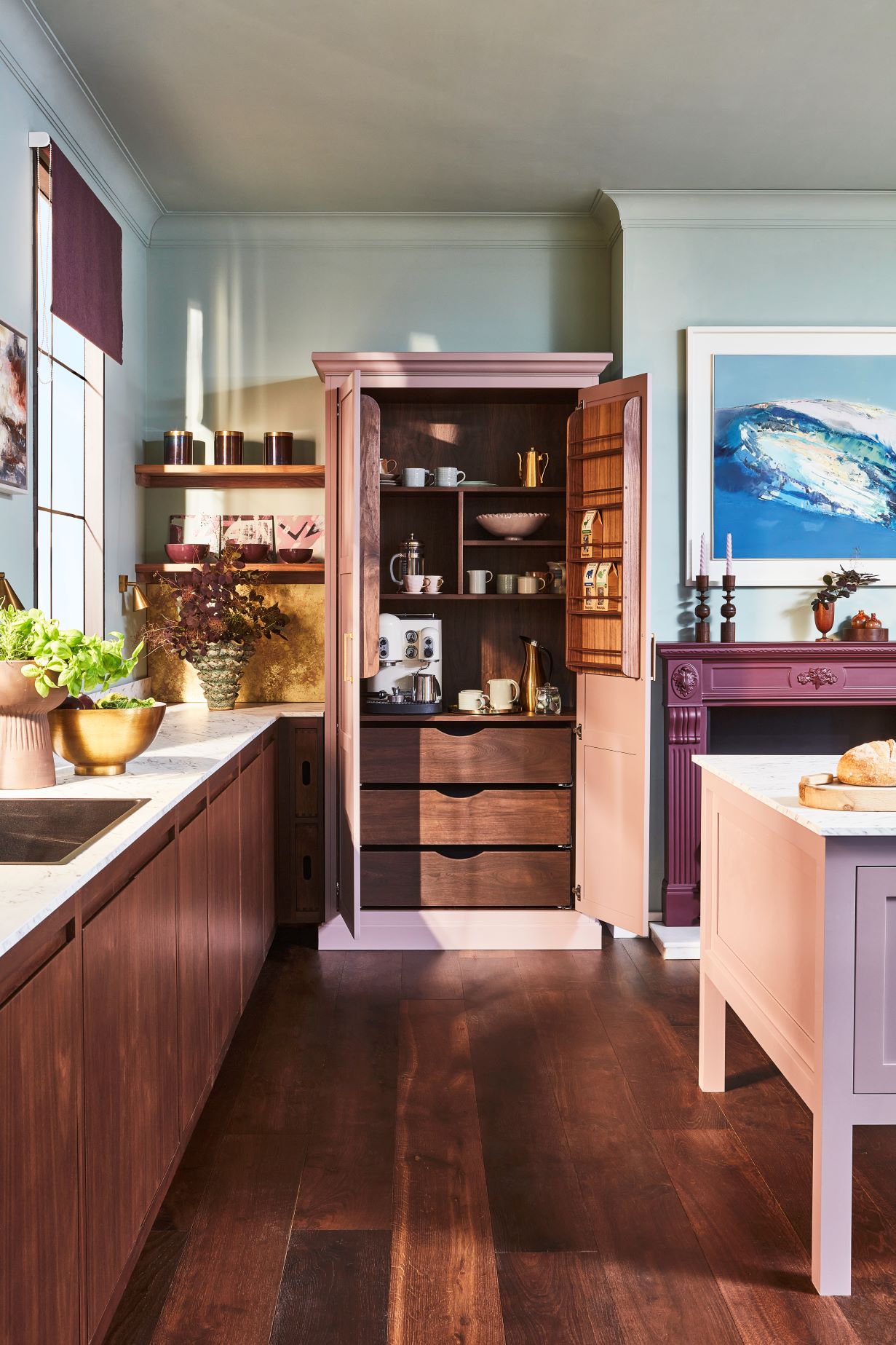 Is there anything more satisfying for a cook than having everything you need shelved, ordered and readily accessible? Just imagine opening a door into a cool and fragrant space and seeing all your dry goods, spices and cooking implements generously and conveniently arrayed, all ready for you to cook up a storm…
Bespoke pantries and larders can be calibrated precisely to your food and cooking preferences…. Pasta compartments, snack drawers, you could even include personalized engraved spaces for different family members. With hidden pantry storage – concealed behind gorgeous timber doors – you can have a kitchen that's beautiful, stylish, uncluttered, and with a little bit of magic too. What's not to love?


2. Integrated cupboard door spice racks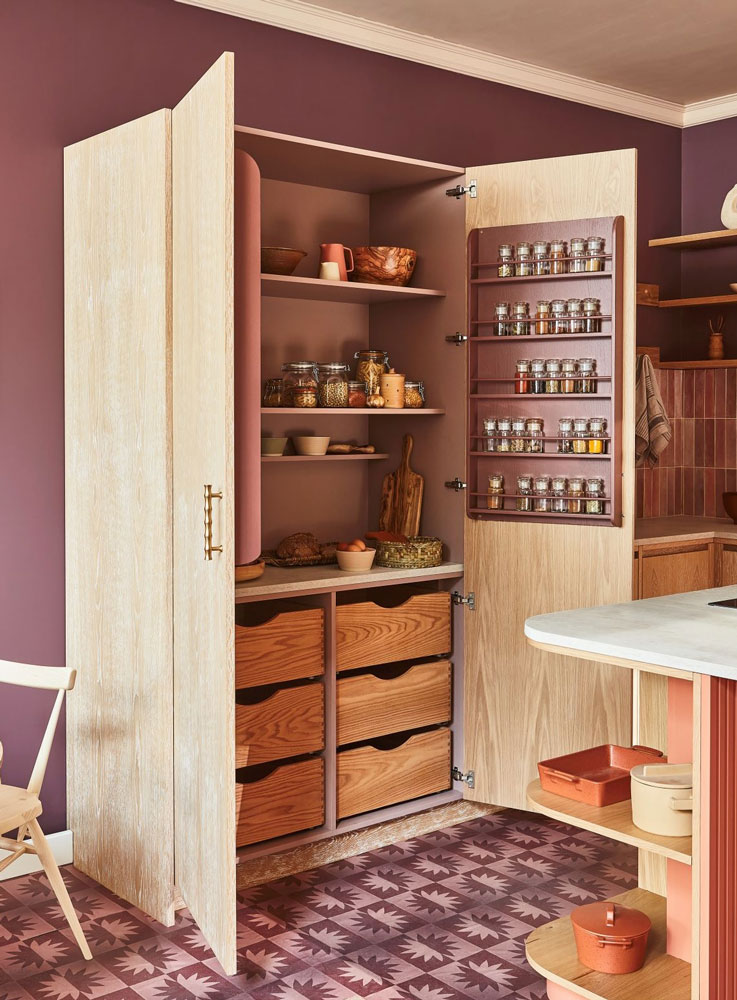 This is one of our absolute favorite things to do with a bespoke pantry cupboard. Open the doors and there, at just the right height for reaching, are all your herbs, spices, and condiments, taking up virtually no space in your kitchen and arranged exactly how you like them (Most frequent? Alphabetical? Color coordinated?...)


3. Articulated Shelving
Let's face it: corner units can be the bane of kitchen life: getting down on your hands and knees to fish out that once-a-year saucepan is a grim business. But clever, bespoke corner storage solutions can utterly transform those awkward spaces into practical, convenient and really quite fun kitchen features.
Carousels and 'magic' articulated corner caddy units can make the most of those under-used areas of the kitchen, allowing you to use them for everyday items, freeing up space elsewhere and helping to keep surfaces clear.


4. Floating shelves
So far we've celebrated the joys of hidden storage, but open storage can be just as wonderful. Obviously it's easy-access, good for things you like to have at hand all the time such as utensils and daily-use pans.
But open storage has another dimension: storage as display. Cookbooks, fresh herb plants, vintage scales, antique jugs… open storage enables you to express your personal taste and add those dashes of color, material, and pattern that help make up a beautiful kitchen. Bespoke floating shelves are perfect for this kind of open storage display and can be made to measure to maximize the space you have available.


5. Open island storage
Another great – and very clever – place for open storage is to build it into a bespoke kitchen island. An island with open shelves is a handy way to store heavy-duty cooking pots or stylish bowls – and it just looks amazing.


6. Bespoke drawer organizer inserts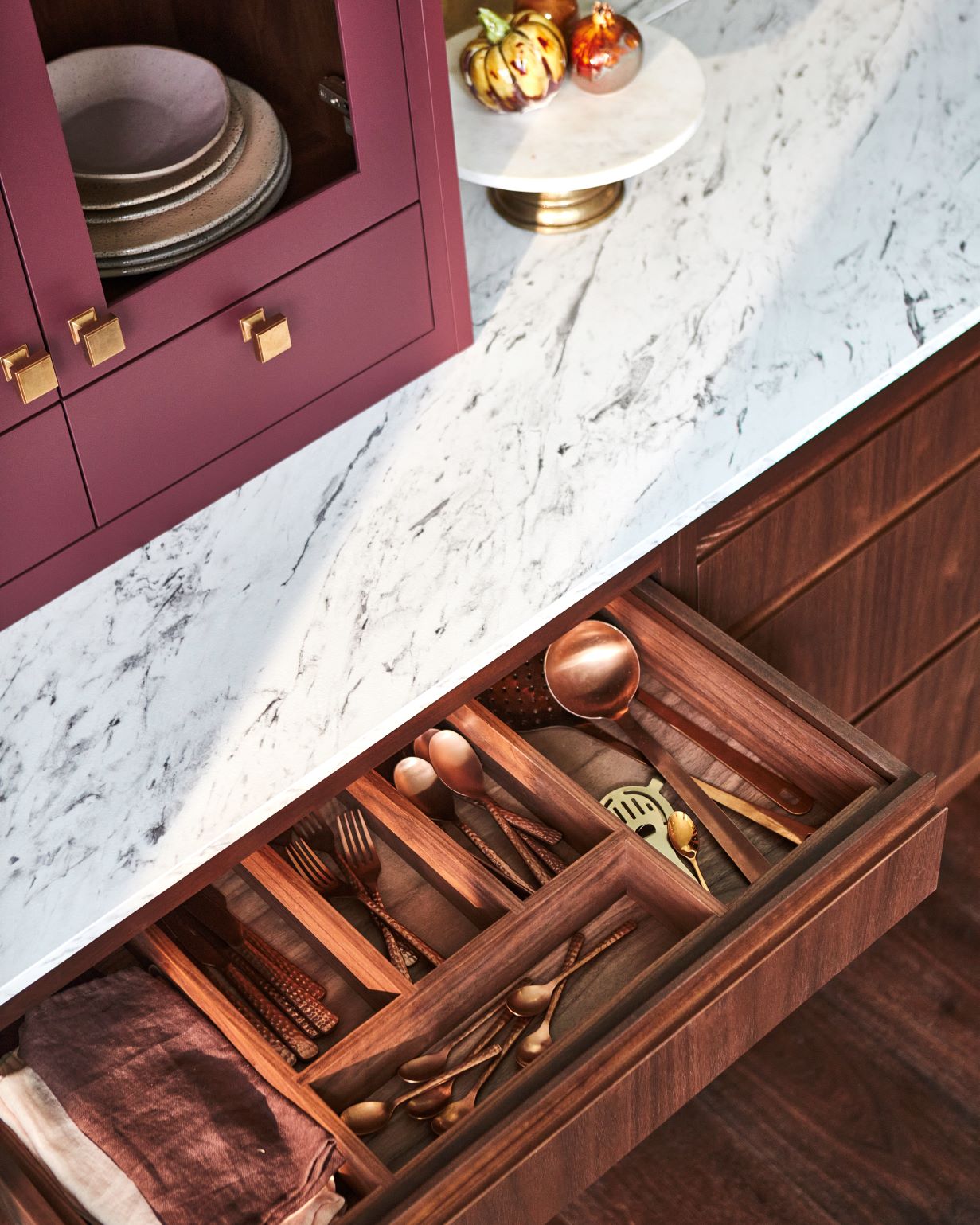 Up there with the dreaded corner cupboard for storage nightmares is the unmanageable kitchen drawer, overstuffed with utensils, gadgets, and strange things that stab you when you're rummaging for the tin opener. You can banish all that forever with a beautiful, bespoke timber insert, designed and crafted specifically for your stuff.


7. Pegboard drawers for pots and pans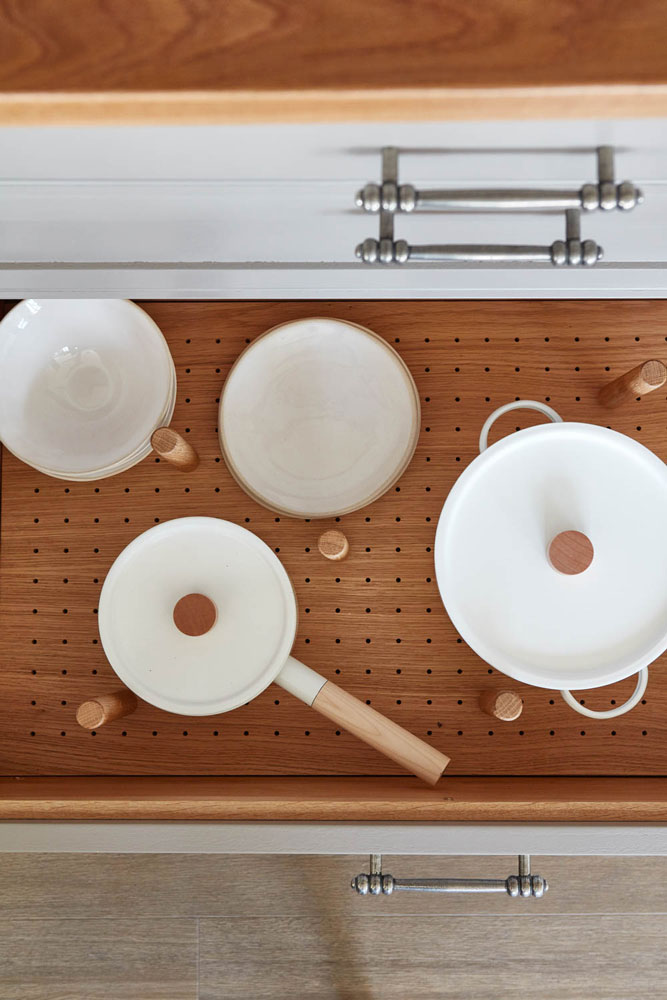 A pegboard drawer is the very definition of clever storage: a simple, elegant solution to a universal problem. Just place the pegs exactly in the right spots to keep your collection of pots, pans, or crockery in place and easily accessible.


8. Space Towers
Going vertical is a great way to make the absolute most of every bit of space in your kitchen, without sacrificing stylishness (true for any size room, but especially useful in a smaller kitchen.) A Naked Kitchens space tower is a vey clever cabinet that can be concealed behind beautiful bespoke doors - but instead of fixed shelves there are pull-out drawers, designed to open individually and give a clear view of their contents. They're built with large load-bearing capacity, so they're fine for bottles and jars. Very ergonomic!


9. Customized coffee station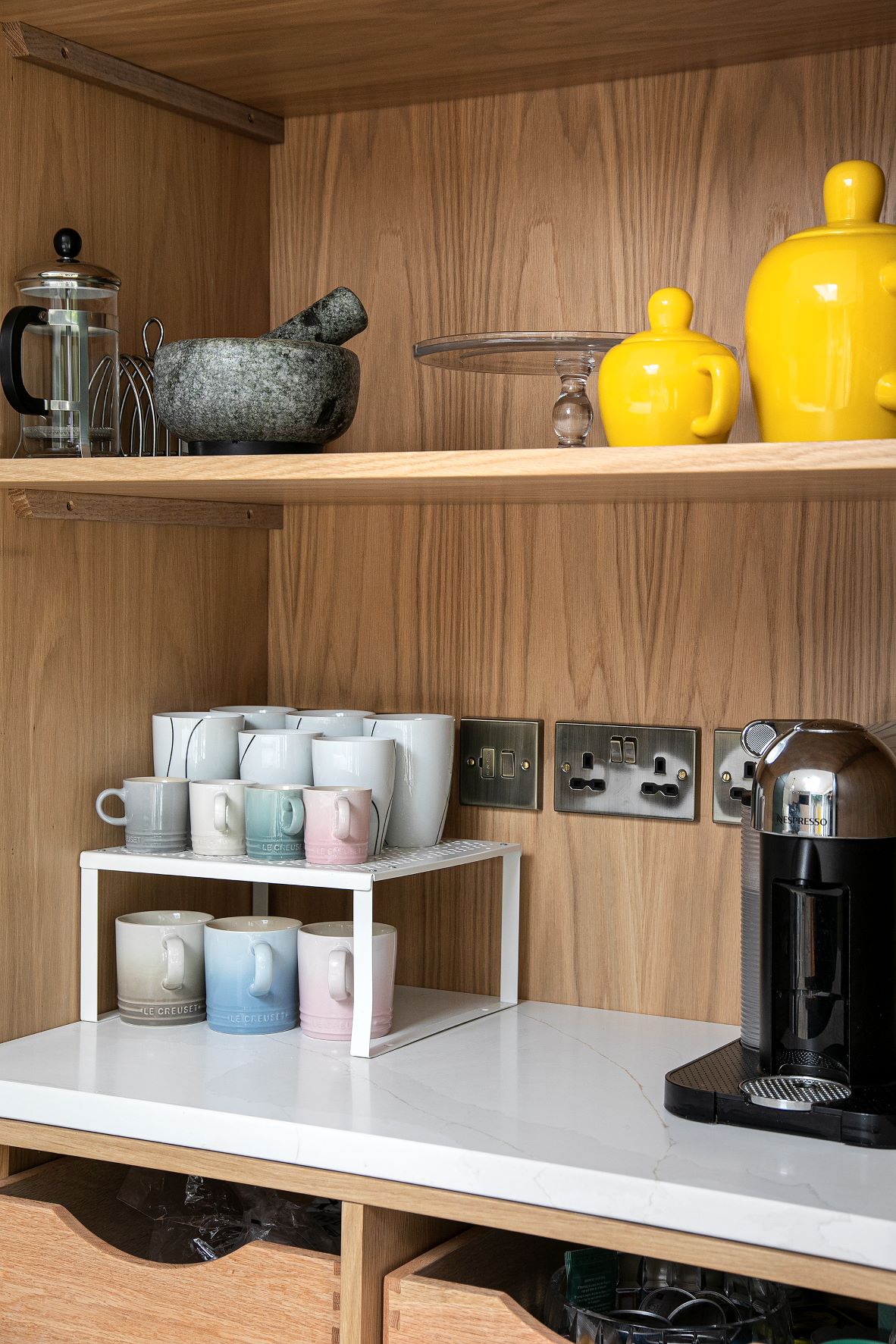 The great thing about bespoke kitchen design is that you can think outside the box. At Naked Kitchens, we love working with customers to come up with things that are totally unique to them: things that have never been done before. One idea we absolutely loved making a reality was this bespoke coffee station in the Westward Ho kitchen, complete with a coffee machine, cup storage, and built-in power sockets.


10. Concealed TV cabinet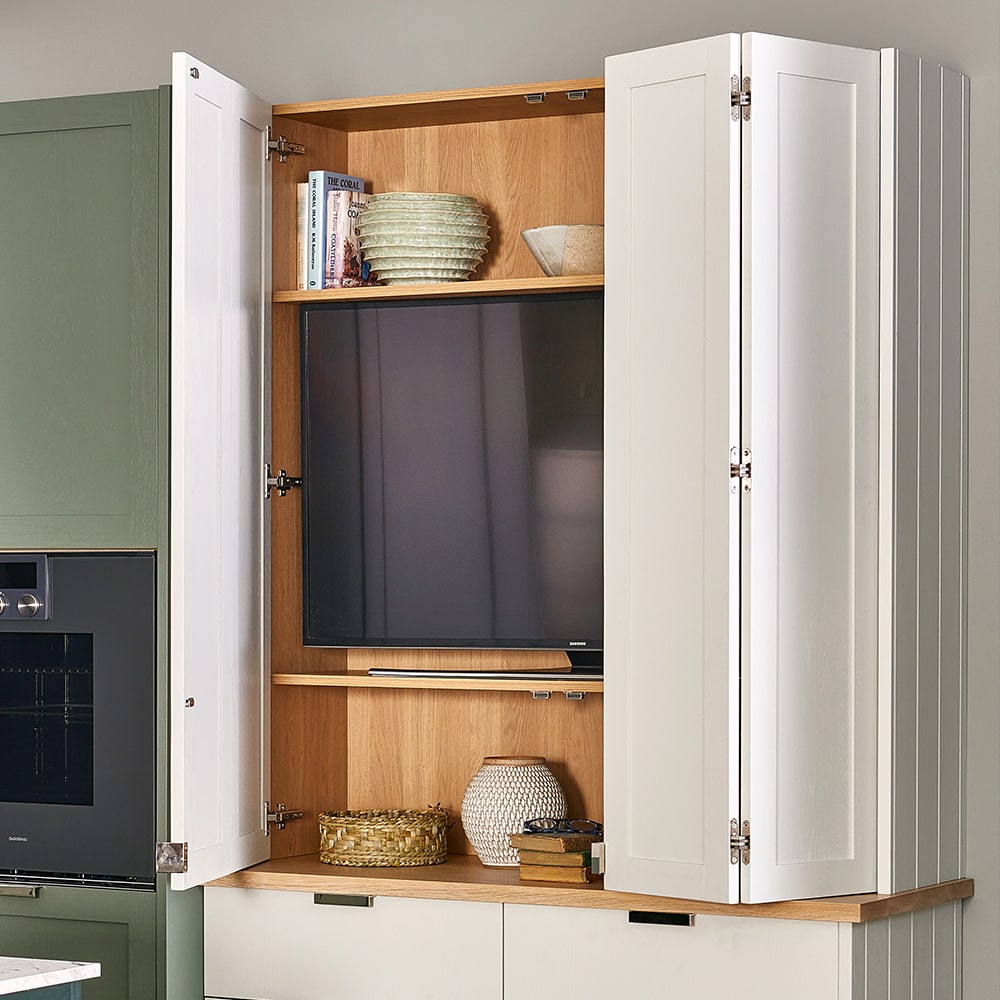 A TV in the kitchen is great – but even better is one that's hidden away when not in use. For the St Giles kitchen, we crafted a bifold door TV cabinet that's easy to open but looks really stylish when shut.


11. Cool (and room temperature) wine storage
This has to be the dream kitchen feature for oenophiles*. Built into the island in the Mariner's Way kitchen is both an integrated wine rack and a dedicated wine fridge, so both reds and whites can be stored at the perfect drinking temperature. Who needs a cellar?...
Feeling inspired? Browse more of Naked Kitchens' ingenious storage solutions here.
And learn how we can help build the perfect bespoke kitchen, perfectly tailored to your life.
See also:
Small but beautiful: A complete guide to designing and maximizing the space in a small kitchen
Kitchen ergonomics: 5 clever ways to make your kitchen design more efficient
Choosing colors for your kitchen – an expert guide
(*that's wine lovers, for non-Greek speakers)