The Shakers themselves may have vanished, but Shaker style kitchens will live on forever. They're all about simplicity, craftsmanship and timeless beauty...
Here's an expert guide to Shaker kitchens – including their distinctive features, the origins of the design in an 18th century religious movement, and how you can customise the Shaker style to build your perfect bespoke kitchen for life…

What exactly is a Shaker style kitchen?
A traditional Shaker kitchen is simple and practical, with a minimalist design and a high level of craftsmanship. Named after the Shaker religious movement, they feature symmetrical cabinets with distinctive framed panel doors.
Today's versatile Shaker style kitchens give you plenty of contemporary styling options, so you can customise your kitchen to your tastes and lifestyle. But the fundamental, fashion-proof design is still rooted in 18th century craftsmanship.



How to recognise a Shaker kitchen
Good Shaker kitchens are simple but extremely well made. They're not showy or ostentatious, but instead celebrate craftsmanship, form and function. Traditional Shaker cabinetry included simple handcrafted features such as round wooden knobs and handles, carved wooden peg rails and dovetailing inside the drawers.
However, you can most easily recognise the Shaker kitchen style by the traditional cabinets with their 'Shaker doors'. These consist of a large flat recessed wooden central panel, surrounded by a raised frame with square edges. This frame is made from two horizontal pieces of wood (rails) and two vertical pieces of wood (stiles):

Origins: The Shakers and Shaker-style furniture
The United Society of Believers in Christ's Second Appearing has now all but disappeared, but in the first half of the 19th century it was a thriving Christian sect, with communities throughout New England and the American Midwest.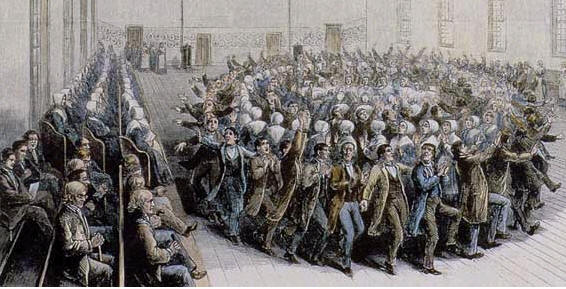 Shakers shaking at a prayer meeting. Image: creative commons
Nicknamed the Shakers (after the vigorous public dancing that formed part of their worship), they were utopians who shunned the corrupt ways of the Georgian world and set out to create self-sufficient communities based on equality and simple, honest living. They grew their own food and insisted on hand making everything they needed, from buildings right down to clothes, tools, and furniture.
And they became exceptionally good at it, gaining a widespread reputation for artisanship and a minimalist, functional style that's still influential today.

The Shakers were also big on what we would now call sustainability: everything was made from locally sourced, durable hardwoods like maple and cherry, and was either left in its natural state, stained, or painted in a limited choice of colours – most often red, yellow, blue or green.

Many Shaker furniture designs remain iconic: the 'ladderback' wooden chair with its hand woven seats; the trademark 'tilting chair' with its innovative ball and socket mechanism. And above all, the Shaker kitchen.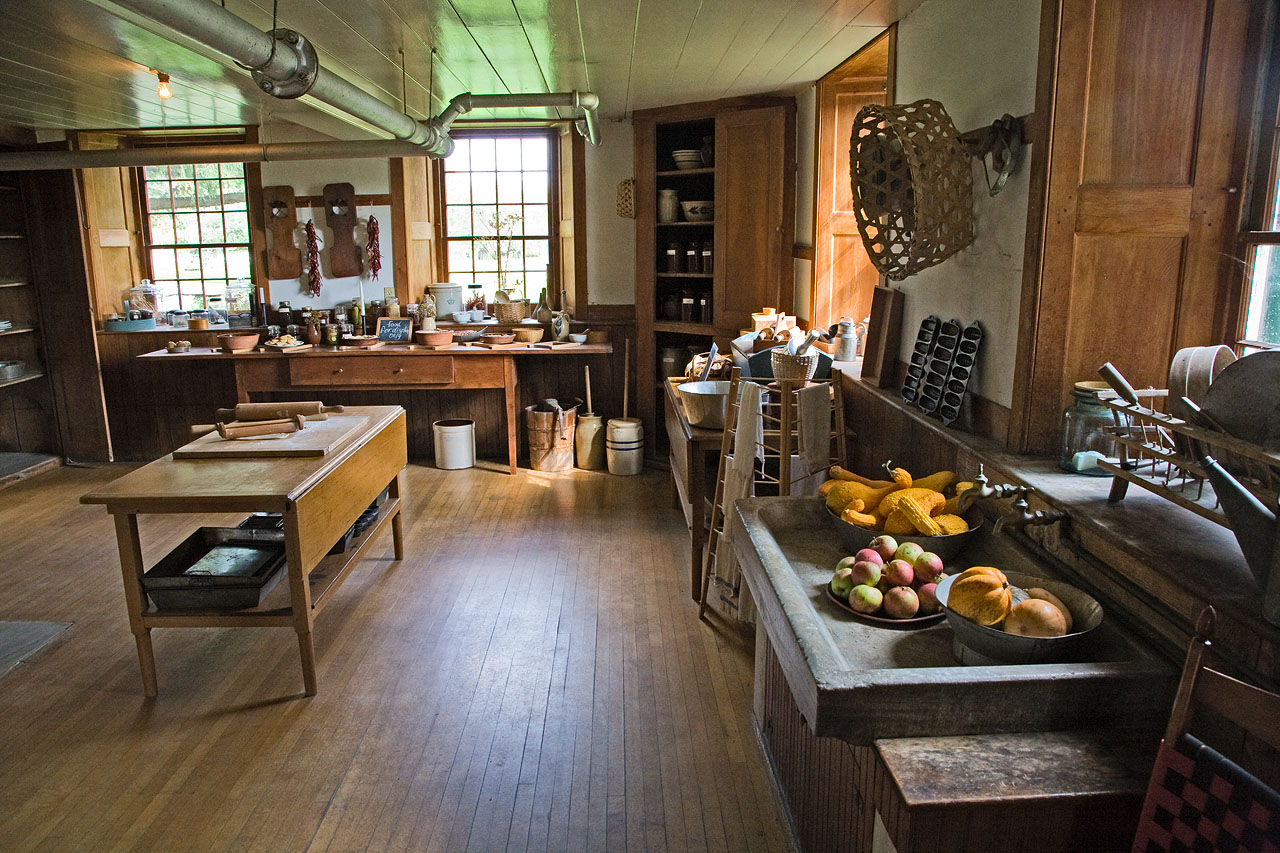 Recreation of an original Shaker kitchen at the Hancock Shaker village, Massachusetts. Image: Creative commons
Why have Shaker kitchens endured so well?
The Shakers themselves may have vanished, but there are plenty of reasons why the kitchens have long outlived the religious sect:
They're effectively fashion-proof – the simplicity of the Shaker kitchen design has given it timelessness. It has never really gone out of style, even as countless kitchen trends come and go.
They have an enduring ethos – the Shaker ethos particularly chimes with 21st century values… Sustainability and durability; the careful, conscientious use of materials; the premium placed on craftsmanship; and the avoidance of waste (all entirely in line with the Naked Kitchens approach to sustainability)
They're practical – the original Shaker kitchens were designed for the realities of everyday life in busy communal spaces, so the style lends itself to creative storage solutions to make the most of the available space, from handy drawers to hidden storage racks inside cabinet doors.
They're versatile – their simple modular design makes Shaker kitchens to the many sizes and styles of contemporary homes. Bespoke Shaker kitchens can be tailored to suit any kind of space and interior design style – from a rustic farmhouse or a cosy cottage kitchen to a compact modern apartment or a large, airy open plan space.
They're customisable – the Shaker kitchen style can easily be customised to suit your bespoke tastes, including using different materials, colours, accessories and finishes. With its simple timeless design, a Shaker kitchen offers the perfect backdrop for you to stamp your own mark.
How can I personalise my Shaker kitchen?
The Shaker style is remarkably versatile: by mixing colours, materials and accessories you can create looks from very traditional to very contemporary, from subtle and minimalist to striking and bold.
Elements to think about include:
Paint colours – Shaker cabinets and doors work in the full spectrum of colours. In neutrals like light greys and whites they have a classic look, but they're equally suited to contemporary colours like deep blues and bold style statements.
Exposed timber – alternatively, show off the wood. The Shaker emphasis on craftsmanship and natural materials makes the style perfectly suited to exposed timber finished in protective clear lacquer.
Glass fronts – the Shaker door panel can be customised with a glazed insert, so you can create a visually varied and interesting kitchen.
Handles and knobs – the in-frame style of Shaker doors means that you have a limitless choice of handle and knob colours and materials to create exactly the look you want.
Worktop materials and colours – exposed timber or natural stone worktops go perfectly with Shaker cabinets. But equally, worktops made from a contrasting material such as marble, granite, or even a sparkling shiny composite can all look beautiful set against the simple lines of a Shaker kitchen.
Splashbacks and tiles – the versatility of the Shaker style means that it goes with anything, so when it comes to wall tiles and splashbacks you have free rein to express yourself with colours, materials and patterns
Lighting styles – your choice of light fixtures can also make a big difference to how your space feels. A row of contemporary pendant lights suspended over a kitchen island with Shaker doors can be a really effective combination of traditional and contemporary.
Shaker kitchen inspiration gallery
These examples of Shaker kitchens from the Naked Kitchens portfolio show just how versatile the style can be…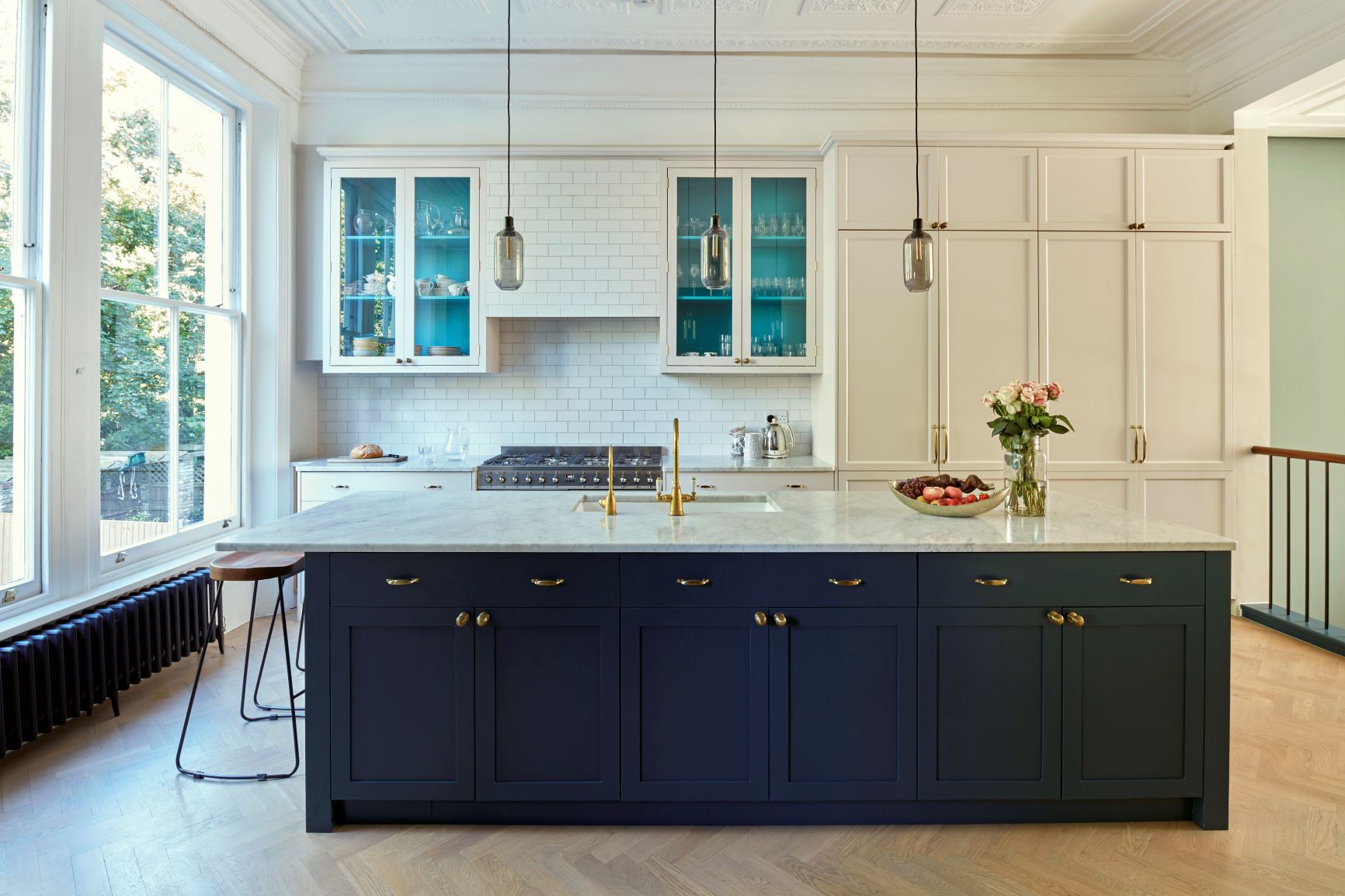 Chepstow Villas – classic Shaker meets contemporary
This kitchen blends classic Shaker styling with bold contemporary colours, The white floor-to-ceiling cabinetry contrasts with a deep blue central island and a pop of turquoise in the glazed cabinets. Crisp white worktops, wall tiles and bleached timber flooring reflect light from the oversized windows and ensure the room is a bright, airy space all year round.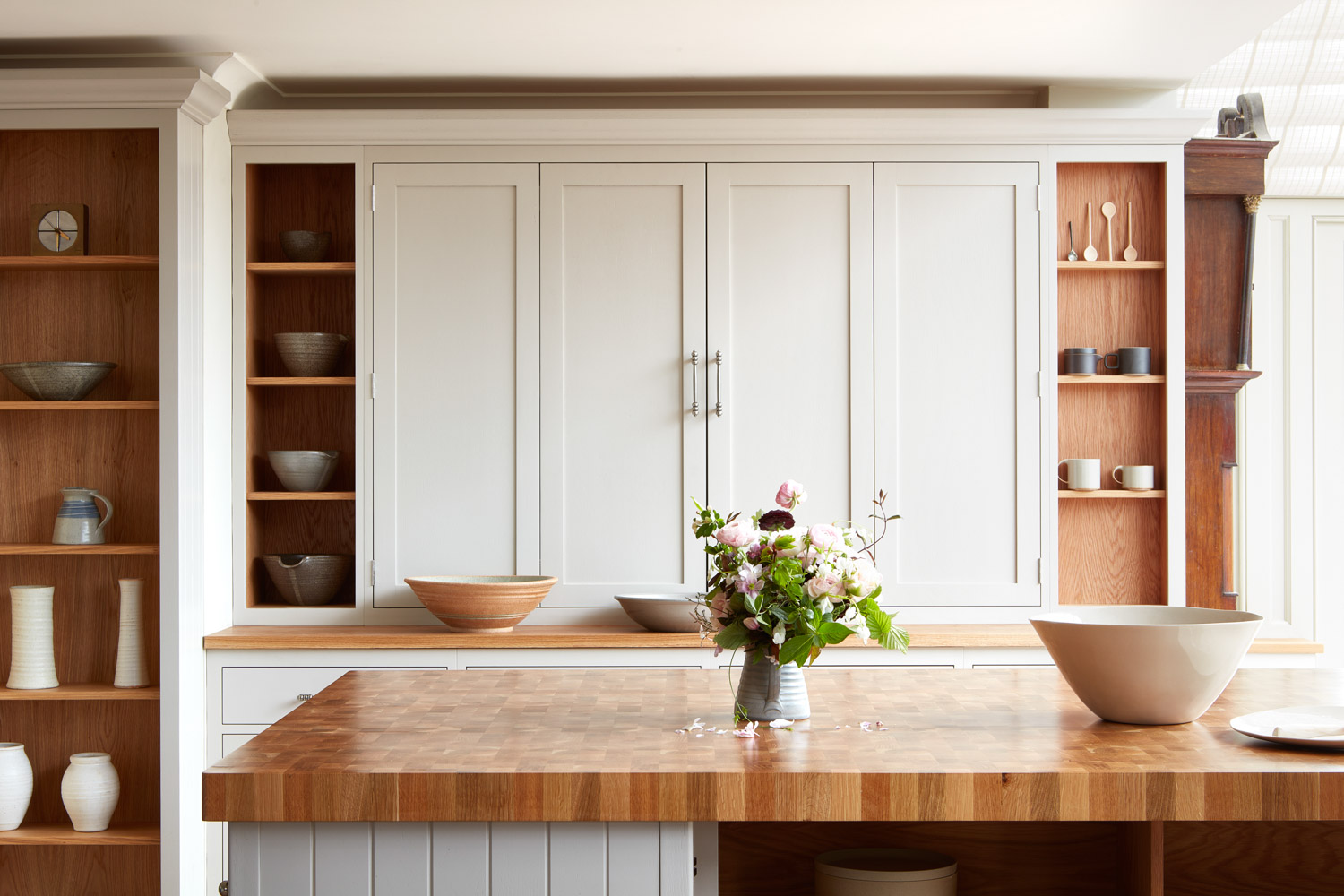 Cley – traditional country-style Shaker
Shaker naturally lends itself to a country kitchen look. This kitchen is all about simple lines, open cabinetry and natural materials, including Carrera marble and an oak and grain island. The Shaker units have long pewter handles and a combination of light grey and deep blue paintwork. Solid limed-oak, wide plank flooring completes the look.
Georgian Hall – Shaker does luxury
This kitchen is a riot of textures, materials and finishes and proves that the Shaker style can be sumptuous and luxurious. The white marble worktops and splashbacks contrast spectacularly with the room's centrepiece: the large island with its walnut worktops and Shaker doors fitted with mesh glass inserts.
Dulwich - a fresh take on Shaker with pastels
This kitchen shows how using a distinctive colour palette can put a fresh twist on the Shaker style. The light mint green colours on the cabinets compliment the other pastel shades, while the marble effect quartz worktop and light flooring enhance the crisp, light feel of the space.
At Naked Kitchens we love the versatility of the Shaker style and often recommend it for contemporary as well as traditional looks.
Our Shaker doors are crafted from solid oak or walnut frames and can be finished in the way that works for you: painted in any colour lacquered to show the natural timber, or glazed.
See more Shaker styles in the Naked Kitchens portfolio here.
---
Shaker kitchens: Frequently Asked Questions
Is a Shaker kitchen old fashioned?
They may have been around for generations, but Shaker kitchens are still one of the most popular kitchen designs today. Their simple, clean lines and practical design gives them a timeless quality and an extraordinary versatility, so they can adapt to reflect contemporary colours and stylings. Shaker kitchens are effectively fashion-proof.
The most contemporary version of a Shaker can be seen in our Stamford kitchen. It's a frameless version, so it retains the Shaker-style door with its recessed central panel, but the door is overlaid onto the cabinetry so that none of the carcass is visible.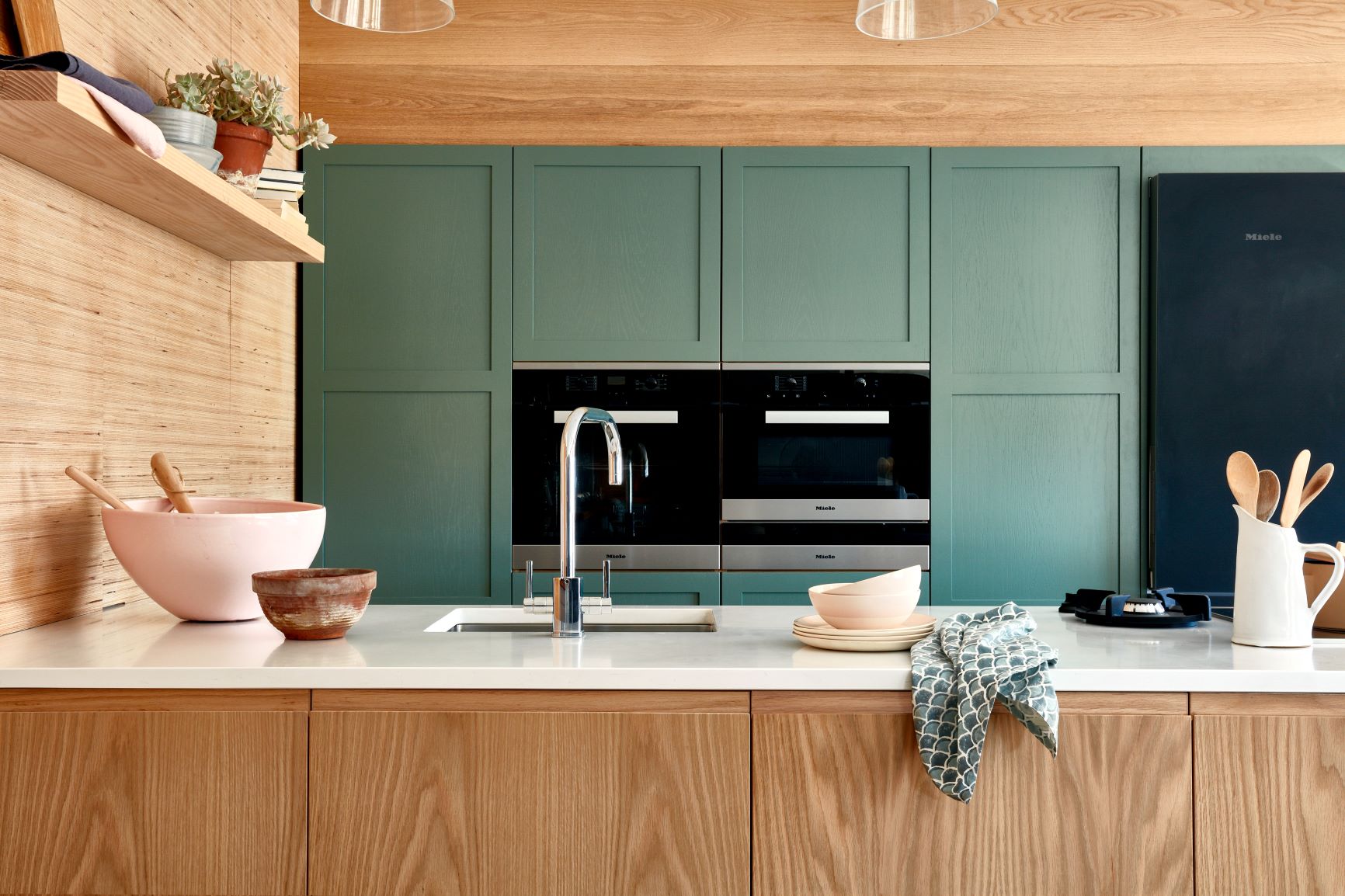 Are Shaker kitchens easy to maintain?
Yes – with their simple design and smooth surfaces, Shaker cabinets are easy to wipe down, and the Shaker emphasis on effective storage, high quality design and craftsmanship means that a Shaker kitchen is durable and low maintenance.
Can I have an island in my Shaker kitchen?

Absolutely – a Shaker kitchen island makes a stunning centrepiece, and the style lends itself to a virtually limitless choice of colours and styles of worktops and doors, including glazed doors.
How sustainable are Shaker kitchens?
Shaker kitchens are rooted in craftsmanship, respect for natural materials and avoidance of waste. Those principles are absolutely at the heart of Naked Kitchens ethos: we source responsibly, minimise our environmental impact and go to extreme lengths to cut waste out of our manufacturing processes.
What are Shaker doors made from?
Shaker kitchens are traditionally made from hardwoods: the original Shaker communities used hardwoods like maple, birch, or chestnut. At Naked Kitchens, our Shaker doors are made from sustainably sourced solid oak (or walnut), so durable and well-suited to a beautiful exposed timber finish.
We build all of our cabinets and worktops from scratch in our Norfolk workshops. True to the Shaker's philosophy – albeit now armed with state-of-the-art tech – we ensure that every piece of timber is used to its maximum potential, and we reuse every last piece of leftover wood. Our Shaker kitchens are built to last, whatever life throws at them. Read more about our sustainable kitchens here.