You've probably heard kitchen designers talk about the kitchen work triangle. But what is it, and is it still relevant? The concept of the kitchen work triangle developed in the 1940s in order to help single cooks working in smaller kitchens maximise efficiency by positioning the most heavily used elements – the cooking, food preparation and storage areas – in close proximity to one another. If you were to draw an imaginary line from point to point, you would create a triangle from sink to cooker to refrigerator that is designed to make the space easy to use without wasting time moving from one end of the kitchen to the other. The idea grew out of Taylorism, which applied scientific thinking to engineering in order to improve economic efficiency and production, and its principles are still used in the design of kitchens large and small.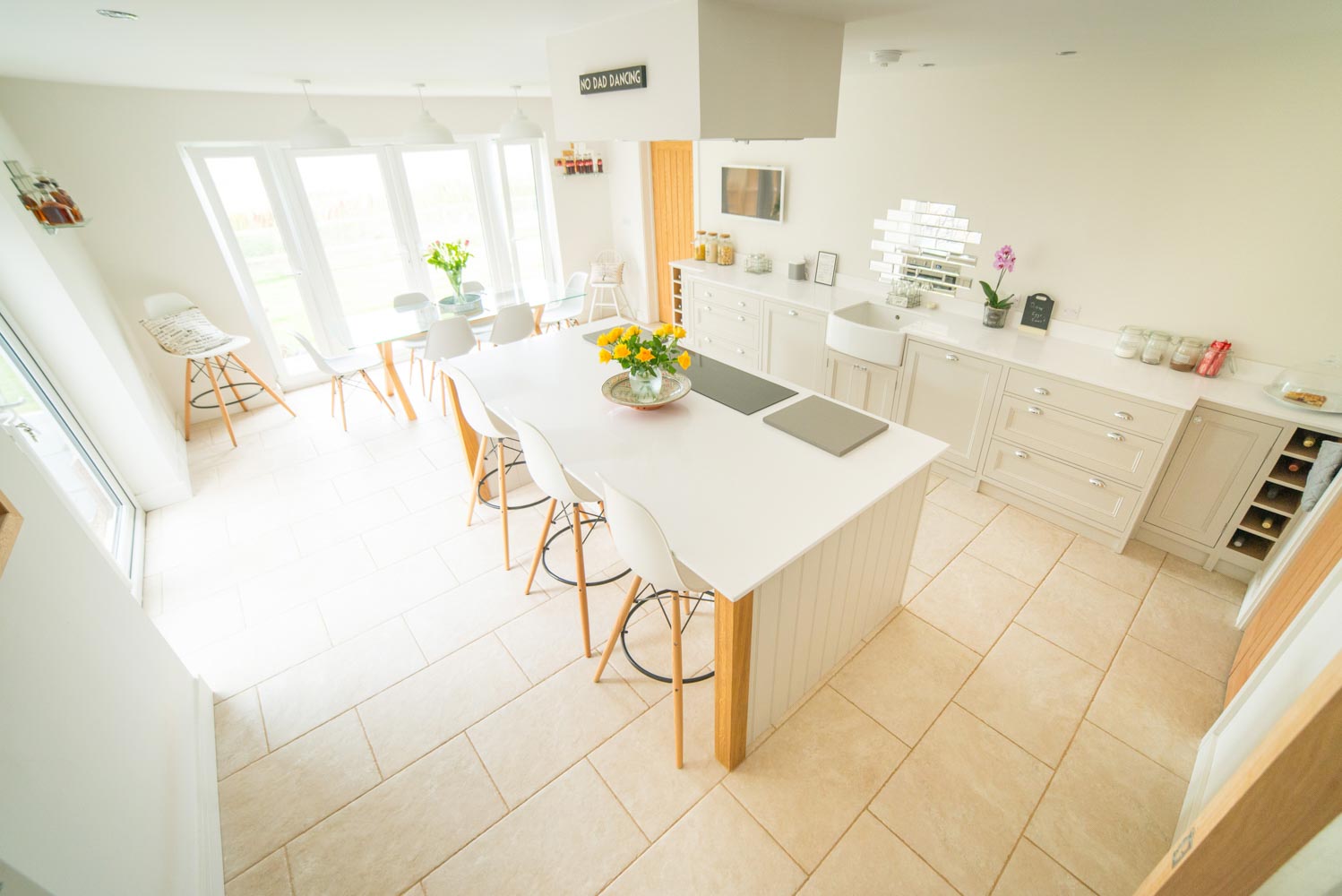 Read on to find out how the work triangle can make your kitchen easier and more enjoyable to cook in!
What are the key principles of the work triangle?
Most kitchen designers and architects still apply the same principles of clean, efficient design to residential kitchens todayand, size permitting, the following factors should govern the layout.
A full-height cabinet, or kitchen island, should never come between any points of the triangle so the cook's movement between work centres is not impeded.
The cabinets or any other obstacles should not intersect any leg of the triangle by more than 300mm.
The sides of any leg of the triangle should be between 1.2 and 2.7 metres, with the total of all three sides being between 4 and 8 metres.
Within the triangle, there should be no other traffic flow to ensure the chef can work safely and undisturbed.
How the work triangle concept can benefit your kitchen
These days our kitchens have become real hubs of family activity and are no longer just where we cook and eat. We're entertaining friends, working at the kitchen table, the kids are doing their homework or craft projects – larger kitchens might even have a sofa and TV in, as well as additional preparation and cooking areas, so how these extra elements are laid out is important too. The same triangle concept can be applied here by grouping related activities together so the space works for everything that's going on without one thing getting in the way of any other. You don't want people traipsing through the main cooking, prep and storage triangle to get to the entertainment area, for example. There are several main advantages of the work triangle:
Cooking in a dedicated space is much easier as there's enough room to perform specific tasks and everything is conveniently close to hand.
Minimising unnecessary traffic through the cooking space means the cook can get on with preparing meals without distractions.
As mentioned before, different activities can be zoned in order to avoid them interfering with each other: the preparation and cooking area, the dining/working area, and the entertainment area can all be self-contained spaces that contribute to the overall efficiency of your kitchen.
Incorporating the work triangle into your new kitchen
If you're about to change your kitchen layout or are starting from scratch, thinking about the work triangle and applying its principles can help you with planning the ideal layout for the various areas. Consider how your kitchen is going to be used: how much space you need for food preparation; where your dining table is going to go; will you have room for a breakfast bar; will there be space for working or for the kids to do schoolwork? Group areas and appliances together by activity in order to maximise efficiency and avoid people bumping into each other if the whole family is using the kitchen at once for different activities. Ensuring your kitchen is planned with these things in mind will enable you to make the best use of the available space. If you need any help or advice on planning the perfect kitchen, we'll be happy to share our knowledge and experience with you. When thinking how to lay out your kitchen, consider the following ideas which can make it easier to cook in your kitchen:
Make sure your fridge isn't too far from the worktop or food preparation area so you can easily get to ingredients quickly and aren't transporting them up and down the kitchen.
If you are planning on having a breakfast bar, make sure there's plenty of preparation space elsewhere so that germs aren't spread.
To make clean-up easier after meals, keep the sink, bin and dishwasher near to each other, again applying the triangle principle but on a smaller scale.
Avoid obstructions within the work triangle, ensuring islands, dining tables or full-height cabinets don't get in the way of you moving around the triangle when cooking.
Make sure you've got plenty of worktop space for chopping and slicing ingredients near to the stove so it's easier to add ingredients to your dishes without them dropping on the floor.
Think about where your pots, pans and utensils are going to be stored – ideally they'll be near your stove so you can get at them quickly.
Get expert advice
Here at Naked Kitchens, we're experts in marrying beautiful design with practical function. Because all our kitchens are bespoke, we are able to work with the space you have to create a kitchen that works perfectly for you.  To get more advice on how to to plan your kitchen to fit your needs, get in touch! Below you can find some expert advice from our kitchen designers, on how to create an efficient kitchen space.
"A truly bespoke kitchen means that we can manufacture each cabinet to the exact size required to fit within a defined space. This allows for a much more ergonomic flow to a kitchen. No filler cabinets required to fill that awkward gap. Difficult wall shapes, such as pillars, can also be overcome without compromising the resultant kitchen flow, by manufacturing the cabinet with a shallow depth where required. A very practical end grain butchers block on the work surface above the kitchen bin cabinet works really well to define the food preparation area. After food preparation, waste can simply be scooped into the pull out bin below reducing spillage and mess." — Jayne Everett, Director, Kitchen Designer
"The importance of the working triangle continues to strengthen as our kitchens become more and more multi-functional. Designing without this in mind can result in an ill-thought lay-out that creates a complicated living and working space rather than the hub of the home that the kitchen has become today. With this key rule in mind, and our made to order cabinetry, we are able to take this rule and expand it, ensuring that every detail is taken into consideration. Your integrated oven placement can be tailored to suit your height for example, or we can design those hard to reach spaces to suit appliances/objects that you want to keep out of the little one's reach." — Jessie Hacking, Lead Kitchen Designer