Order Process
There are two ways to place your order with Naked Kitchens – either by using our Render Service where we work with you to create visuals of your new kitchen, or by going Straight to Order where you know exactly the cabinetry you require.
1. Render Service
If you would like to visualise the cabinetry for your new kitchen, one of our in-house CAD specialists can create renders, elevation plans and 3D mock-ups to enable you to place your order. The render service, which includes four hours of a CAD specialist's time and one-to-one calls with you to discuss your design, costs £500 + VAT, 50% of which will be offset against your order.
Before commencing the service, you are required to provide a room plan with the layout, dimensions, appliances, worktop and your preferred kitchen style. We will produce a line drawing and elevation plans so you can visualise your kitchen. All the cabinetry and accessories used in these documents is available to view on our online library.
Following your review and feedback, all amendments and adjustments will be made and the plans updated. At this stage, we will produce an itemised product list with the cabinets and accessories used in the design of the kitchen. This is also the proforma invoice, ready for you to place your order. If required, an additional proforma invoice will be sent for any bespoke items in the plans.
Please note, as a manufacturer the render software we use is part of our manufacturing process and actually drives our CNC machinery. The renders show precise specification of the cabinetry in terms of sizing. Whilst they do not contain photo realism, they will provide you with a great representation of your new kitchen cabinetry and layout. To see example documents, please click the link below.
2. Straight to Order
Naked Kitchens offers a new and innovative way to purchase a kitchen, allowing you to buy a bespoke kitchen with a few clicks of a button. Where you already have a clear plan designed using our cabinetry specification and know exactly which cabinets you would like to order, you can simply purchase your cabinetry items directly via our online library.
The Straight to Order Process
You will need to draw a cabinetry plan using our size specifications by referring to our cabinetry library and selecting a combination of tall, wall and base cabinets, drawer stacks and appliance housing.
Compile a quote by making an account on the website and adding items to your basket. Once completed ensure the quote is saved in case you need to update and amend. Please ensure you account for all the additional accessories required to complete your kitchen as per the cabinet and island specification diagrams below and the following checklist:
Firstly, choose Frameless or In Frame
Select the cabinets you require: tall, wall and base cabinets, drawer stacks and appliance housing
Don't forget products to finish your kitchen, some of which are optional depending on your design: angled filler/filler piece, cornice, end panels, plinth, angled pelmet and corner post
Additional extras, such as spice racks, peg boards, and cutlery and utensil inserts need to be selected as an option for each corresponding cabinet
Where you are using your own sourced appliance, please tick the 'appliance checking service' box on your selected appliance housing unit and input your model number if you would like us to check it will fit.
We are more than happy to 'sense check' your quote if required to verify that you have the items needed (please note, we cannot check measurements).
Once your order has been placed, we will send you your production list and ask that you carefully check and confirm this prior to it moving into production. From this point your manufacturing lead time will commence and we will issue you with an estimated delivery week.
Cabinet Specification
1. Angled Filler/Filler Piece
1
Angled Filler/Filler Piece
Enabling easy access to the door at the end of cabinet runs that meet a wall, filler pieces are available at a standard height, with a choice of widths from 30mm to suit your needs (hint: don't forget to include these in your measurements!).
We have a selection of appliance housings, for ovens, dishwashers, bins, fridges, freezers and sinks.
If included in your design, the cornice is the trim that sits at the top of a wall unit. You can use an angled pelmet here instead or leave the top of the cabinet exposed.
Our end panels can be manufactured to your exact specification size to finish off your kitchen.
Plinths perfectly complete a kitchen and are available in all the cabinet and door finishes we offer to ensure they fully match the style.
Please contact our parent company Norfolk Oak who can quote for and manufacture floating shelves.
If required, the pelmet is the trim that fits onto the bottom of the wall units and complements the fronts to finish the kitchen (hint: you can also use a panel or alternatively leave exposed).
These are used to create a seamless join between two cabinets that meet at a corner. The angled shape of our corner post allows for easy scribing and securing to your cabinets where you are not using a blind corner cabinet.
End panels are fixed to the end of a run of cabinets to complete the look of a kitchen. These are available in the cabinet and door finishes we offer to fit with your design.
Additional accessories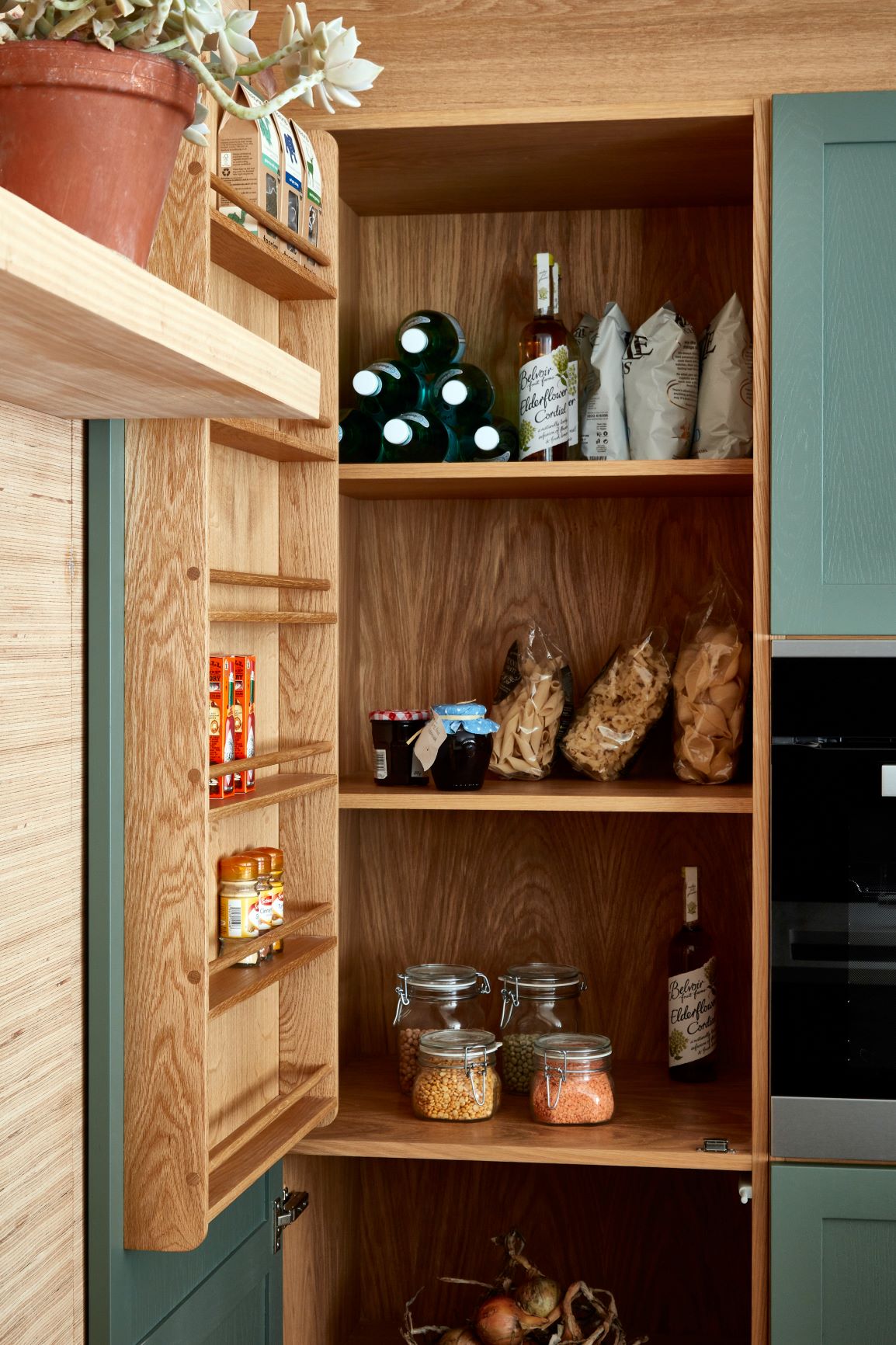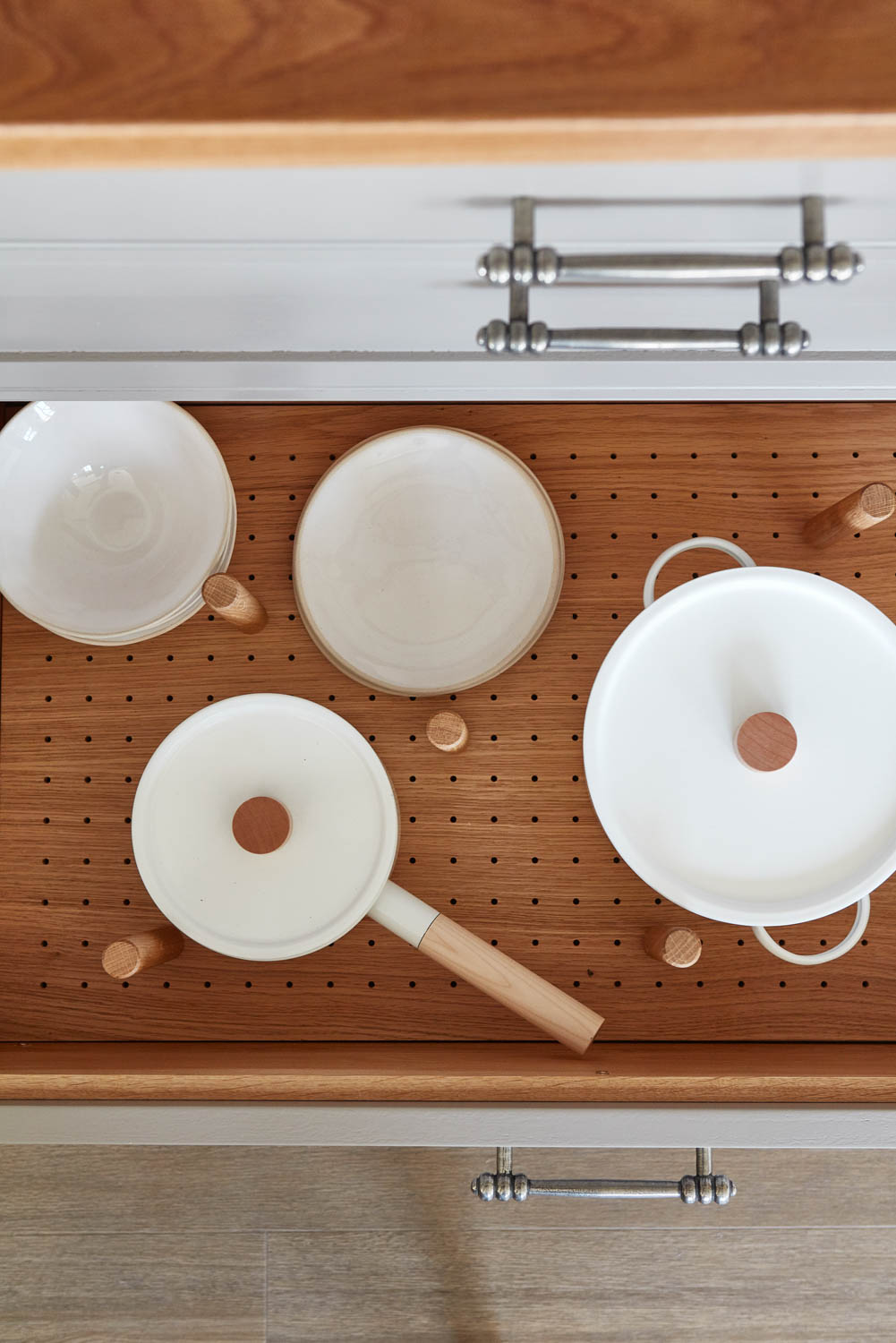 3. Cutlery & Utensil Inserts
The perfect storage solution inside large cupboards, larders and pantries, we can create spice racks in both oak and walnut for all of your cooking ingredients.
Great for maximising functionality, our peg boards provide a great solution to organising pans and crockery in your drawers.
3
Cutlery & Utensil Inserts
Made to order, these inserts are the ideal way to organise cutlery and other utensils inside your drawers.
Kitchen island specification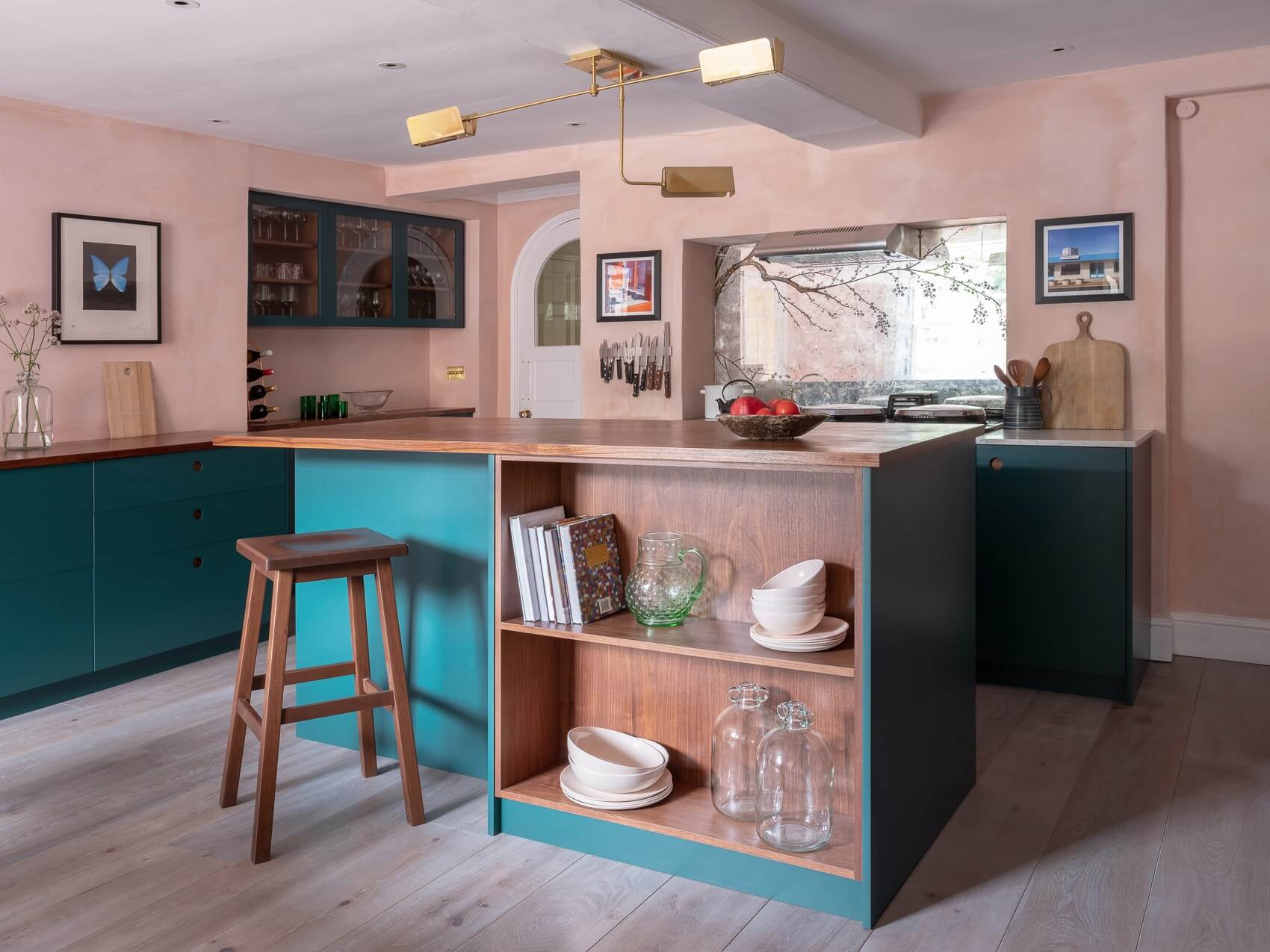 Standard end panels are finished on one vertical edge, as the three other edges will be concealed.
An island is created from a selection of base cabinets or drawer stacks and can include open shelving if desired.
An island end panel is supplied where the side of the carcass is exposed, and this is finished on both vertical edges. Select the 'island end panel' checkbox on your chosen end panel style to add to your order.