Mariner's Way
Discover the ultimate Norfolk beach retreat with this serene kitchen, featuring calming colours, brushed chrome handles, ample storage and a generous island perfect for seating and storage.
Smooth painted slab fronts keep the dishwasher, bins, washing machine and boiler neatly tucked away.
The generous island accommodates seating for four, along with a wine fridge and plenty of drawers.
A fresh and calming colour palette featuring Seal Pup White and Night sky, combined with limed oak accents, creates the most serene Norfolk beach retreat in our Mariner's Way kitchen.
The counterstanding unit is a practical solution to hide a boiler, and a built-in microwave has cleverly been added to make the most of the space.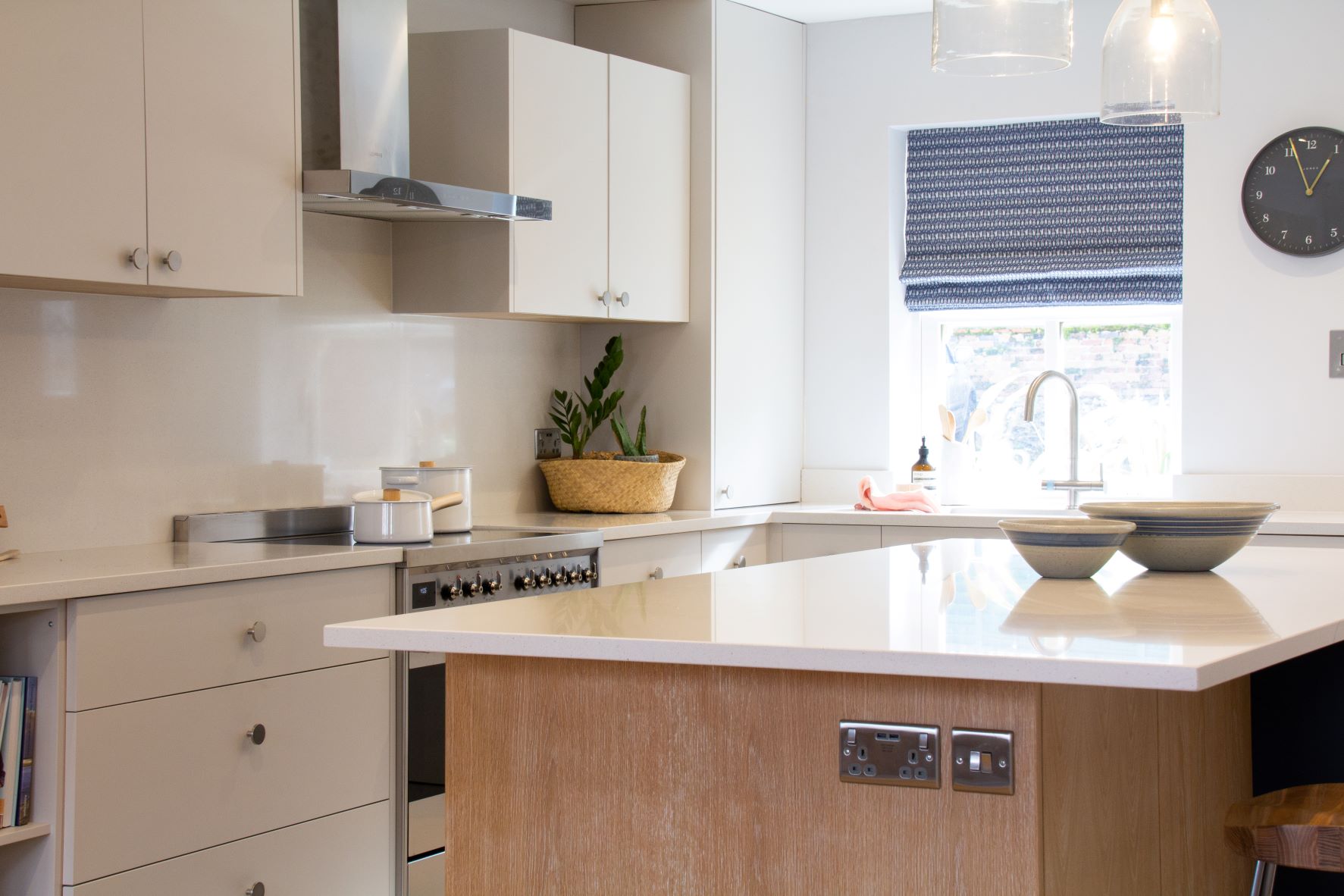 Brushed chrome circular handles tie in beautifully with the free-standing Fisher & Paykel fridge freezer.
Kitchen Designer of The Year
Kitchen Designer of The Year
Kitchen Designer of The Year
Kitchen Designer of The Year
Price Guide
All prices include VAT. Cabinetry only (prices exclude worktops and appliances)
Questions & Answers
Where can I see one of your kitchens?
Our showroom and workshop are based under one roof here in North Norfolk, so you can see our kitchens and how we make them at the same time. Contact us to book an appointment.
Do you offer a design service?
Absolutely. if you'd like to create your kitchen with us, you can book a free design. We can't wait to get started with you!
How long will it take to get my kitchen?
Our typical lead times are as follows: - Kitchens: 8 - 12 Weeks - Doors: 4 - 6 Weeks
Need it sooner? Get in touch, and we'll be able to discuss your options.
Do you come on site to measure?
We usually work from dimensions or measurements supplied by you or your architects.

We're also always on hand to advise and help - just contact us
Do you fit?
Currently, we are a supply-only company. Many of our clients are undergoing wider renovation projects, so using the contractor or a local carpenter or fitter can often be the most cost-effective option.
Do you supply appliances?
Absolutely. We work directly with fantastic partners like Miele, Bora, and Quooker, among others. Find out more on our appliances page.