Colours have a major impact on the look and feel of your kitchen. Make sure you choose colours that complement the room with our tips!
It may seem like an easy thing to do, but choosing colours for your blank canvas of a kitchen needs careful consideration so that you don't make a decision you later come to regret. Your kitchen is more often than not the busiest room in your house so it's important to set a tone that suits everyone. If you're introducing colour with the paint you choose to put on your walls then that's an easy fix if you change your mind or decide that perhaps bright yellow wasn't the best colour to go with your blue cabinets. But if colour is added with expensive appliances and cabinets then you're looking at a much bigger bill. Here are a few tips that will help you come to the right decision. 1. Keep things neutral because neutral colours will always stand the test of time. If you also keep your appliances to the usual white or stainless steel, you can then introduce bolder splashes of colour with things that are more easily changed if you fancy a new look: rugs, pictures, curtains, backsplashes and small appliances like kettles, toasters and microwaves. Or you can add interest with coloured tiles and contrasting worktops. You could even consider painting the backs of your cabinets to add colour. This can look really effective in glass-fronted cabinets and is easy to change back to a more neutral colour if the novelty wears off. 2. Consider the lighting. How your kitchen is lit can greatly affect how colours appear. The more natural light you have coming into your kitchen, the truer the colours will look. Dark colours soak up light like a sponge and can make a small room look even smaller, especially at night when the only light source is artificial. If your kitchen is on the small side but you still want to add colour, try just painting an accent colour on one wall to add a bit of drama and interest without making the room feel claustrophobic. Or if you think white cabinets are boring, choose lighter-coloured cabinets that will inject colour without absorbing all the light and making the space feel cramped. 3. Don't forget about your flooring when you're choosing your cabinets and worktops. Those three elements will take up the most space and be the biggest expanses of colour, so consider how they will work together before you start introducing colour elsewhere. 4. Get inspiration. Pinterest is a fantastic resource when it comes to finding inspiring ideas and seeing what colour combinations other people have come up with. Try and find kitchens that are a similar size and style to your own to give you a better idea of what might work and what definitely won't work in yours. Be warned though: you can easily lose hours doing this and end up with serious kitchen envy. 5. Don't use too many colours. You don't want your kitchen to end up looking like an explosion in a paint factory. By sticking to a palette of one or two colours, you can create a sophisticated look that won't look dated. Choose grey cabinets, for example, and maybe have your island painted a different colour to make a feature of it. If you're not confident about which colours work best together then buy a colour wheel to help you or talk to your installer.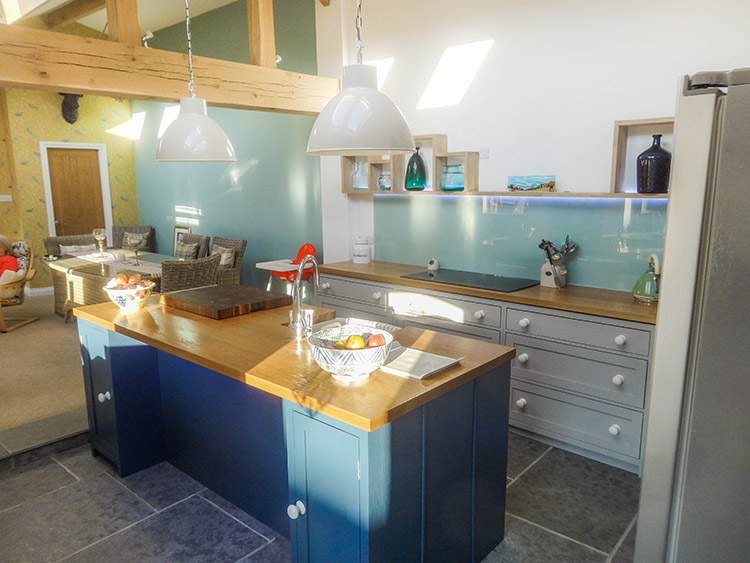 In conclusion, pick colours you love. You have to live with your choices every day, so go with a palette that will make you happy every time you walk into the room.