What makes a great kitchen colour palette? Why do some colours complement or contrast with each other, and why do some work better than others in kitchens?
In a behind-the-scenes interview about the Naked Kitchens family business, founder Jayne Everett revealed two personal inspirations for our distinctive hues and tones: the local Norfolk countryside, and the works of Austrian artist Gustav Klimt. That might seem a rather unusual combination, but the two have more in common than you might think.
And understanding why is a good way to unlock some of the mysteries of colour…
The Klimt effect
Asked to name a Gustav Klimt painting, most people would surely go for The Kiss (top). It's hardly surprising: with its dazzling gold and glitter (and not to mention the sexy subject matter), it's an unforgettable image. The Kiss is typical of Klimt's "Golden Phase", as is his sensational portrait of Adele Bloch-Bauer (below), one of the world's most valuable artworks.
Born in Baumgarten near Vienna in 1862, Klimt was a leading member of the Vienna Secession artist group, closely related to the Art Nouveau movement and famous for his symbolist paintings. His travels to Italy – particularly to Venice and Ravenna, both renowned for the decorative use of precious metals, enamels, mosaics and jewels – had a profound influence on his work. (Take a look at the extraordinary Pala d'Oro in St Mark's Basilica, with its gold, silver, thousands of pearls and gems and 187 enamel plaques, and it's not hard to imagine the impact it must have had on Klimt.)
But amidst all that opulent precious metal, it's easy to overlook how much nature is present in Klimt's great Golden Phase paintings. The lovers in The Kiss spring from a bed of grass and wildflowers, because Klimt was also drawn to the natural world.
Some, like this painting of a birch forest (above) are quietly haunting, with a soft green-blue colour palette. Others combine those same green-blues with the brightness of flowers, as in Farm Garden with Sunflowers (1917), with its rich yellows and reds, and bright pinks and blues…
And that's one of the things we love most about Klimt: his deep, instinctive understanding of how colours work together, whether contrasting or complementary, man-made or natural.
Under Norfolk skies…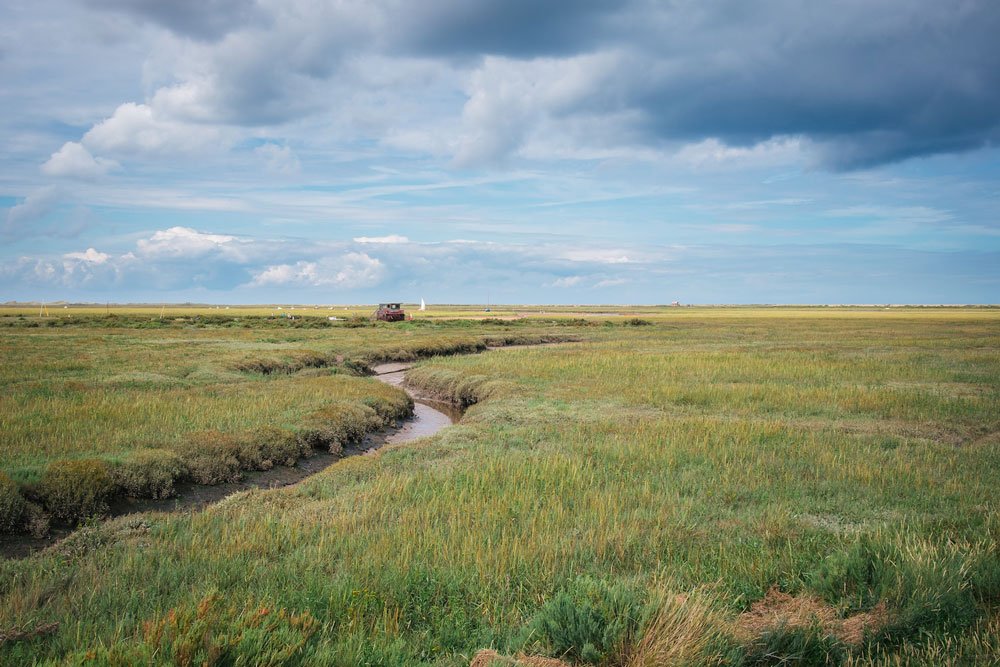 Norfolk's natural wonders – its coastline, countryside and huge, remarkable skies – have inspired artists through the centuries, from Constable and Gainsborough to Beatrix Potter and Maggi Hambling… and they certainly influence the Naked Kitchens colour palette.
Jayne, our founder and the creative force behind our kitchen designs, draws inspiration from all aspects of the natural beauty on our doorstep, including the weather. There's Holkham Frost, the softest of soft whites; there's the rich green of Samphire, a sea vegetable that grows on Norfolk's salt marshes; and there's the terracotta pink of Pamment, a local clay. Wildlife is important too: from the milky coats of seal pups (Seal Pup White) to the deep blue-black of the Oystercatcher birds at Blakeney.
Naked Kitchens colour inspiration
But perhaps the most artistically-striking kitchens are those that take a leaf out of Gustav Klimt's book and combine those natural colours with metallic brilliance; gold layers that illuminate greens, blues and pinks.
Think gorgeous terracotta tiles; brass taps and light fittings; boldly painted cabinets paired with oxidised copper splashbacks…
That's the wonderful thing about designing a bespoke kitchen and choosing colours for it: you don't have to follow a standard colour scheme… Instead, you can think like an artist.
You'll find the complete Naked Kitchens colour range here. Our sample ordering service enables you to try out different colours or variations of a particular colour in your kitchen before making a final decision.
Or have you been inspired by the colours of a particular place, artwork, flower or textile? If so, you might want to bring that colour into your kitchen with our bespoke colour-matching service.
Get in touch to find out more.
See also:
Choosing colours for your kitchen – an expert guide
Splashback statements - an expert guide to choosing and using kitchen splashbacks
From our place to yours – an interview with the Everett family
All Gustav Klimt images used above are in the public domain.