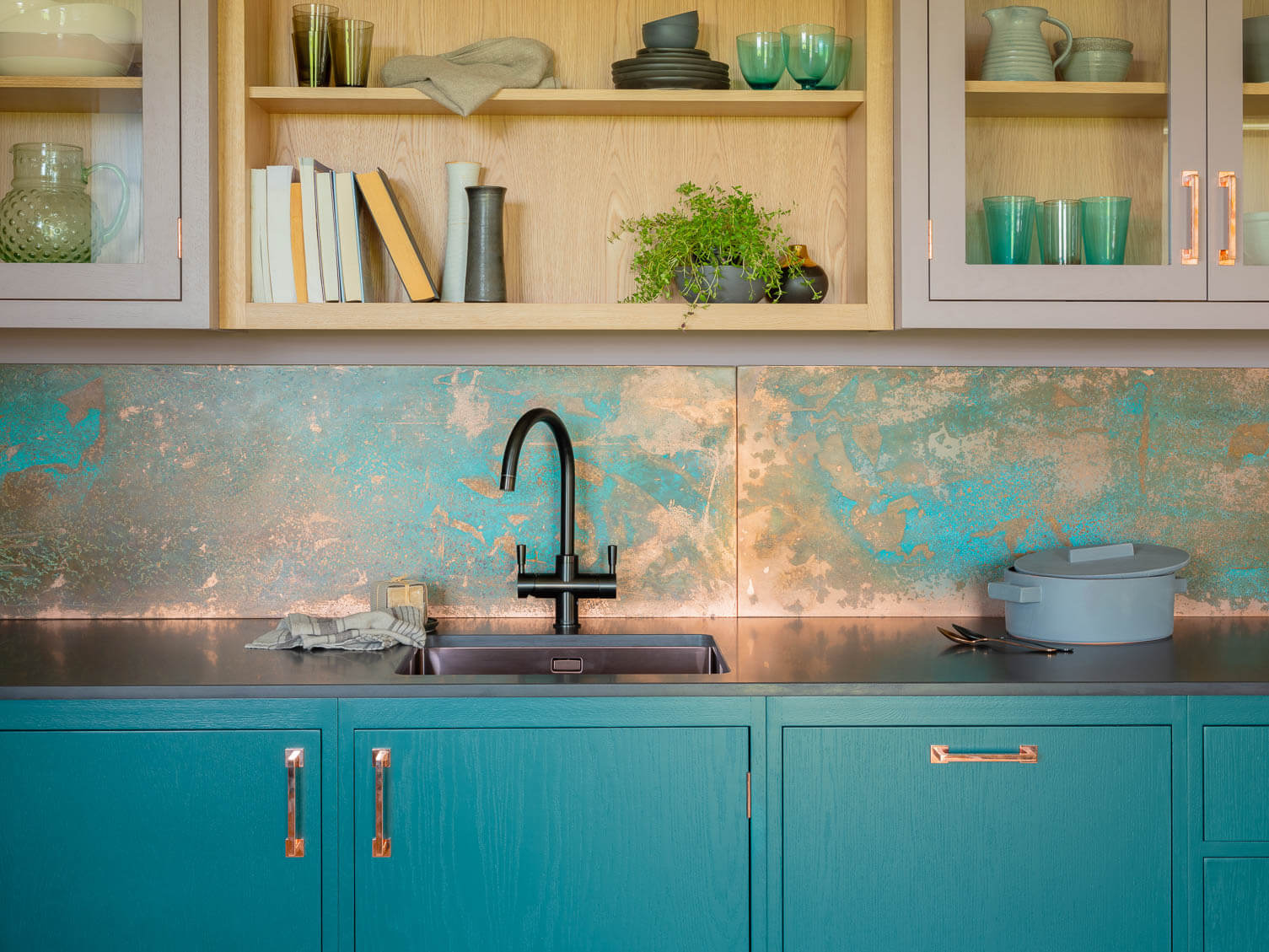 A splashback isn't just a practical necessity – it's an opportunity to add some wow factor to your kitchen. Here's everything you need to know about kitchen splashbacks, and how to use them to style up your space...
Why do you need splashbacks in a kitchen?
Kitchen splashbacks are those sheets of material designed to protect frequently used areas from the splashes, food stains and greasy marks caused by everyday kitchen activities, such as prepping food, cooking and washing up. They're usually positioned behind the cooker, the kitchen sink or the worktops.
Splashbacks are waterproof, durable and easy to clean, and they can help to protect kitchen walls against longer-term damage caused by the accumulation of heat and moisture, such as mould and discolouration.
But functionality aside, splashbacks are also fabulous for making a style statement – and they come in a huge range of different colours, styles and materials, so you can find the perfect match to complement your kitchen.
What is the best material for a splashback?
Tiles have traditionally been the material of choice for kitchen splashbacks, but these days there are all sorts of options available. Here's a guide to the main options…
Tiles – perfect for introducing different patterns, shapes and textures, from classic metro tiles to intricate geometric designs. Tiles are hard-wearing, though the grout may require some maintenance over time.
Glass – elegant, strong and easy to clean, glass splashbacks come in a range of colours, shapes and designs. Glass will reflect the light around the room, helping to make your space feel more open.
Acrylic – fully customisable and coming in a virtually unlimited range of colours and sizes, acrylic splashbacks are a versatile, lightweight and cost-effective option. However, they have low heat resistance, so care must be taken when placing them near a hob.
Metals – metals such as brass, bronze and copper make a bold and beautiful statement and can add a real wow factor to your kitchen.
Stainless steel – a stainless steel splashback will lend a modern, even industrial feel to a kitchen. Durable and relatively easy to maintain, although it does tend to show up smears and fingerprints.
Stone – a stone splashback, such as quartz, granite or Corian, can bring texture and a timeless style into your kitchen
Marble – a perfect choice for a naturally luxurious, grand and even dramatic look.
Six ways to use splashbacks to style up a kitchen
Choosing the right splashback can really elevate your space. Whether you want to introduce a pop of colour, a note of elegance, or make a big statement with a bold contemporary number, splashbacks are a great way of adding depth and interest, and they make a beautiful feature in their own right.
When choosing your splashback, it's important to think about the rest of your kitchen decor, and exactly what kind of statement you want to make. Here are some ideas:


1) Colour match for cohesion
If you like things simple and sophisticated, match your splashbacks with your worktops and/or cabinetry for an elegant, cohesive look.
A great example is the St Giles kitchen, which has classic shaker cabinetry in shades of green, paired with whites in the surfaces, sink, appliances and the insides of the glazed cabinets. The splashback behind the sink is the main white feature, with white horizontal v-grooves to complement the lines of the shaker cupboards.
As well as painted timber finishes, going for matching colours works really well with materials like stone or marble.

2) Add depth with colour accents
A great way to accentuate and add depth to a visual scheme is to take your main colour and go a shade darker or lighter with your splashback.
This is done brilliantly in the Harpley kitchen, which features a set of gorgeous tiles by Mandarin Stone. The different purple and pink hues set off the rest of the colour scheme and to create a beautiful, warm, earthy space.
3) Go for a bold contrast
The statement splashback is a brilliant vehicle for complete colour contrast. Try something at the opposite side of the colour wheel to your cabinets and the effect can be stunning. (For more colour tips see Choosing colours for your kitchen – an expert guide.)
The Houghton kitchen offers a unique blend of the classic, the contemporary and the bohemian, and the key statement piece is the brass splashback. Set against the warm walnuts and rich purple tones of the kitchen, the brilliant colour echoes in the brass-topped island table and accessories.
4) Use unusual materials for texture
In interior design, texture is how something 'feels to the eye', and professional interior designs are experts at mixing and matching materials so that a space has layers of visual interest. Because splashbacks can be made in so many different materials they're perfect for introducing texture into a kitchen.
The Ryburgh kitchen incorporates a bar area, and the gorgeous brass splashback, with its natural roughness and imperfections, provides a striking textural contrast with the smooth marble worktops and smart cabinets… Sophisticated bling!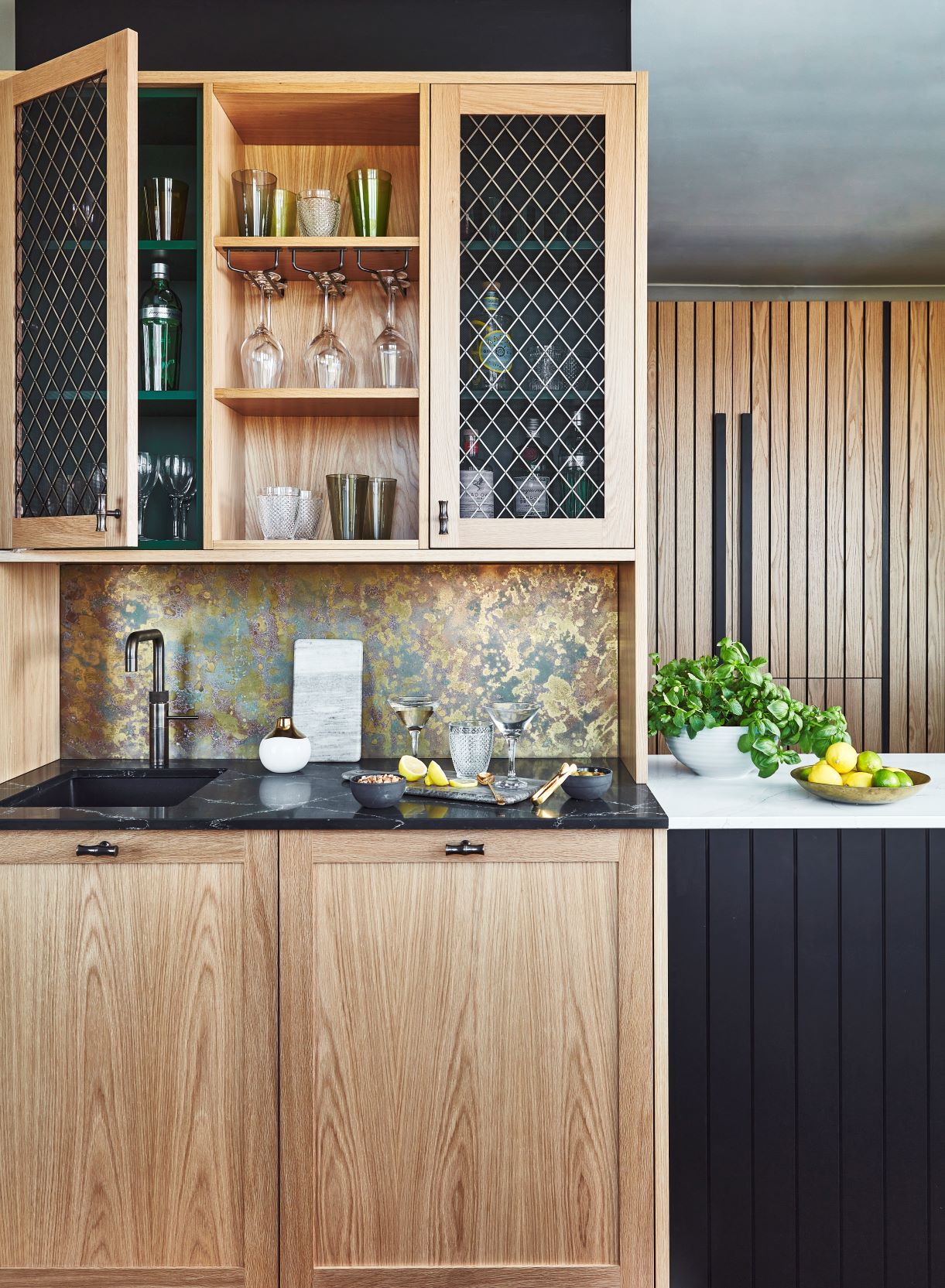 5) Introduce pattern with tiles
Kitchens tend to lack soft furnishings and large areas of wallpaper, so for lovers of pattern, the opportunities are fewer than in the rest of the house. But a tiled splashback gives you the chance to do something different…Try unusual shapes and arrangements, such as an offset block of tiles, a striking herringbone pattern, or hexagonal tiles in a honeycomb pattern.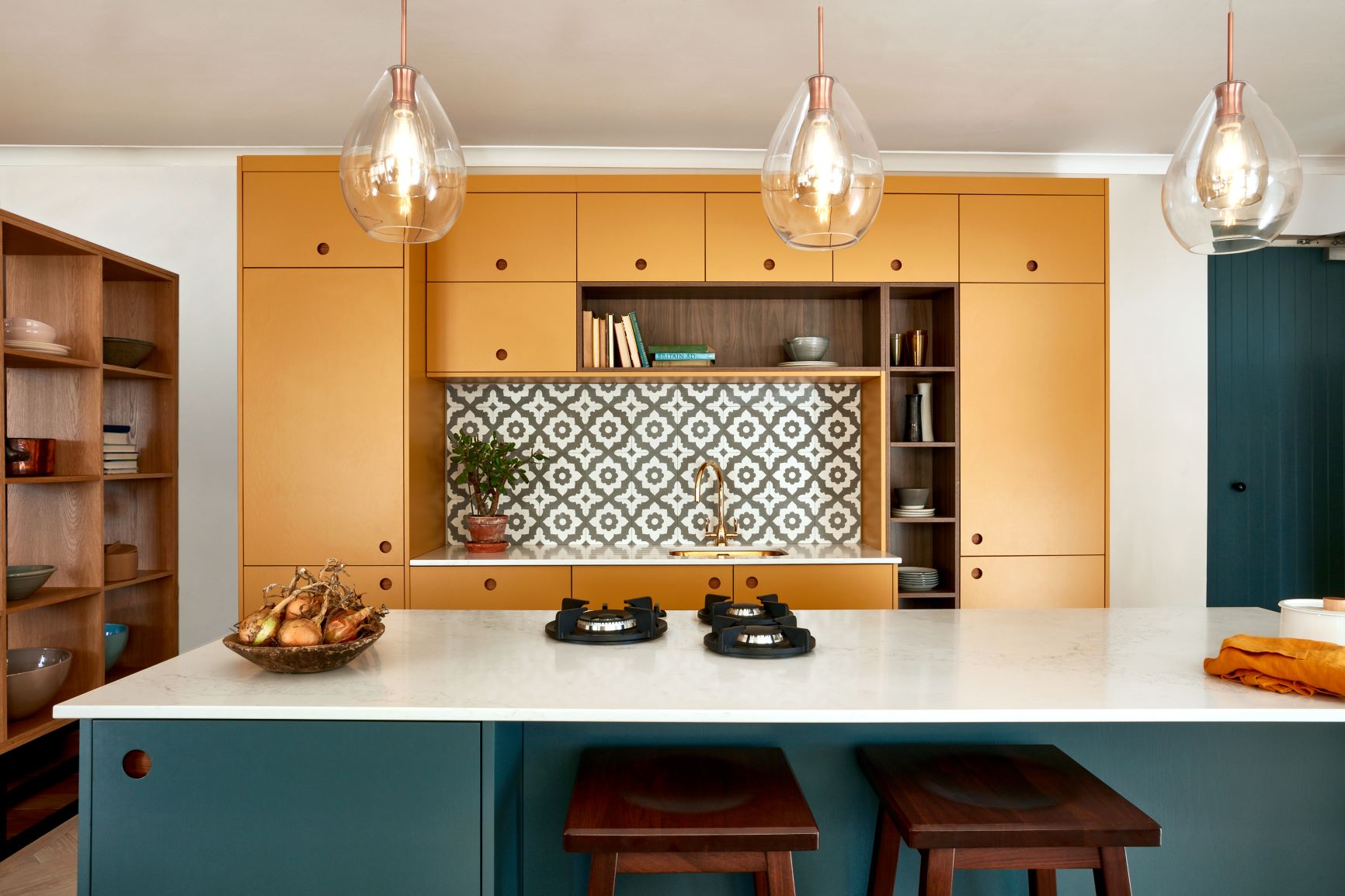 6) Open up a space with light
If it's a light, airy, spacious feel you're going for in the kitchen, you can enhance the brightness with a splashback in a reflective material, such as glass or brass, to help bounce the light around the space.
In the Chester Row kitchen, the classic white shaker cabinets and walnut island are brought to life by an eye-catching black and white 'mirrored' splashback, which echoes the marble worktops and reflects the light around the room, helping to open up the whole space.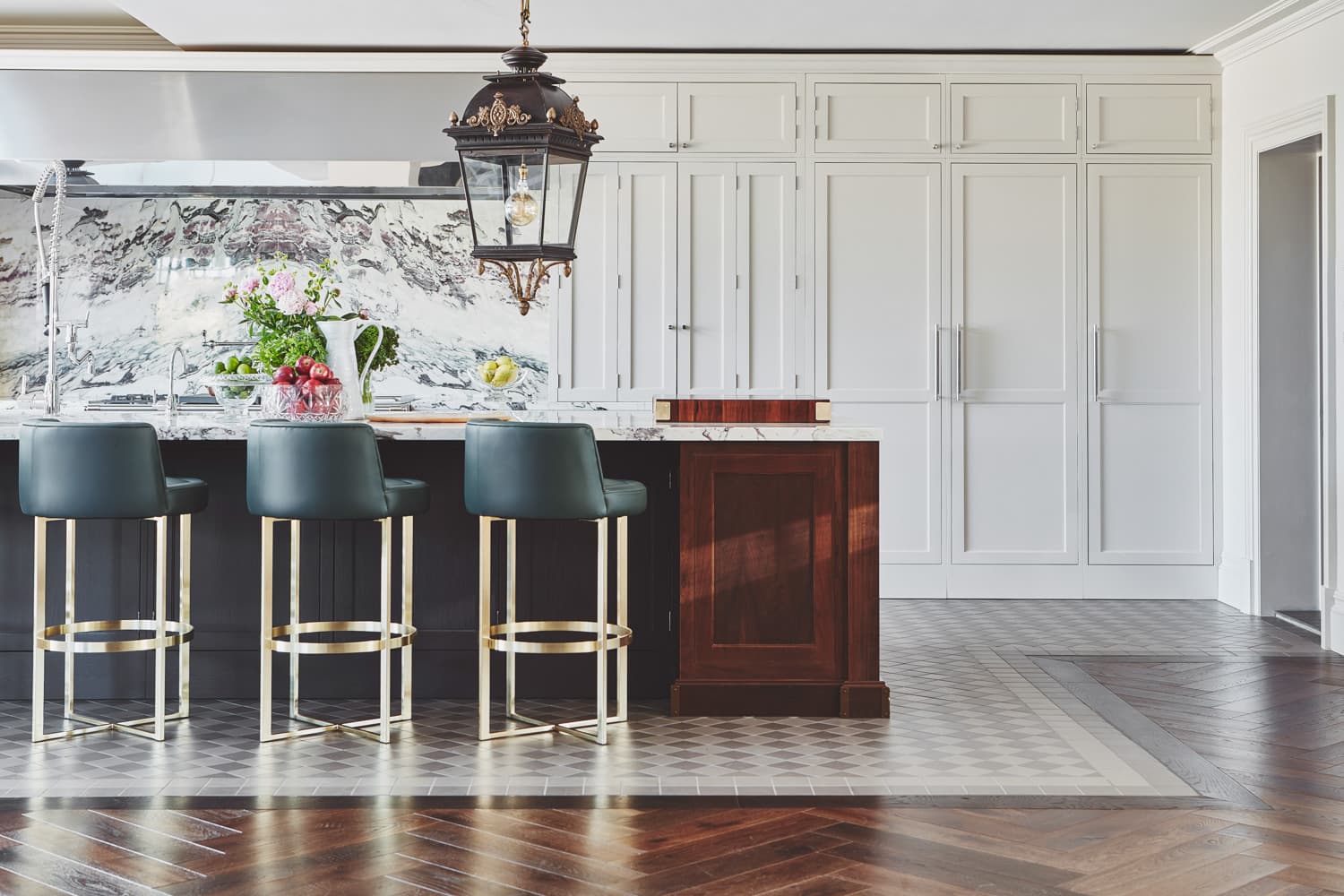 For more inspiration,
browse our portfolio here.
At Naked Kitchens, we can design the perfect kitchen for your lifestyle. Find out more about how to
make your dream kitchen a reality
.
Frequently Asked Questions
Are splashbacks easy to maintain?
Yes – splashbacks are easy to maintain on a day to day basis: simply give them a gentle wipe with a damp sponge and a neutral cleaning solution; some materials may require a little more maintenance in the long term.
Where should splashbacks go in a kitchen?
Splashbacks are most commonly used behind the cooker, around the sink and behind the worktops, although they can be placed anywhere you want to make a statement or add some character, from a dining space to a utility area or even a bar area.
How can splashbacks add to your kitchen design?
Splashbacks can introduce style, colour, texture and interest and are a simple and cost-effective way of instantly transforming your kitchen space. Use your splashback to bring an existing design theme together, or make it a design feature in its own right.
See also:
Choosing colours for your kitchen – an expert guide
Kitchen ergonomics: 5 clever ways to make your kitchen design more efficient