Discover why a wooden worktop should be at the top of your spec list for your new kitchen, providing a great looking, hard wearing worktop for years to come!
Your kitchen worktop will see a lot of use over the years, so it makes sense to choose a material that not only looks good but is easy to maintain and simple to repair if it becomes damaged or marked. The natural choice is solid wood. Wooden worktops have many advantages over surfaces like granite and corian, which we'll explore in this article! A solid wood worktop will add warmth, homeliness and character to your kitchen and, if well-looked-after, can last you a lifetime. Wood has a timeless and welcoming natural rustic beauty that other materials lack, which makes it an ideal choice for both traditional and contemporary kitchen designs. Granite and stone can look stark, soulless and cold in some kitchens. Using wood is a great way to soften the look of a kitchen that is otherwise all white and will add a dramatic accent. Wood is environmentally friendly. These days, most wood used for kitchen worktops will come from sustainably-managed forests – ours are certified which means the wood in our worktops respect and protect the local wildlife as well as the rights of workers. Homely oak, luxuriously dark walnut and fresh and light maple can all be used to craft durable worktops and each wood has its own unique characteristics that will add something different to your kitchen. Even the most careful of us sometimes have mishaps in the kitchen. The beauty of a solid wood worktop is it can be made to look as good as new. Dents can be filled; stains and scuffs can be polished out or sanded down and re-oiled. The whole surface can even be sanded down and varnished a different colour if you want to ring the changes. Drop a knife on a laminated surface or take a chip out of a stone or granite surface and it's much more difficult and expensive to put right. Oil your wooden worktop regularly and it will reward you with many years of great service. A solid wood worktop will only look better as it ages, gaining in character and patina as its natural colour deepens. Because it's a natural material, each one will be unique, with its characterful and distinct grain patterns adding another dimension to your home. And it's naturally anti-bacterial, too.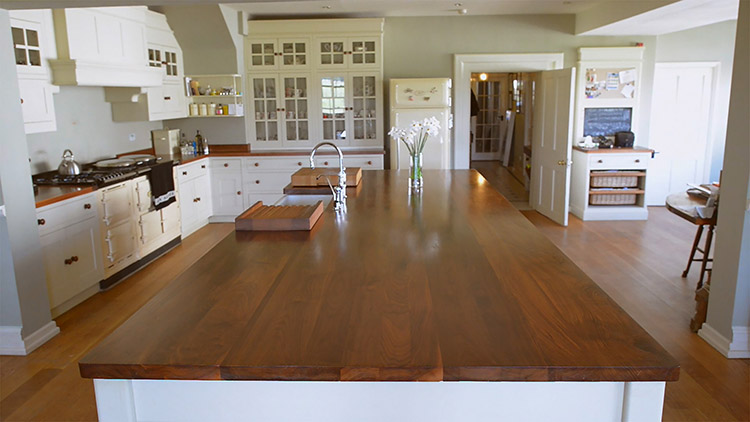 Unlike other materials like granite, corian and quartz, wood doesn't always need to be templated in advance like more expensive materials need to be, but always have your worktop installed by a professional kitchen fitter to ensure a perfect design, cut and fit. And because wood is easier to work with, it's ideal for using in more eclectic kitchen layouts, too. Quality lasts long after the price is forgotten, the saying goes, so always buy the best materials that your budget allows to enhance your kitchen and it will look good long into the future.