With their beautiful warm, natural tones, it's easy to see the aesthetic appeal of wooden worktops. But how practical are they, and what makes them such a good option for a kitchen? Here's an expert guide – including tips for caring for your wooden surfaces…


Why choose a wooden worktop for a kitchen?
Solid wood is a wonderful natural product, and wooden worktops have a number of qualities that make them ideal in a kitchen:
Naturally beautiful – a solid wood worktop looks fabulous and will add warmth, homeliness and character to your kitchen
Durable – hardwood is strong, hard-wearing and water resistant, and a hardwood worktop is generally easy to clean and maintain, making it ideal for a busy family kitchen
Hygienic – wood has natural antibacterial properties, which means perfect for kitchen worktops
Versatile – wood is easy to work with, and is a good choice for very bespoke and unusual kitchen layouts
Timeless – wood has a timeless quality and works well with practically all styles and colours of kitchen
Unique – each piece of wood is different, with its own distinctive grain pattern and characteristics, adding another dimension to your kitchen design
Environmentally friendly – Naked Kitchens' solid wood kitchen worktops are responsibly sourced.
How can a wooden worktop enhance your kitchen design?
Wood is such a versatile material for kitchen worktops, and the best thing is it goes with pretty much anything. Wooden worktops work well alongside the vast majority of styles and colours, and look beautiful in both traditional and contemporary designs.
With its timeless rustic beauty, a wooden worktop is great for softening the look of a white or neutral kitchen, or for adding texture and contrast to a contemporary design. While some solid surface materials such as granite and stone can sometimes look a little stark and cold, wood introduces a lovely warmth and homeliness. What's more, wood matures as it ages, gaining in character and patina as its natural colour deepens – meaning that your wooden worktop will look even more beautiful as time goes on.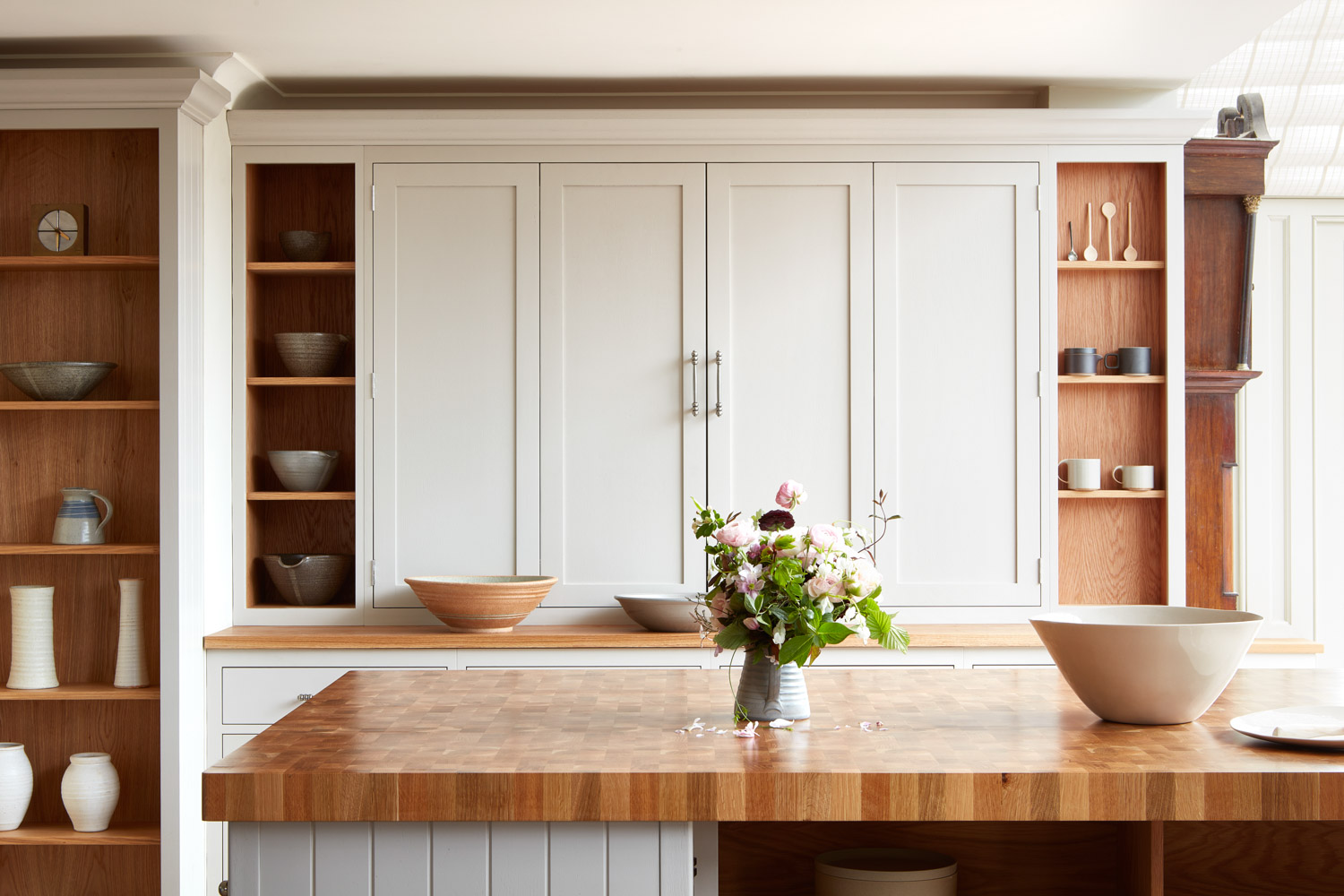 What are the different types of wooden worktop?
When it comes to choosing a hardwood for your wooden worktop, there are a range of different types, each with their own unique characteristics and grain patterns – from homely oak to rich, luxurious walnut, fresh and light maple, warm cherry, and exotic Iroko (also known as African teak).
Oak is one of the most popular options for kitchen worktops. Strong and versatile, with a beautiful natural grain, oak comes in a range of different tones and looks equally good in a traditional setting with matching oak cabinets, or set against a more contemporary backdrop.
Meanwhile, walnut is a robust and highly decorative hardwood offering rich, deep colours and a beautiful grain, and will add drama and interest to any space.
The best choice of wood for your kitchen worktop will ultimately depend on your preferred colour, style and type of grain pattern. We can help you choose the perfect wood for your kitchen worktops, to suit your taste and your budget. Talk to us about options.
How do you maintain a wooden worktop?
Kitchens are hubs of daily activity, and sometimes accidents will inevitably happen. Just like other worktop materials, wooden worktops can be susceptible to scratches or other forms of damage over time.
Hardwood worktops are actually very durable, and many contain natural oils which make them resistant to water. Although some wooden worktops may require occasional treatment over time, generally a quality wooden worktop has few requirements on a day to day basis.
You can help to keep your wooden worktop looking beautiful by following these simple steps:
Avoid harsh cleaners or scouring pads - to keep your wooden worktop clean, simply use a soft cloth, a little warm water and some washing up liquid
Deal with spillages straight away - wipe the area immediately with a clean, dry cloth to avoid any pooling or staining
Don't cut directly on your worktop - use a chopping board or a butcher's block to avoid causing any damage from knives or other utensils
Use surface protectors - avoid placing saucepans, dishes or cups directly onto the worktop
Be sure to dry the area around the sink after use, as regular exposure to water can cause the wood to warp over time. Choosing a sink with a built-in drainer can also help to avoid pooling.
However, another great thing about wooden worktops is that, unlike other materials, they're easy to repair even if they do become damaged or marked. Any small dents, scores, scuffs or scratches can normally be oiled, polished or lightly sanded out, so that your wooden worktop looks as good as new.
Are wooden worktops sustainable?
Wood is a very environmentally friendly choice for a kitchen worktop. These days most of the wood that's used for kitchen worktops comes from sustainably managed forests, and at Naked Kitchens all of our timber is FSC certified, which means it's been harvested in a way that's responsibly managed, environmentally conscious, socially beneficial and economically viable. Read more here: Sustainable kitchens: What makes an environmentally-friendly kitchen?
At Naked Kitchens, our bespoke kitchens are built for real life. Take the first steps to making your dream kitchen a reality today.
Wooden worktops - Frequently Asked Questions
How long will a wooden worktop last?
A wooden worktop is tough, robust and made to last. With just a little TLC, your wooden worktop will serve you well for decades to come.
Is a wooden worktop easy to maintain?
Yes – a wooden worktop generally requires a minimum of maintenance and, unlike other worktop materials, any damage is normally generally easy to repair.
Does a wooden worktop need to be oiled regularly?
While some manufacturers may recommend oiling your wooden worktop regularly with a food-safe oil or wax, in our experience a quality wooden worktop that has been oiled correctly in the first place should require minimum maintenance over time, and then only when it's really needed.
Are wooden worktops expensive?
Solid wood worktops are generally more expensive than laminates, but less so than other natural materials such as marble or granite, and their hard-wearing nature makes them a good investment. There are a number of different options depending on your budget, with walnut tending to have a higher price tag, and oak offering a more affordable, but equally beautiful, option.
See also:
Kitchen cabinets: what is a wood veneer?
Splashback statements - an expert guide to choosing and using kitchen splashbacks
Why our ply? 5 reasons our scandi-style birch plywood is the perfect kitchen cabinet material